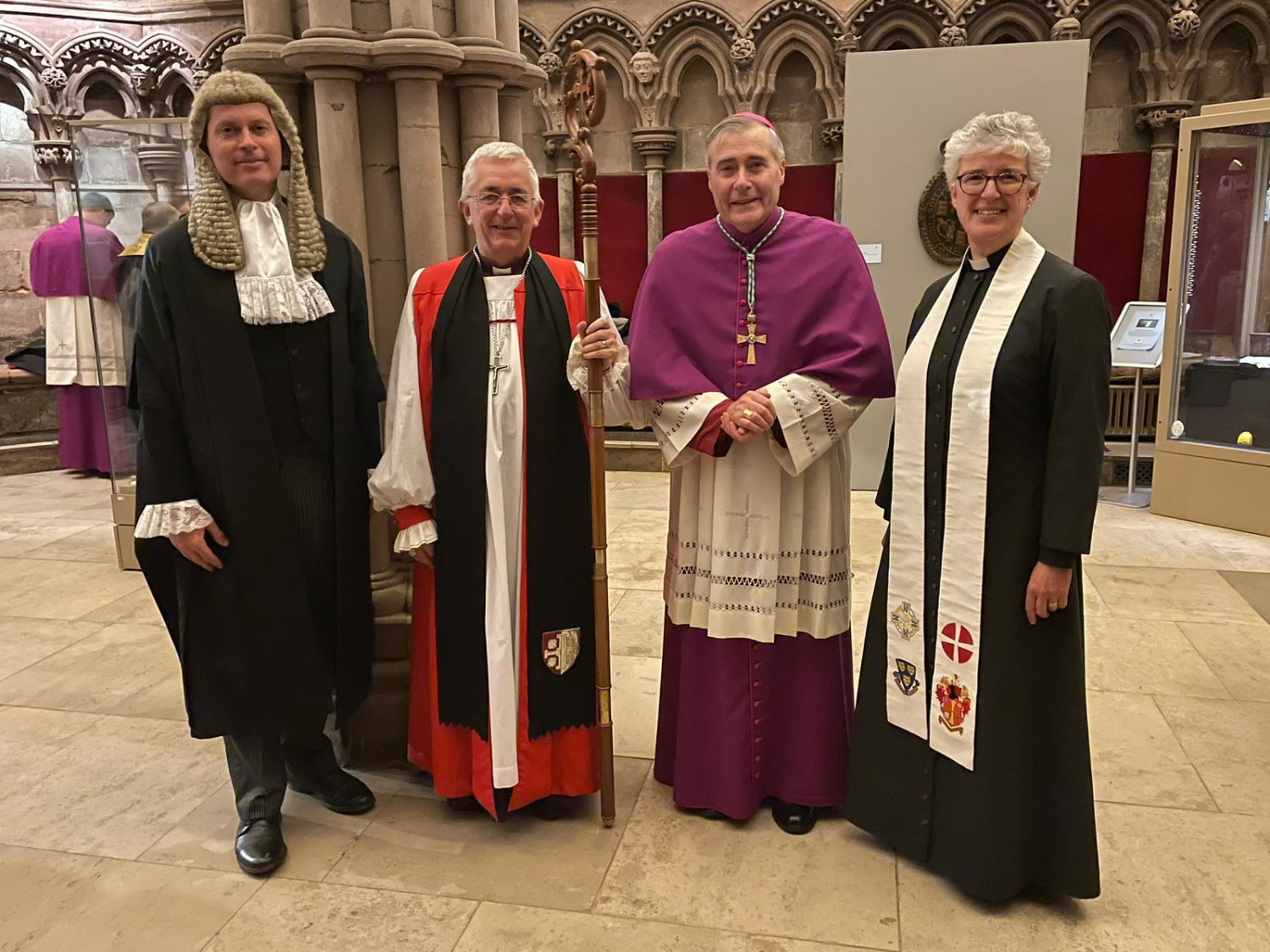 Dr Anthony Verduyn has been installed as the new Chancellor of the Diocese of Lichfield.
He was officially sworn in and welcomed to the role by the Bishop of Lichfield, the Rt Revd Dr Michael Ipgrave, during a special service at Lichfield Cathedral.
The Diocesan Chancellor acts as the independent Judge of the Diocesan Consistory Court, overseeing legal issues relating to the use of and reordering of church buildings and land, applications for grave reservations, exhumations and other legal matters. In each diocese they work closely with the Diocesan Registry, local archdeacons and the Diocesan Advisory Committee.
Anthony, was appointed a Recorder in the Civil Courts in 2009 and specialises in real estate law. He became Deputy Diocesan Chancellor in 2019 and had been Acting Diocesan Chancellor after his predecessor, the Honourable Mr Justice Eyre, stepped down on 1 September.
Anthony said: "I am delighted to accept appointment as Chancellor of the Diocese of Lichfield. Having been the Deputy to Mr Justice Eyre since 2019, I recognise it will be challenging to step into the role he discharged with such skill, but I very much look forward to being of service to the diocese, its bishop, clergy and congregations, and I know I will be ably assisted by the Registry and Diocesan Advisory Committee. My duty in the Consistory Court is not only to uphold the laws of the Church, but also develop the Court's practice so as to do justice, and I intend to pursue these objectives prayerfully and with compassion."
Born in the Black Country, Anthony has been practising at the bar since 1993. He is a part-time Tribunal Judge and Recorder in the County Court, as well as a Reader in the Diocese of Birmingham.
Bishop Michael said: "The role of the diocesan chancellor is an important and at times challenging one as wise judgement is needed on sometimes emotive and difficult issues. Having worked with Tony since he became Deputy Chancellor in 2019, I know that he will be approaching this important work from a mind and heart shaped by a strong Christian faith. I am really pleased that he is taking on the Chancellor role and look forward to a fruitful relationship with him moving forwards."
At the same cathedral service two Ecumenical Canons were installed: The Revd Rachel Parkinson, Chair of the Wolverhampton & Shrewsbury District of the Methodist Church; and the Rt Revd Mark Davies, Bishop of Shrewsbury (pictured above). This followed an installation service in July which saw three other new Ecumenical Canons welcomed.