Bishop Michael Ipgrave, the Bishop of Lichfield, affirmed that he is "proud to be part of Diocese that takes Dementia-Friendly Church seriously", when he spoke at our Dementia-Friendly Churches Zoom Training Day in October 2020. You can listen to Bishop Michael's words in this 10-minute video
He highlighted three important themes:
Listening to individual stories, creating the culture where people feel confident to tell their stories and share their experiences and the culture which enables people to feel comfortable in listening to those stories. Bishop Michael encourages us to hear what the Spirit is saying to the churches through each person experiencing dementia and through those who care for them.
Participating in a way which doesn't expect everyone to do the same thing in the same way – without worrying about getting things right or wrong! Bishop Michael spoke of faith being more profoundly plugged in to who we are and who God is: it's about being held in God's love and remembered by Him.
Learning from one another and from people with dementia, allowing space for heart-learning, reminding us that all of us are dependent on God. Bishop Michael spoke of his predecessor Bishop Keith (Bishop of Lichfield from 1984-2003) and the Bible that he had used daily in his last years, when he lived with dementia: in the well-thumbed book of Psalms, including the passages that wrestle with God, God's presence and love shines through, even in times of tribulation.
Bishop Michael shared the words of a letter to the church from Christine Bryden, an Australian catholic who lives with dementia: "I may not be able to take an active part in worship, but I can receive the gifts of love and grace. This is the good news of the Gospel for those living with dementia: we are equal before God in receiving divine love and grace."
Bishop Michael recognises that we are working to make that simple but important truth a reality through dementia-friendly church. In line with our Diocese of Lichfield Vision Statement, engaging with dementia-friendly church is an important part of being a church that reflects the richness and variety of our communities, works together for the common good and is committed to learning and listening from one another.
In the Diocese of Lichfield, we are working to become more dementia-friendly churches at the heart of dementia-friendly communities. Our story so far is told in the video above.
Also, the 45-minute opening session from the October 2020 Dementia-Friendly Churches Training Day gives you an overview of our work, as well as sharing Clive and Barbara Rogers' experience of dementia and giving headlines of the impact of the Covid-19 pandemic on people with dementia. Full Opening Session
Further, have a look at the video here, to give the national perspective of the growth of dementia-friendly churches across the UK (with the videos sponsored by Staffordshire University).
Dementia affects many people. It brings very real challenges and changes over time. As dementia progresses, patterns of life change not just for the person with dementia but for those around them too. Many of us have direct experience of dementia ourselves, a partner or a parent, a friend or a neighbour. In the Diocese of Lichfield, we are committed to naming and facing dementia together, both acknowledging the change and the loss that it brings, and also affirming the life and love that can be shared on the path through dementia.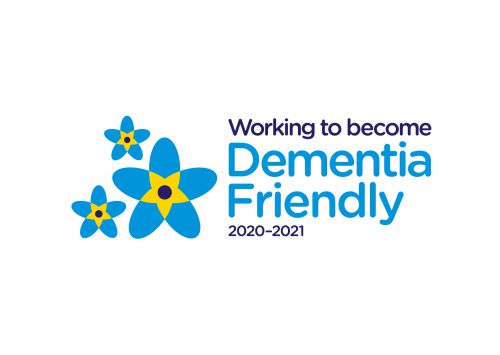 How can our churches help, for anyone feeling worried about dementia or memory loss, or stretched by the extra demands as dementia progresses, or concerned about how people affected by dementia can continue to be involved in the local community? What can our churches offer people affected by dementia - and what can we learn from them? How can we stay in step, journeying together as patterns change?
And where is God in all this? Dementia raises profound questions which take us to the heart of our faith our discipleship, vocation and evangelism.
The Diocese of Lichfield has been actively involved in dementia-friendly church since 2014. The Diocese has now been recognised by the Alzheimers Society as a dementia friendly community, acknowledging the significant steps forwards we have taken to become more dementia-friendly churches at the heart of dementia-friendly communities and the plans that are in place to continue to take this forwards.
We are committed to support our churches:
As they embark on initial engagement as dementia-friendly churches;
As they continue to embed dementia-friendly church at the heart of their ministry;
As they extend their connections, working with local and national partners, accessing a wide range of resources.
There's help available for you at every stage of becoming a more dementia-friendly church.
There are regular updates on our Dementia-Friendly Churches blog and social media as well as featuring on local media from time-to-time, such as this service broadcast on BBC Radio Stoke in May 2018.
And you are welcome to contact our Dementia-Friendly Church Enabler who is here to help you:

Mobile: 07982 248949
Dementia-Friendly Church Enabler

Sarah has been working on dementia-friendly churches since 2014. Wherever you are in the Diocese of Lichfield, Sarah is here to support your church in becoming a more dementia-friendly church at the heart of a dementia-friendly community.