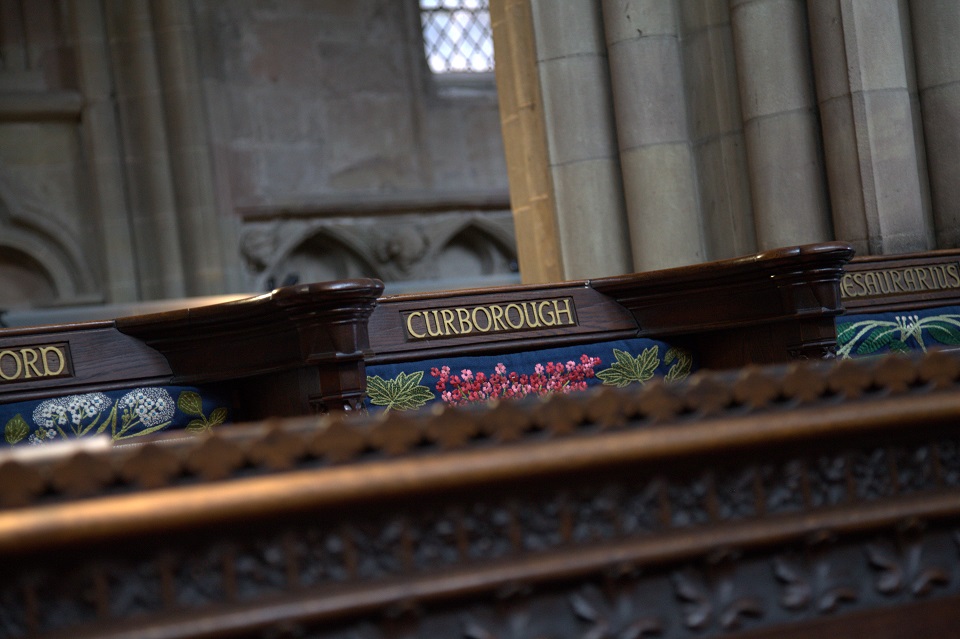 Lichfield Cathedral will welcome a group of new Canons and Prebendaries at a special service at 3.30pm on Sunday 3 July.
Prebendaries are awarded special 'stalls' at the cathedral to recognise their service to churches across the Diocese of Lichfield. In times past, a stall was also associated with rights and income from a parcel of land after which the Prebend is named.
Those nominated this year for the title by the Bishop of Lichfield, the Rt Revd Dr Michael Ipgrave, are the Revd Dr Jeanette Hartwell, Diocesan Vocations & Training Team Lead, who is appointed to the Prebend of Eccleshall; the Revd Romita Shrisunder, Bishops' Director of Ordinands, who is appointed to the Prebend of Longdon; the Revd Simon Davis, Rector of Abbots Bromley, Blithfield, Colton & Great Haywood and Rural Dean of Rugeley who is appointed to the Prebend of Colwich; the Revd Jo Farnworth, Rector of Central Telford and Associate Archdeacon of Salop who is appointed to the Prebend of Bishopshull; and the Revd John Baines, Vicar of Longnor, Quarnford, Sheen & Warslow with Elkstone who is appointed to the Prebend of Pipa Minor.
At the same service three new Ecumenical Canons will be installed - all leaders from ecumenical partner churches who work closely with Lichfield Diocese. They are the Rt Revd Stephen Wright, Bishop of Ramsbiria and Auxiliary Bishop of Birmingham; the Revd Monsignor Timothy Menezes, Dean of St Chad's Cathedral, Birmingham; and the Revd Pastor Dr Marcus Chilaka, Provincial Pastor, Redeemed Christian Church of God. The Revd Rachel Parkinson, Chair of the Wolverhampton & Shrewsbury District of the Methodist Church; and the Rt Revd Mark Davies, Bishop of Shrewsbury, will also be installed as Ecumenical Canons at a later date.
Six Lay Canons from within the diocese will also be installed. They include John Naylor, Chair of the Diocesan Board of Finance; Debbie Parkes, Churchwarden in Pleck & Bescot, Walsall and diocesan synod member; Tom Currie, Churchwarden in Rodington and diocesan synod member; and Nnaeto Onwuzurumba from YMCA North Staffordshire. Additionally, current Lay Canons Julie Jones, diocesan CEO; and Hilary Phillips, Reader in Wrockwardine and diocesan Vocations Advisor, will be re-appointed as Lay Canons.
Bishop Michael said: "It is wonderful to be able to acknowledge and celebrate such a breadth of dedication and service to the diocese from both lay and ordained people, including those who are Anglican and those ecumenical partner churches. I would like to thank all of these people for their dedication, leadership and faithful witness as they help to develop discipleship, inspire vocation and encourage evangelism in the Body of Christ across the Midlands."
Please contact the cathedral with any questions about practical arrangements for the day.