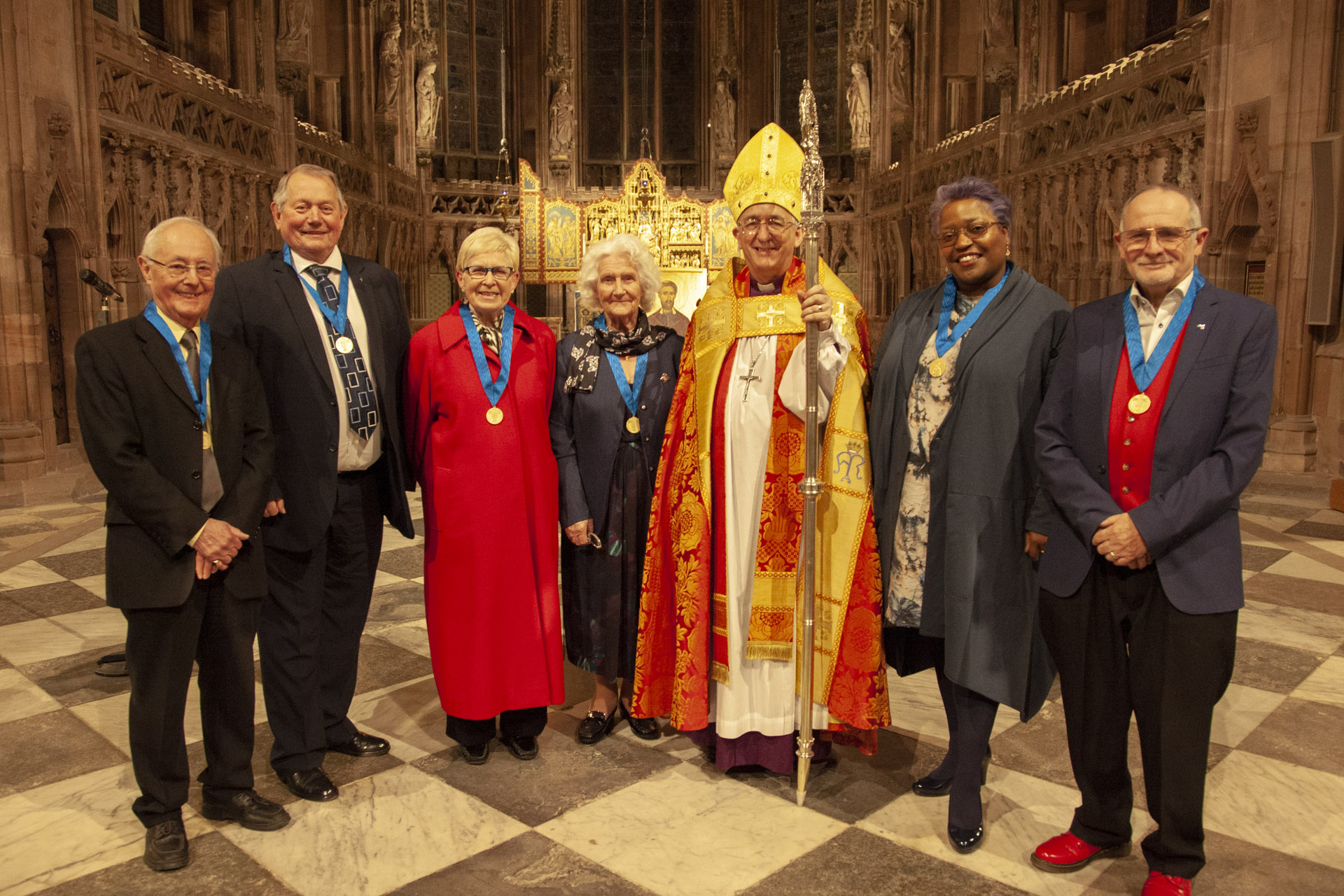 The Bishop of Lichfield, the Right Revd Dr Michael Ipgrave, recognised the inspirational work of people from throughout the Midlands during the inaugural awarding of the St Chads Medal at Lichfield Cathedral.
The medal is given to lay people who have made a particularly valuable contribution to Christian life in the Diocese of Lichfield. It is named after the first Bishop of Lichfield, St Chad, who charged his followers to have lives characterised by watching, prayer and good works.
Bishop Michael presented the first medals, in what will become an annual award to, six people Marjorie Boothby, Debbie Parkes, Peter Phillips, Michael Revell, Di Saxby and Michael Youens - at Lichfield Cathedral, the ancient seat of St Chad, on Monday. A seventh recipient, Eileen Reynolds, will receive her medal at a later date. Citations for all seven are below.
The medal winners have served in a wide variety of roles in places including Lichfield, Pleck, Market Drayton, Tipton, Stafford and Shrewsbury. Their contributions include voluntary work with prisoners and former prisoners, with young people and people affected by poverty, in education and fundraising, along with tireless hours spent serving local churches.
Bishop Michael said: The thousands of hours of unpaid service these seven people faithfully and often quietly - offer as a practical outworking of their Christian faith is truly inspirational. They represent many more lay people who are the backbone of their communities, both inside and outside of church, across Lichfield Diocese. I look forward to the St Chads Medal becoming established as an annual award that encourages others to follow Christ in the footsteps of St Chad as they live everyday lives of discipleship, vocation and evangelism.
The awarding of St Chad's Medals will happen each year on a date near to St Chad's Day, 2 March. You can nominate someone via the Bishop of Lichfield's Office.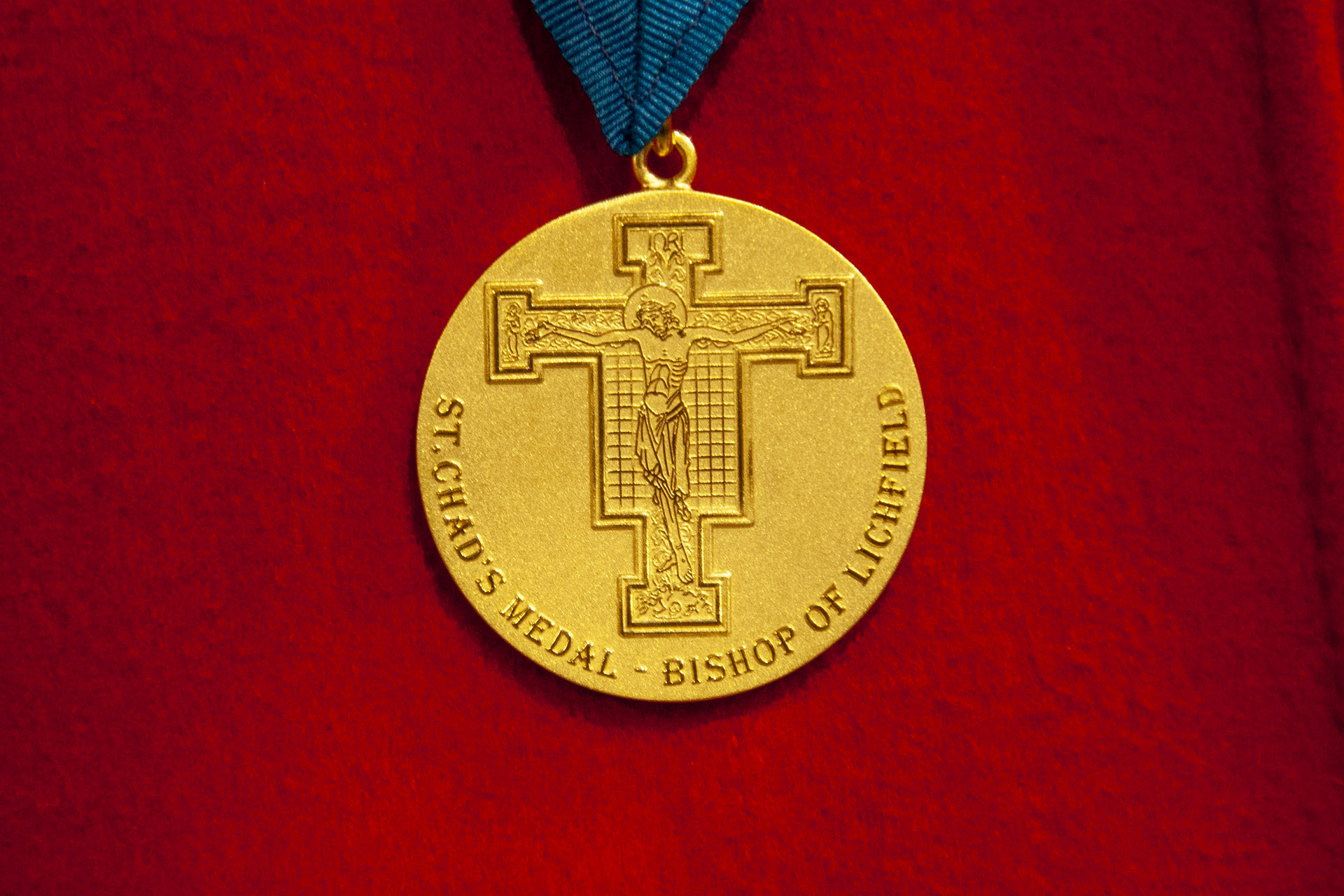 Citations
Marjorie Boothby
For outstanding service to prison visiting. A member of St Andrews Church Weston, Marjorie has played the organ in the Chapel of Stafford Prison since 1982 and has been a Chaplaincy volunteer since 1991. She is well-loved by the Chaplains, Staff and Prisoners. Marjorie is also involved with the National Association of Official Prison Visitors (NAOPV), serving as Branch Chairman until 2018 and now liaison officer.She also plays for services at Katherine House Hospice and is known for her friendly and encouraging nature.
Debbie Parkes
For outstanding service as a Churchwarden. Debbie is Churchwarden at St John, Pleck taking particular responsibility for community engagement, social activities, youth work and building maintenance. She works for Birmingham City Council with families who are at risk or homelessness or are roofless or street homeless as part of a committed and dedicated team who strive to help people facing extremely difficult times in their lives. She also supports elderly family members and her teenaged children.
Peter Phillips
For many years outstanding voluntary service. Peter is a Licensed Reader in the Church of England, serving the Lichfield Deanery. A retired Social Worker, voluntary service includes six years as a Samaritan in the 1980s. More recently he has played a significant role in supporting the resettlement of former prisoners as part of a Prison Chaplaincy Team. He has helped raise awareness of Climate Change Issues by walking from London to Paris in 2015, whilst in 2017 he raised funds for Christian Aid by walking 412 miles, alone, from Lichfield Cathedral to Iona Abbey off the West Coast of Scotland.
Michael Revell
For outstanding voluntary service, especially in the field of education. Michael is a committed and much-valued member of his local church, St Marys Market Drayton. He is also a Member of four Academy Trusts, a Trustee of the Empower Multi-Academy Trust and a Governor of primary school and nursery, and has been Acting Chair of the Diocesan Board of Education since summer 2018. As such he has been a steady hand helping to steer the Board through a number of changes, as well as responding to sometimes difficult situations in particular areas as they arose. He serves on Deanery and Diocesan Synods as well as Bishops Council, and senior Diocesan staff have valued his wise guidance and advice. Michael somehow finds time also for a wide range of voluntary work, including but far from limited to, President of Market Drayton PROBUS, an Area Councillor for the Royal Air Forces Association (RAFA), Chairman and Secretary of Market Drayton RAFA branch, President, and interim Civilian Chairman, of 24 (Market Drayton) Sqn, RAF Air Cadets and President of Market Drayton Amateur Operatic and Dramatic Society.
Di Saxby
For outstanding voluntary service to Lichfield Cathedral. Di had a career in nursing in both hospitals and in occupational health. She then raised a family, and came to worship at the Cathedral and begun to volunteer there, mainly helping to run the Flower Guild and in the Cathedral Library. Twenty years ago she survived cancer and this work slowly became an act of thanksgiving for the support of family, friends and the Cathedral community. She trained other volunteers and has been a great source of inspiration and encouragement to many.
Michael Youens
For outstanding service as a Churchwarden. Michael is Churchwarden and an all-round pillar of All Saints Castlefields, Shrewsbury. He does no end of practical work, often unnoticed in the background and is constantly fundraising. Additionally, he is Head Server. Mike is well known in the local community and acts as link person with many outside families. His input is key to the survival and flourishing of his church.
Eileen Reynolds

For outstanding service to Christians Against Poverty. Eileen started the Tipton CAP debt centre in 2008 and stepped down in 2018. During her time as CAP centre manger the centre touched hundreds of lives, and saw many more people pastored and supported through life. The CAP manager is a paid position but Eileen did this for 10 years as a volunteer. She is still serving as a worship leader, PCC member, Church Reordering Committee and Leadership Team, and she reflects that the thing that has stayed with her from her time at CAP is the relationships: the people you go the extra mile for, no matter how difficult they are, are the ones who stay in touch and trust you.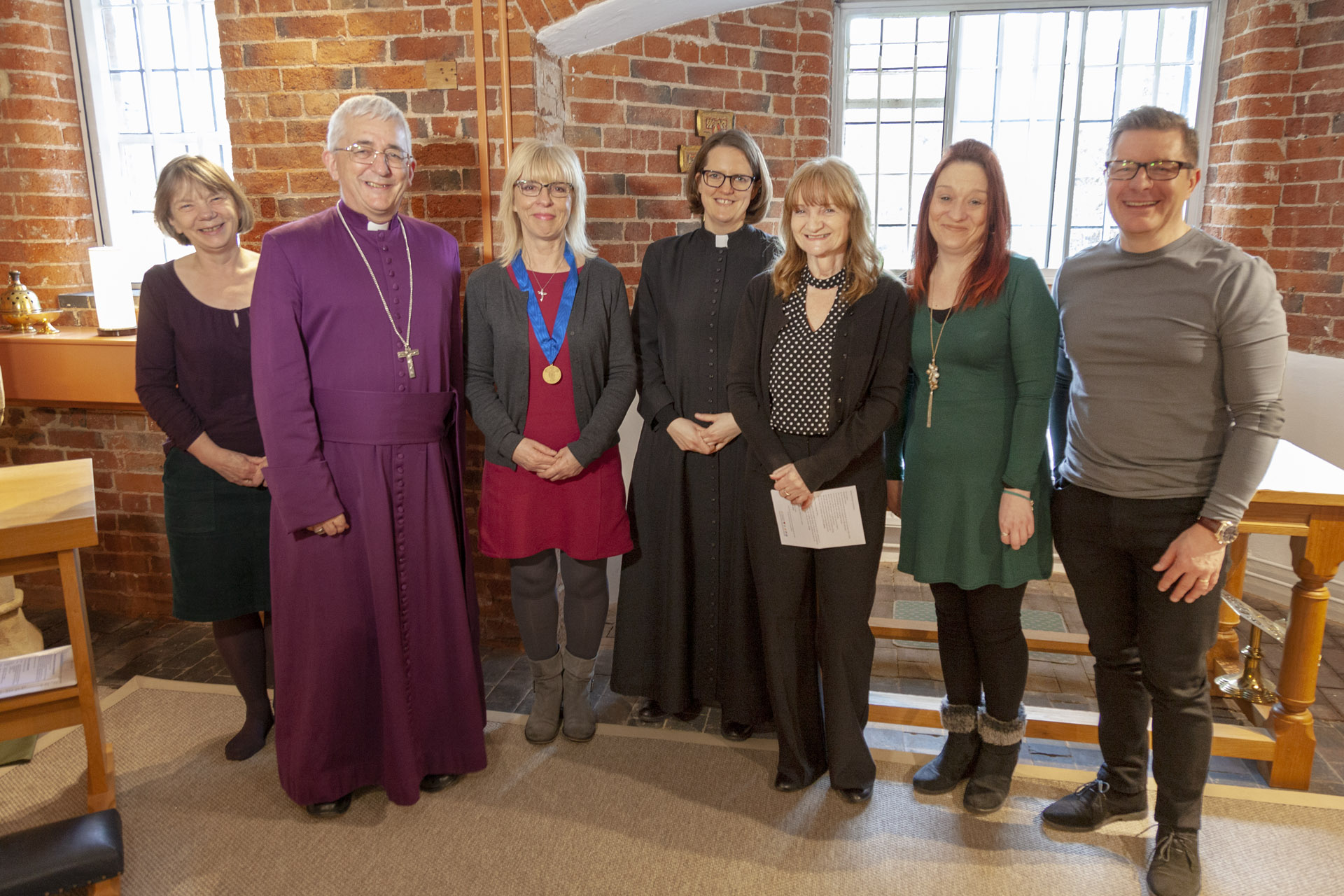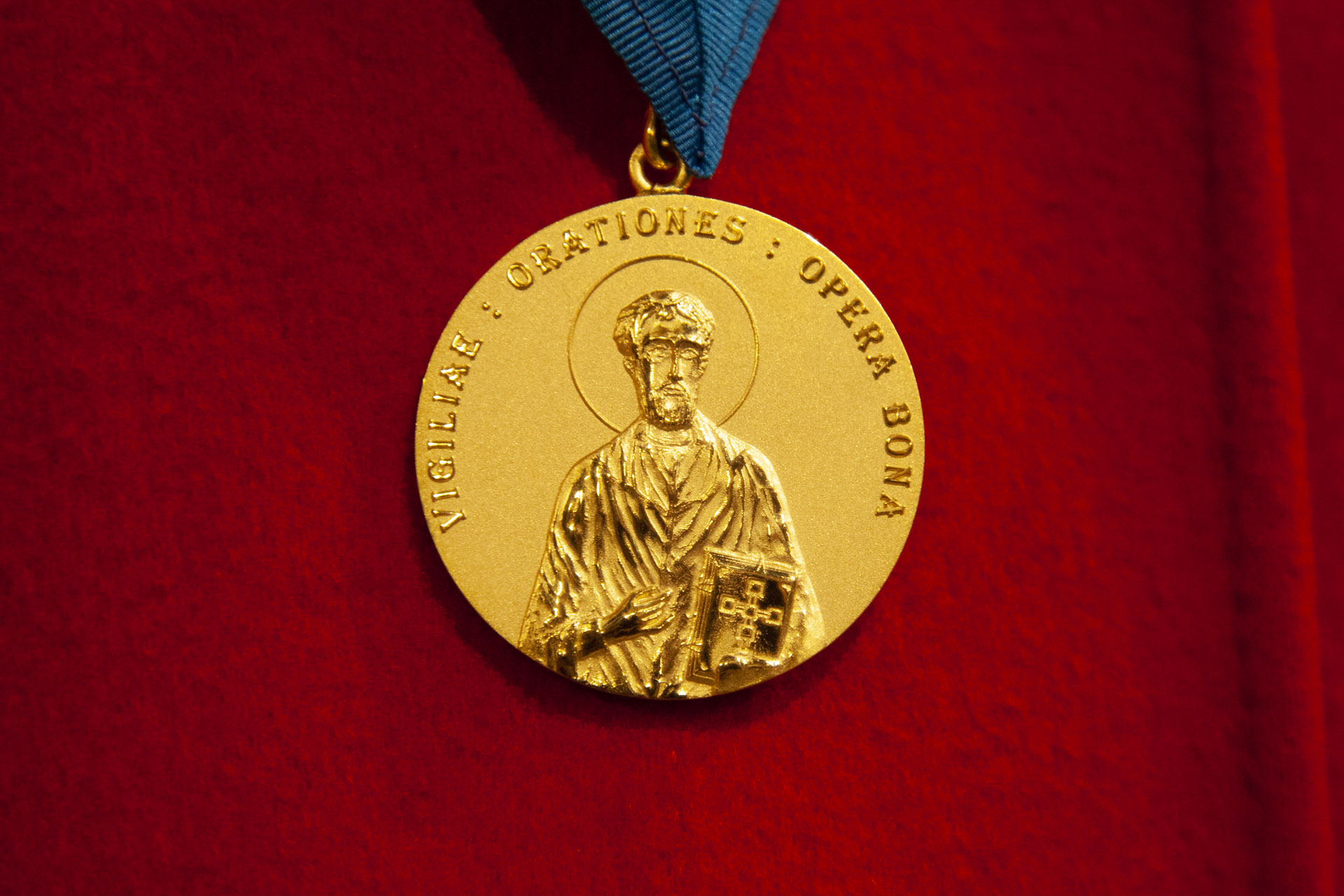 A further selection of photos can be found here.