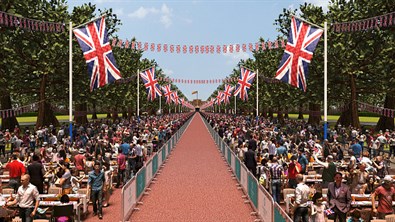 One highlight of Her Majesty's nintieth birthday celebrations this weekend is the The Patron's Lunch, a streetparty in the Mall on Sunday with 10,000 guests from the 600 charities and organisations of which the Queen is a Patron.
One of those organisations is The Together Network - a partnership of 18 dioceses with Church Urban Fund. The Queen has been patron and a regular visitor to many of their projects over the past 25 years.
CUF has invited a group of eight community heroes nominated by the national Together Network to join the celebration. One of those is from Lichfield Diocese.
Rev Raphael Duckett, vicar of St Martin's Church in Bradley, Wolverhampton, is described by the Together Network as a fantastic supporter and advocate for Church Urban Fund and Transforming CommunitiesTogether in Lichfield. He has worked to help further the social action projects across Lichfield, on example is the holiday-hunger kitchen, providing a cooked meal and family-focused learning activities during holiday periods. He also supported CUF by organising a Advent Sleepout Challenge event and building a stable in his church that members slept overnight in - as previously reported in Spotlight (p5).
"It's a real honour to be asked to represent our parish and diocese" says Revd Duckett.
"At St Martin's we provide all kinds of support to the local community - eg a Holiday Kitchen to help children at risk of not being fed during the summer holidays and year-round lunch club for the elderly. I'm really keen in drawing on any wheeze the diocese's Transforming Communities department comes up with: in this area people are in need of all kinds of basic support - food, clothes, advice on money and housing. We're dedicated to ensuring our local school is as good as it can be.
"In fact, when the Victorians built the church, they acutally built the school first. A touchstone of Christian ministry and the heritage of this parish is to look after the community physcially as well as feeding the soul."
"We're delighted that Rev Raphael is able to attend this great celebration of the contribution and service charities like Church Urban Fund (CUF) make. He has been a real supporter of CUF and our local partnership between CUF and the Diocese (Transforming Communities Together)." says James Henderson, Development Worker with Transforming Churches Together.
"Like so many Clergy across our Diocese, his can-do attitude and the skills of local people mean that St Martins Bradley is a real community hub, with a computer suite, job club, community caf and holiday kitchen' and great links with local schools.
"I know that Rev Raphael is there representing everyone across our Diocese."
There is more about the Diocese's work with CUF and the Together Network here.