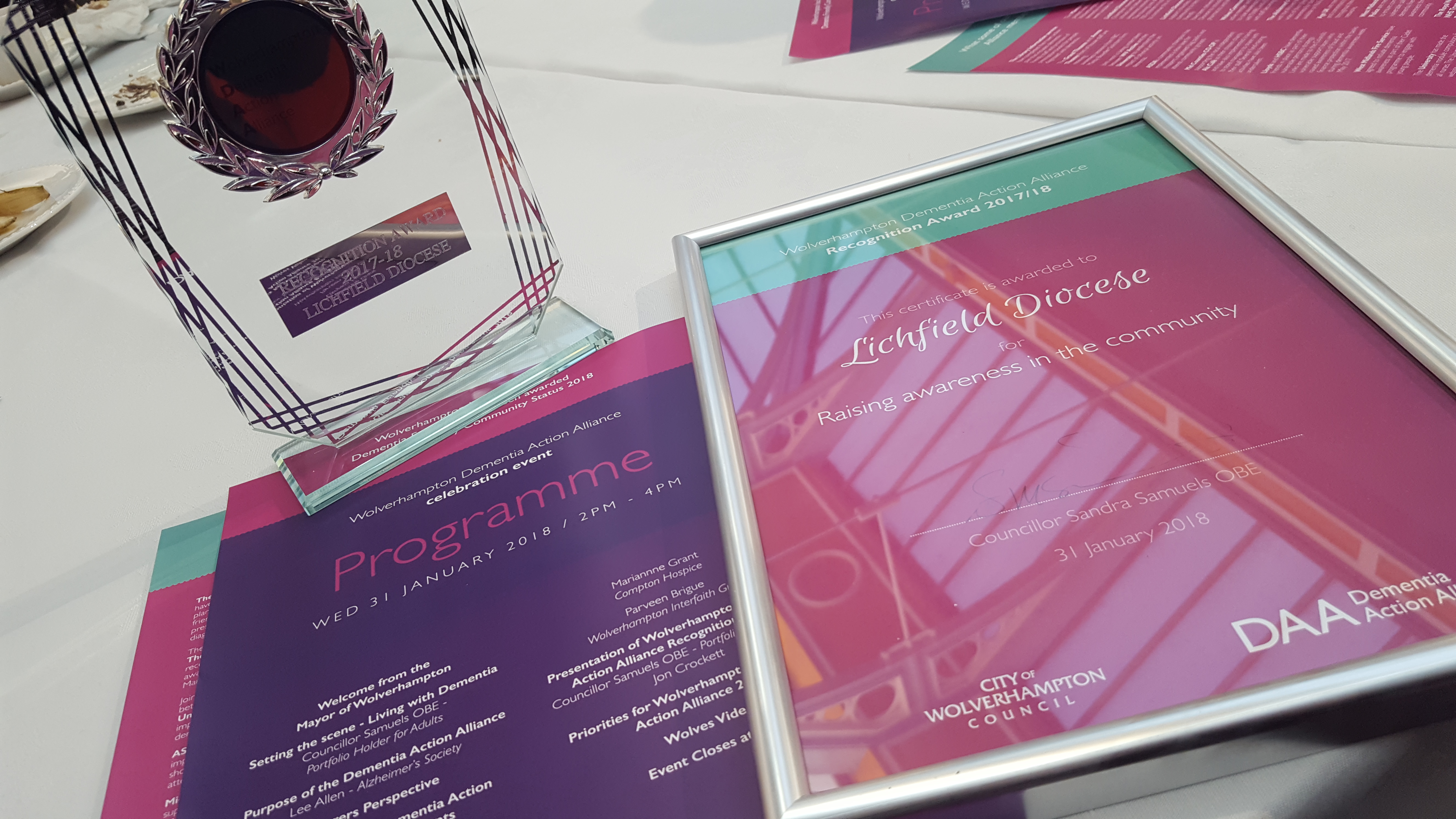 Its the award season, and Lichfield Diocese has won an award. Not the Oscars or the BAFTAs, but something much more meaningful. I was privileged to attend the ceremony on 31 January 2018.
There were no actors or directors centre stage, but someone living with dementia, and her daughter who cared for her, shared how she had been supported to live safely and well through the help of some of the organisations involved in Wolverhampton Dementia Action Alliance (DAA). It was a celebration organised by them to celebrate Wolverhampton becoming a Dementia Friendly City. As part of this, they held an award ceremony. Present were civic dignitaries and organisations that had been integral to the bid. No red carpet was needed, as it was not about glitz and glamour but about changing lives for everyone involved with Wolverhampton DAA. Read more about it here.
I attended this as part of my new role as Dementia Friendly Church Enabler in the Black Country. I have big shoes to fill because my predecessor the Revd Joy Dale had delivered Dementia Friendly Services to numerous churches in Wolverhampton making 1,900 new Dementia Friends including 1,282 in local schools. It was for this work that Lichfield Diocese was given the award for Raising Awareness In The Community. Joy did an amazing job as do my two colleagues, Sarah Thorpe and Mike Bridgewater, in the Lichfield Diocese.
Reflecting on the award, I am aware that often the awards we receive are about attaining a certain level in a sport or hobby. They spur someone on to more, rather than a place to stop and relax. As someone starting in a new position, I hope that we celebrate the award that recognises the work that the Diocese has started to do in Wolverhampton, but also in the whole Diocese. It spurs me on to find ways of enabling churches to work towards becoming Dementia Friendly.
Across the Diocese, to help you take next steps to become a more Dementia Friendly church at the heart of a Dementia Friendly community, have a look here. And please do get in touch with us we look forward to working with you.
Sarah Thorpe, Dementia Enabler, Northern Shropshire sarah.thorpe@lichfield.anglican.org 07982 248949
Revd Mike Bridgewater, Dementia Enabler, Staffordshire mike.bridgewater@lichfield.anglican.org 07531 105853
Su Parker, Dementia Enabler, The Black Country su.parker@lichfield.anglican.org 07967 834955
Revd Dr David Primrose, Director of Transforming Communities david.primrose@lichfield.anglican.org 07975 644044 or 01922 707864