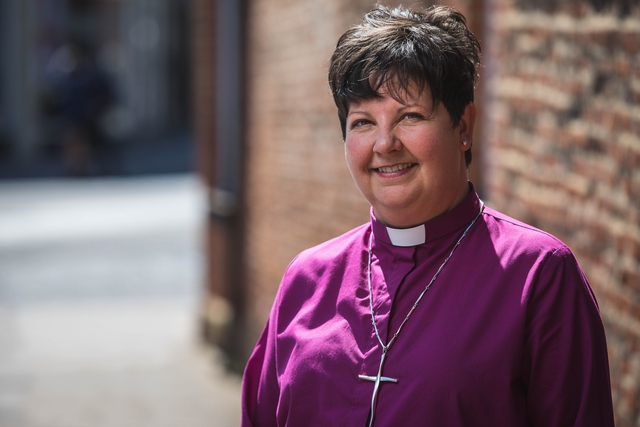 The Bishop of Repton is moving on from the Diocese of Derby to become Residentiary Canon (House for Duty) at Lichfield Cathedral and Honorary Assistant Bishop in the Diocese of Lichfield.
The Rt Revd Jan McFarlane will move to Lichfield with her husband Andrew and take on her new role in April, after almost four years as Bishop of Repton.
It will be a return to Diocese of Lichfield for Bishop Jan who was born in Stoke-on-Trent and began parish ministry in Stafford following her ordination as a priest in 1994. From there she served in Ely and Norwich dioceses before becoming the Bishop of Repton in 2016.
Bishop Jan said: "Andrew and I will be very sorry to leave the beautiful county of Derbyshire where we have been so happy. I feel blessed to have worked with some excellent colleagues and wonderful congregations. I came to the diocese knowing there would be a vacancy-in-see to cover. The completion of that task has coincided with the silver anniversary of my ordination to the priesthood, and much reflection during my recent sabbatical on the past 26 years since I was ordained at Lichfield Cathedral.
"In addition, following five years of hospital visits I have been formally declared in remission from cancer. All of this together has led to a desire to live life at a different pace. I look forward to being able to carve out time for writing and to return to the rhythm of preaching, praying, presiding and pastoring for which I was first ordained. I'm much looking forward to returning to my home county and diocese, journeying from Repton to Lichfield quite literally in the footsteps of St Chad."
Bishop Jan will have a formal farewell at the meeting of the Derby Diocesan Synod on Saturday 7 March. She will preach at Evensong at Derby Cathedral on Sunday 8 March at 6pm and hopes to be able to say a less formal farewell after that service, to which everyone is welcome.
The Bishop of Derby, the Rt Revd Libby Lane, said: "Bishop Jan has been a rich blessing for the Diocese of Derby. With compassion and courage she has offered both care and challenge in a time of transition. She is a good friend, and has been a generous colleague - especially for me as I arrived in the diocese. She is greatly valued and appreciated, and her ministry has been a gift to us: we thank God for her. We recognise the cost of the past few years, and honour her integrity as she moves to this new ministry in Lichfield. She will be greatly missed, but travels in the steps of St Chad with our love and prayers for her and Andrew."
Bishop Jan will be installed as Residentiary Canon (House for Duty) at Lichfield Cathedral on Friday 3 April during Choral Evensong. She will be welcomed as Honorary Assistant Bishop in the Diocese of Lichfield at Chrism Eucharist at the cathedral on Maundy Thursday, 9 April.
The Bishop of Lichfield, the Rt Revd Dr Michael Ipgrave, said: "It is a joy to welcome Bishop Jan back to the Diocese of Lichfield, where she was born, baptised, and ordained as a deacon and a priest. I am very pleased that she has agreed to assist in an honorary capacity with episcopal ministry, and I know that we will be greatly enriched by her wisdom, teaching and pastoral gifts. It is fitting that she will be commissioned during the Chrism Eucharist on Maundy Thursday, an occasion on which we pray for all who exercise ordained and licensed ministries."
The Very Revd Adrian Dorber, Dean of Lichfield Cathedral, said: "Lichfield Cathedral is honoured and delighted to receive Bishop Jan as our new Canon Custos. Her role will be primarily pastoral helping develop our links and concern for all associated with the Cathedral. We look forward to benefitting from her wisdom and experience and having her as a valued colleague. Her arrival will be a bit of a homecoming and we hope she and Andrew will enjoy this return to Jan's roots."