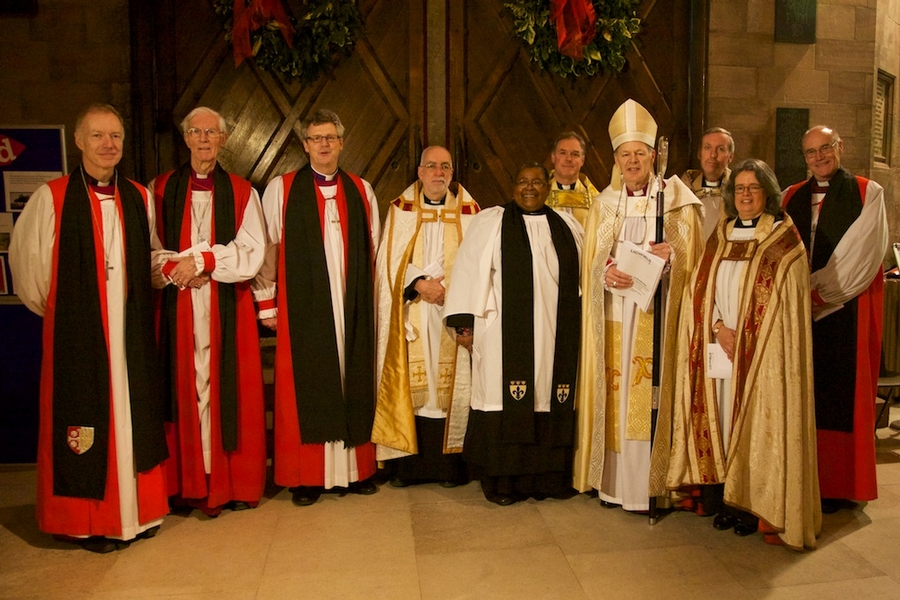 The new Archdeacon of Walsall, the Ven Dr Sue Weller has begun her new ministry following a formal service in Lichfield Cathedral.
Surrounded by family, friends, colleagues and representatives of the wider community, Sue took the Oaths and made the promises, received prayer and was formally welcomed during a special service of Evensong on Sunday 11th January.
The Bishop of Lichfield, Rt Revd Jonathan Gledhill began the service commending her ministry as a priest and commented on her previous career as a marine biologist, joking that her consequent knowledge of anti-fouling paint might be very useful as an archdeacon!
The guest preacher was the Revd Canon Angela Dick, a close friend of Sue and her husband David who is also a priest and a prison chaplain.
Bishop Jonathan observed with joy that alongside the national headlines of the appointment of the first female bishop in neighbouring diocese, Sue would be the first female archdeacon in this diocese.
In another first for a service here of' Evensong with the Collation, Induction and Welcome as Archdeacon and Installation as an Honorary Canon', the organist shared duties with a band from St Matthew's church in Walsall.
A key feature of all Induction services in this diocese is a warm welcome, structured around the five themes of the diocese, beginning with an appeal from clergy in the archdeaonry that the archdeacon should join them in Discovering the Heart of God:
A Bible and a teapot were presented symbolising the tools of teaching and nurturing God's people:
Water from the font and the Diocese's 'Everybody welcome' booklet highlight the task of Reaching New Generations:
The building of good relationships and the work of Transforming Communities were represented by the Oil of Healing and a map of the archdeaoncry, as she was welcomed into the work of Transforming Communities by the Vice Lord Lieutenant of Staffordshire, Colonel Michael Beatty and Rabbi Margaret Jacobi of Birmingham Progressive Synagogue.
The Chair of the Diocesan Board of Finance certainly did Practise Generosity as he furnished Sue with a bottle of wine from his own cellar.
There is a fuller explanation of the 5 Themes of the Diocese here and more photos from the service here.