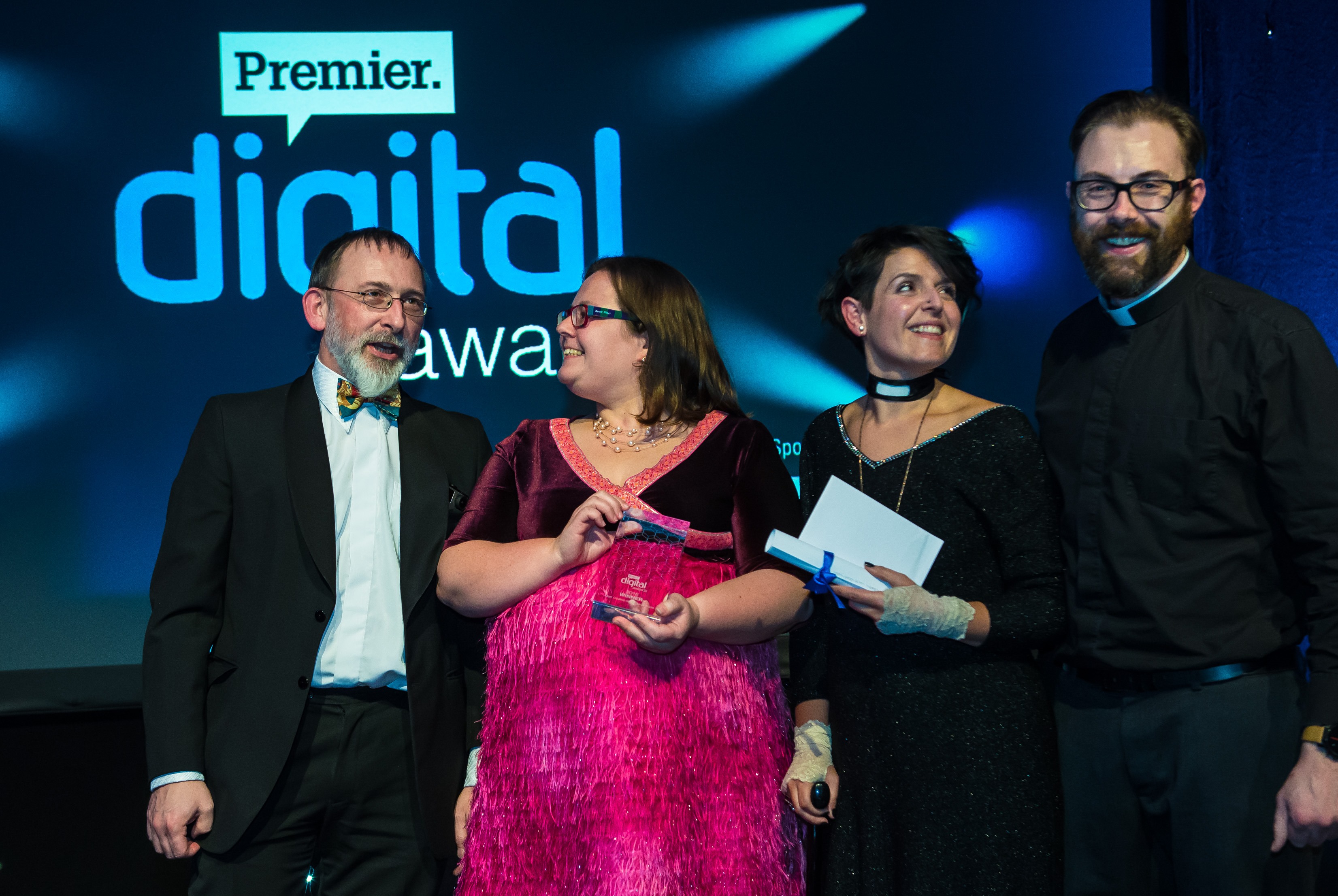 An innovative weekly online chat show from the Diocese of Lichfield has won a national digital award.
TGI Monday came first in the Most Creative Use of Social Media at the Premier Digital Awards event in London on Saturday, 12 November.
The weekly show, which airs a new episode every Monday morning, has reached thousands of people, discussing a range of topics prompted by its online community such as angels, heaven and hell, death and sexuality.
At its inception less than a year ago, the TGI Monday team had a vision for an online video programme that would answer viewers questions about the Christian faith and church life and shining a little light on some of the mysteries of the Church of England.
It has garnered the attention of local, national and religious press, been praised at General Synod, featured on BBC1's Songs of Praise and discussed by Fern Britton on BBC Radio2's Good Morning Sunday programme.
The project is collaboration between Hywel Snook, Zoe Heming and Dan Stork Banks (clergy in Hodnet Deanery who had an interest in social media and vlogging) and Ros Clarke (the Diocese's Online Pastor) and Simon Jones, Diocesan Communications Officer.
Dr Clarke said: "TGI Monday has had a real impact on local churches and community, particularly around Market Drayton where we film and the majority of the team are based. We're pushing forward to spread this influence further and maintain a cutting edge with this project."
TGI Monday Producer Simon Jones said: The world of social media is changing so quickly that everything is experimental as the Church tries to work out how best to use social media to support our discipleship and mission. It's an honour to receive this national award."
"We're very thankful for the ongoing support and resourcing from the diocese," added Revd Stork Banks.
The Premier Digital Awards are highly regarded for their recognition of the most innovative uses of digital technology by Christians. TGI Monday was nominated in the same category as the national Church of England Church Live initiative which has involved individual churches including, in Lichfield Diocese, St Johns in Stafford and Holy Trinity Meole Brace.
The awards ceremony took place following the annual Premier Digital Conference at which Dr Clarke was one of this year's speakers.
Lichfield Diocesan Secretary Julie Jones said: Im glad that something so innovative, coming out of the Online Pastors role, has been so has been so well received both across the diocese and now on a national stage. Its a fantastic example of Diocesan staff and parish clergy working together in a creative way.
The Bishop of Lichfield, the Right Revd Dr Michael Ipgrave, who was interviewed on the show earlier this year (https://www.youtube.com/watch?v=DHse7i0X_84), added: Congratulations to the TGI Monday team for this great result. For many, the online dimension of their lives is increasingly important and TGI Monday has connected with people in a new way, supporting mission and discipleship across parishes.
TGI Monday can be found on Facebook, YouTube and as well as the programme's own website.
It isn't the first time a member of Lichfield Diocese has been nominated in the Premier Digital Awards: Revd Vic Van Den Bergh was nominated in the Most Inspirational Leadership Blog category for his 'Vic the Vicar' blog in 2013 and 2014.