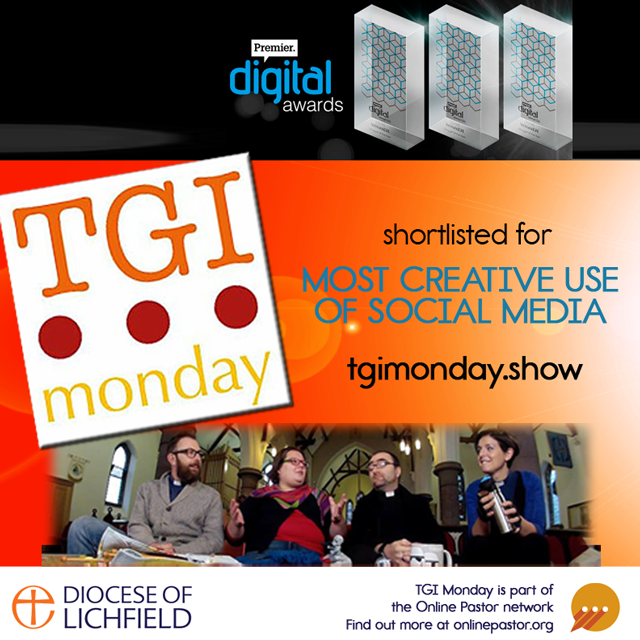 TGI Monday has been shortlisted for a Premier Digital Award for 'Most Creative Use of Social Media'.
These awards are highly regarded for their recognition of the most innovative uses of digital technology by Christians. Also nominated in the same category are two national Church of England initiatives: Church Live and the Gabriel Collective, and another national organisation, BRF's #josephstweets.
At its inception less than a year ago, the TGI Monday team had a vision for an online video programme that would answer viewers questions about the Christian faith and church life and shining a little light on some of the mysteries of the Church of England.
Since officially launching in May this year, TGI Monday has garnered the attention of local and religious press, been praised at General Synod, featured on BBC1's Songs of Praise and discussed by Fern Britton on BBC Radio2's Good Morning Sunday programme.
The project is a collaboration between Hywel Snook, Zoe Heming and Dan Stork Banks (clergy in Hodnet Deanery who had an interest in social media and vlogging) and Ros Clarke (the Diocese's Online Pastor) and Simon Jones, Diocesan Communications Officer.
"It is a real honour to be shortlisted for this award and something the Diocese should be proud to celebrate!" says Dr Clarke. "We're excited about where God might take us next."
The Awards ceremony will take place in London on Saturday 12 November following the annual Premier Digital Conference at which Dr Clarke will be one of this year's speakers.
"This is exciting news" says Julie Jones, Lichfield Diocesan Secretary. "TGI Monday has been something of a step into the unknown, but is a stunning example of Diocesan staff and parish clergy working together to create an innovative ministry in support of parish mission and discipleship."
Revd Dan Stork Banks is clear about the pioneering nature of the show: "Everybody's learning in the digital space. We've got to throw lots of mud at the wall and see what sticks. If we don't experiment, we'll never find what works. This new frontier in communication opens up incredible missional and discipleship opportunities through engaging with people online.
"We want to interact and answer people's questions, but there are two key aspects for me. Firstly that, just as with ministry in the physical world, we're building relationships with real people-and that takes time for viewers to get to know and trust us. And secondly, as a team with a diverse views on all sorts of issues and from across the spectrum of Christianity within the Church of England, we aim to model a faith that holds itself together despite our differing theology and traditions."