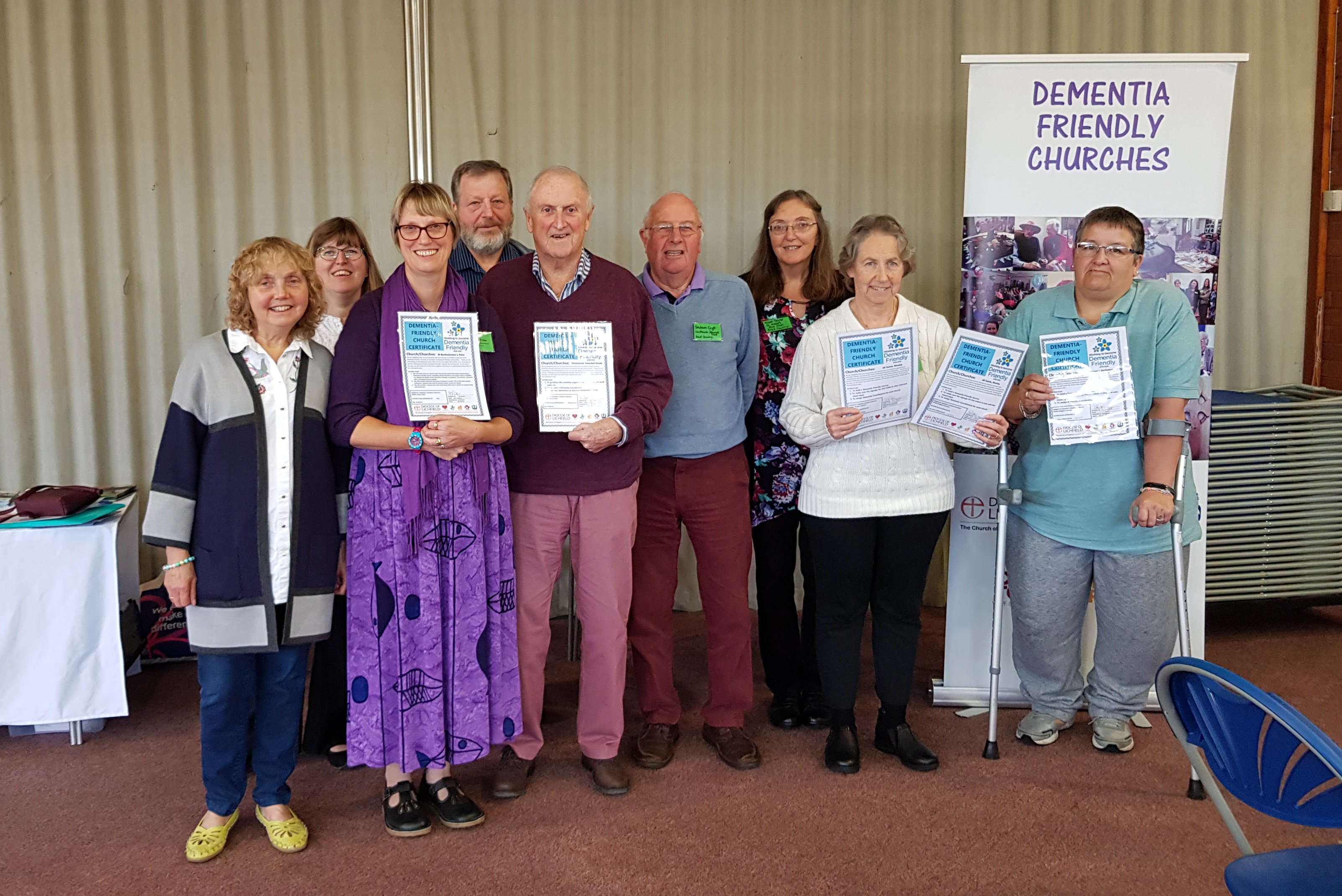 At our Dont Forget the Carers conference in October, five churches in The Black Country were awarded Dementia Friendly Church Certificates by the Diocese of Lichfield. The Certificate is a clear sign that a church wants to support those living with dementia. Each church has found three actions that they plan to take in the next year and thats all thats needed for you to participate.
You may have encountered Dementia Friendly Church at a Sunday service or a training course, through newsletters or network meetings, at a conference or through social media or you be affected by dementia, wondering whether the church is there for you. Whatever the starting point, what prompts churches to take the next step of being awarded their Dementia-Friendly Church Certificate, confirming that they are Working towards becoming dementia friendly? Were glad to hear from a couple of dementia-friendly church co-ordinators.
Saskia Poller from St Bartholomews in Penn, Wolverhampton
How did you personally get involved Dementia Friendly Churches?
I work with older people and people with dementia on my day job and attended the 4 part Dementia Friendly Churches sessions as part of my training for authorised lay ministry a number of years ago.
How did your church get involved?
I hadn't been able to get the church engaged until a colleague training to be a vicar spoke to me about becoming a dementia friendly church and asked how we went about it. We were then able to work together to make it become a reality.
What do you hope to gain from being a Dementia Friendly Church?
That our church is more welcoming both socially and environmentally and that the congregation are more understanding and supportive for both people with dementia and their carers.
What are your churches three actions?
We will make sure our church notice boards give good information about being a Dementia Friendly church, including relevant literature and support that is available. e.g. Display the details of the Dementia Friendly co-ordinator, List charities, dementia cafs and pastoral team support.
We will provide Dementia awareness training for at least 75% of the Sides people, welcomers, pastoral team and all relevant leaders across the church.
We will provide a memory box and contrasting toilet seat in church for people living with Dementia.
Catherine Winkworth from St Lawrences in Darlaston who have a certificate covering their benefice.
How did you personally get involved Dementia Friendly Churches?
I am a member of our PCC and Maggie Carpenter was talking about it and was asking for volunteers. I have had family members who have had dementia so felt a connection and offered my services.
How did your church get involved?
Maggie thinks the church got involved through general discussion with our previous vicar or it might have been through a visit to the deanery synod.
What do you hope to gain from being a Dementia Friendly Church?
I am hoping that becoming a DFC will encourage members of the congregation with a diagnosis to feel comfortable about letting me know so I can actively encourage and put things in place to enable them to continue worshipping in church. I am also hoping that the word will spread to the general public and encourage them to either bring themselves or a loved one without having to worry. It will show that St Lawrences is a welcoming and accepting church where all are welcome and catered for with any additional needs.
What are your churches three actions in your benefice?
To hold a Dementia Friendly Service
To make sure the signage for the toilets is clear and uses visual signs
To assign Dementia Coordinators for each church
---
Its a different path for each church, but all our churches that are Working towards becoming dementia friendly and taking action on dementia and making a difference to those who come in. Please get in touch if you want to join with other churches in the Diocese to make a difference to your church and to people locally who are affected by dementia.