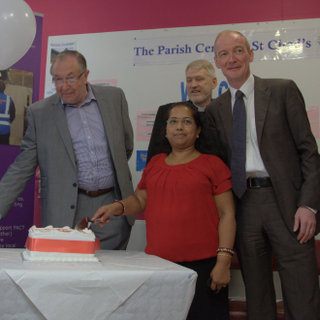 St Chad's Church, together with the city council, Wolverhampton Inter-Faith & Regeneration Network and SiteLearn formally opened a new Job Club on Friday. Watch the video to see all about it.
Bilston is one of many areas in the diocese that suffers from particularly bad unemployment which is over 50% higher than the national average.
"It's not a hopeless situation" said Wolverhampton South-East MP, Pat McFadden, who performed the opening ceremony. "By giving people help we really can make a difference and get them into work. It's a good testament to the church's keenness to get outside the doors of the church and into the community and say 'what are the needs of the community?'"
The Job Club is a new and important extension of the church's mission in the area.
"Over the years we've developed a sense of mission that isn't just about church services but about providing a wider range if services in the community" says Revd Mark Hathorne, the vicar of St Chads.
In cooperation with the City Council's Adult Education department who are funding the project, SiteLearn who provide the staffing and resources and the Wolverhampton Inter-Faith & Regeneration Network who've helped link the various parties, St Chad's Church is making the most of its postition at the centre of the neighbourhood.
"It's a great credit to the church that it's getting its sleeves rolled up like this and getting involved and making a difference to people in the community who may - or may not - walk in the doors of a church but nevertheless will benefit from that Christian helping hand" said Mr McFadden.
Picture: Councillor Phil Page (also Head of Education in Wolverhampton), Usha Patel (St Chad's Parish Centre Manager), Revd Mark Hathorne and Pat McFadden MP cut the celebratory cake.