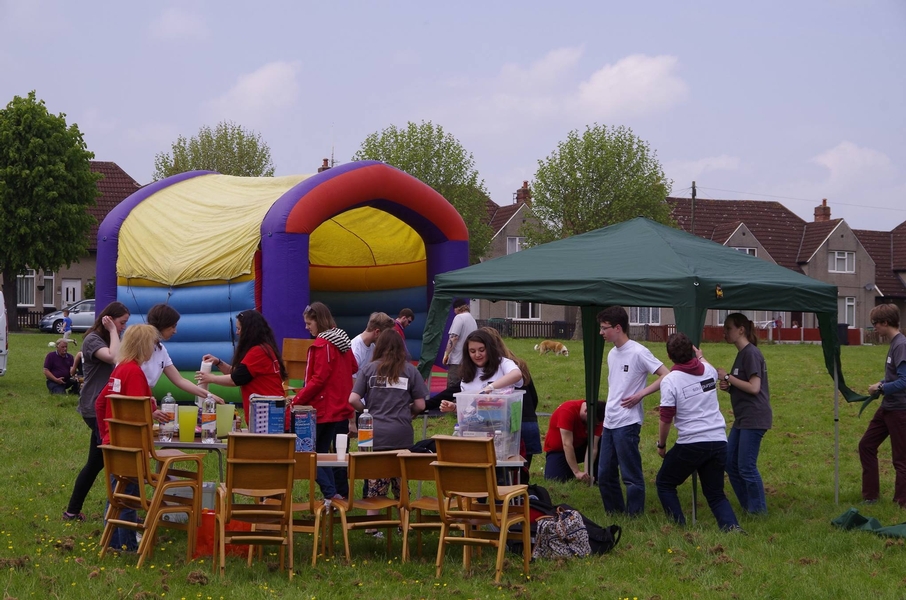 Over this past bank holiday weekend, fifty teenagers from the Shrewsbury area took part in the annual event known as Soul Purpose. One of them, Andrew Farrow, reports:
"Soul Purpose is a gathering of youth from several different churches across Shropshire to serve the local community and worship God. We put on fun days, do gardening and weve painted a mural on an underpass near Battlefield. Throughout the weekend weve also had the opportunity to speak to several people about the good news of Jesus and of what Gods love has done for them.
"Each day was very similar; we would arrive in the morning and have some sung worship, a talk from one of the small team leaders and a guest speaker telling us about a particular organisation that they represent. This year we had members from Street Pastors, Locked and Loaded, The Ark and Food Banks come to talk to us. After the talks, we would have lunch and then be sent off to our different projects for that day. After our projects had been completed we would be debriefed and sent home to take a shower and get ready for the evening events. On Saturday evening there was a BBQ, on Sunday a bingo night and on Monday there was a hog roast.
"The general theme of the weekend was A3. This stood for Allegiance, Ambassadors and Aliens: over the weekend we looked at how these apply to us and our relationship with God.
"Over the three days there was a huge amount of work done. There were several different fun days to run, many gardens to trim and a mural to paint. The fun days included running craft tables, painting faces, supervising bouncy-castles and setting up a cage football! The garden that my team were tackling was huge. The grass was overgrown and there were weeds and nettles everywhere, which needed pulling out by hand.
"The nature mural was done over all three days; each team painted a different part of it and every person had their own personalised part. In the mural there is a large painted tree with the handprints of every person who has helped paint it.
"It was an amazing weekend; its fantastic to be able to show Gods love for people through helping the community."
The team produced a daily video summarising the elements
Soul Purpose organiser Fi Iddon says the response in the local community has been fantastic:
"One lady we served said, 'thank you for sending a team of angels to help.'
"There was another lovely story of a couple down from the Lake District to look after a poorly father who was in Stoke hospital. His garden had been his pride and joy but as soon as they saw it they realised how he had aged as it was totally overgrown. They decided to go to church on Sunday morning and randomly turned up at Church of the Holy Spirit in Harlescott and heard about Soul Purpose. So they told us and we were able to send in a team to work alongside them for an afternoon and restore beauty and order. What an amazing story of God's provision and goodness to them."
Soul Purpose began in 2005, and the Diocese produced a short video describing a typical year in 2014: