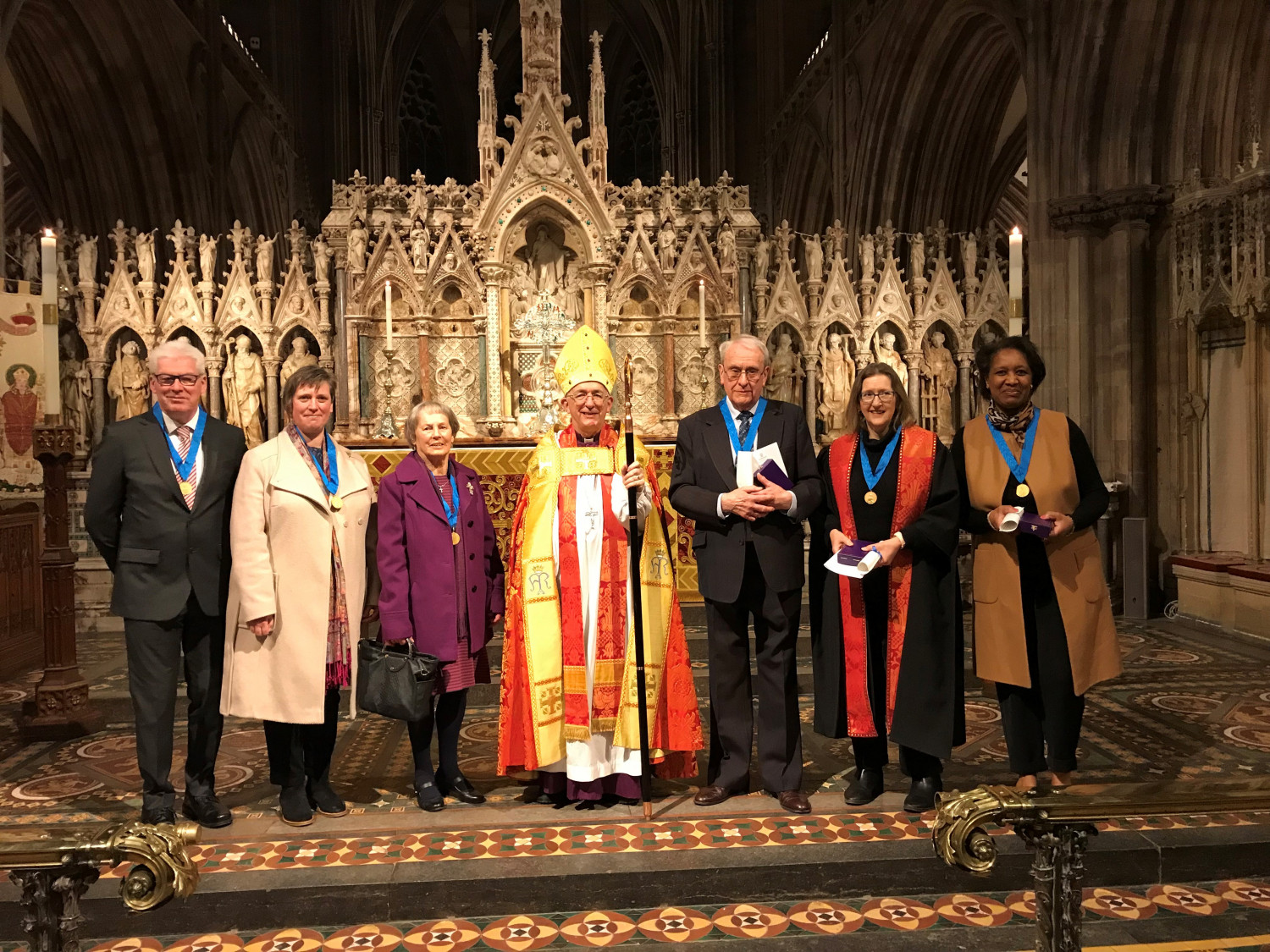 The Bishop of Lichfield, the Right Revd Dr Michael Ipgrave, marked the varied contributions of six people to the life of churches and communities across the Midlands by awarding them St Chad's Medals.
The medal, first awarded in 2019, is given to lay people who have made a particularly valuable contribution to Christian life in the Diocese of Lichfield. It is named after the first Bishop of Lichfield, St Chad, who charged his followers to have lives characterised by 'watching, prayer and good works'.
Bishop Michael presented medals to Vicki Adamson, Ann Fisher, Jenny Green, Nita Heath, Robert Mountford and Alan Warrilow at Lichfield Cathedral, the ancient seat of St Chad, on St Chad's Day, Thursday 2 March.
The medal winners have made an impact in a wide variety of places including Stoke-on-Trent, Stone, Stafford, Wolverhampton, Market Drayton and Lichfield. Their contributions include long stints of often unseen service in local churches along with supporting others and helping their communities.
Bishop Michael said: "It is a great pleasure to recognise these people and their vital, sustained contributions which can easily fly under the radar. Lay people are the glue that hold churches and communities together across the Diocese of Lichfield. The St Chad's Medal is one way of recognising their tireless service while encouraging more people to follow Christ in the footsteps of St Chad, partnering with others in their communities to seek the common good. I always enjoy receiving nominations and would welcome even more from across our diocese."
Pictured (from left): Robert Mountford, Vicki Adamson, Nita Heath, Bishop Michael, Alan Warrilow, Ann Fisher, Jenny Green.
Citations
Vicki Adamson
Vikki is a textile artist, producing individually crafted pieces including a triptych. 'Chad of the Three Kingdoms' which now hangs in Bishop Michael's chapel. Her work inspires reflection on Biblical themes, encourages worship and evokes appreciation of the wonders of creation. She has a passion for using art and textiles to engage communities, and curated a 'Lockdown Arts' exhibition celebrating the role arts can play in supporting mental health. She leads the Friday 'Crafty Café' at Holy Trinity Church, Berkswich.
Ann Fisher
Ann is closely involved with Lichfield Cathedral, and a member of the Cathedral Chapter. She is committed to researching, organising and walking pilgrimage routes across Staffordshire and England. Over the years since the pandemic she has charted, pioneered and covered on foot the whole of a new 475 mile route, the 'Two Kingdoms Way' from Lindisfarne to Lichfield, linking St Chad's original homeland of Northumbria to his apostolic mission home of Mercia. Ann also now co-leads the Two Saints Way Project.
Jenny Green
Jenny has been a member of St Joseph's Church, Pennfields for over 20 years and is now a Deputy Warden. She is servant hearted and has helped in various play and toddler groups, supported leading home groups, worked in the place of Welcome, served in the café and organised sale tables to link in with the community. She is also the church's Mission Partner link. She has a real gift of hospitality, supporting at many events. She has a pastoral heart, especially for those on the periphery, and seeks to support all whom she meets.
Nita Heath
Nita has been an indefatigable servant of St Mary's, Market Drayton for 50 years. She has transformed a dark, damp, unwelcoming church building in to one that is evidently loved and cherished. Nita is as active in the churchyard as inside the building, lovingly tending the church gardens day by day. Nita serves as verger at many services at St Mary's; she is a charming and informative welcomer of visitors, a fount of knowledge, a sensitive listener to those in need and ready to pray with and for those who request it.
Robert Mountford
Robert worships at St Paul's, Longton Hall, and is well known in churches of all denominations through his energetic and committed work as Ecumenical Mission Officer for Staffordshire and the Potteries, and more recently also for the Black Country and for Birmingham. He has an unequalled knowledge of the rich Christian histories of the region, and his devotion to St Chad has led him to research and publish extensively on the saint.
Alan Warrilow
Alan is sacristan at St Michael's and St Wulfad's, Stone, and a long serving member of the choir. He makes sure that the church is prepared for all the services, a role that he has undertaken for many years. He works closely with the ministry team in helping to find relief organists and clergy when the rector is away. He liaises with the undertakers regarding their requirements for funerals. He is a great asset to the ministry team and the congregation.