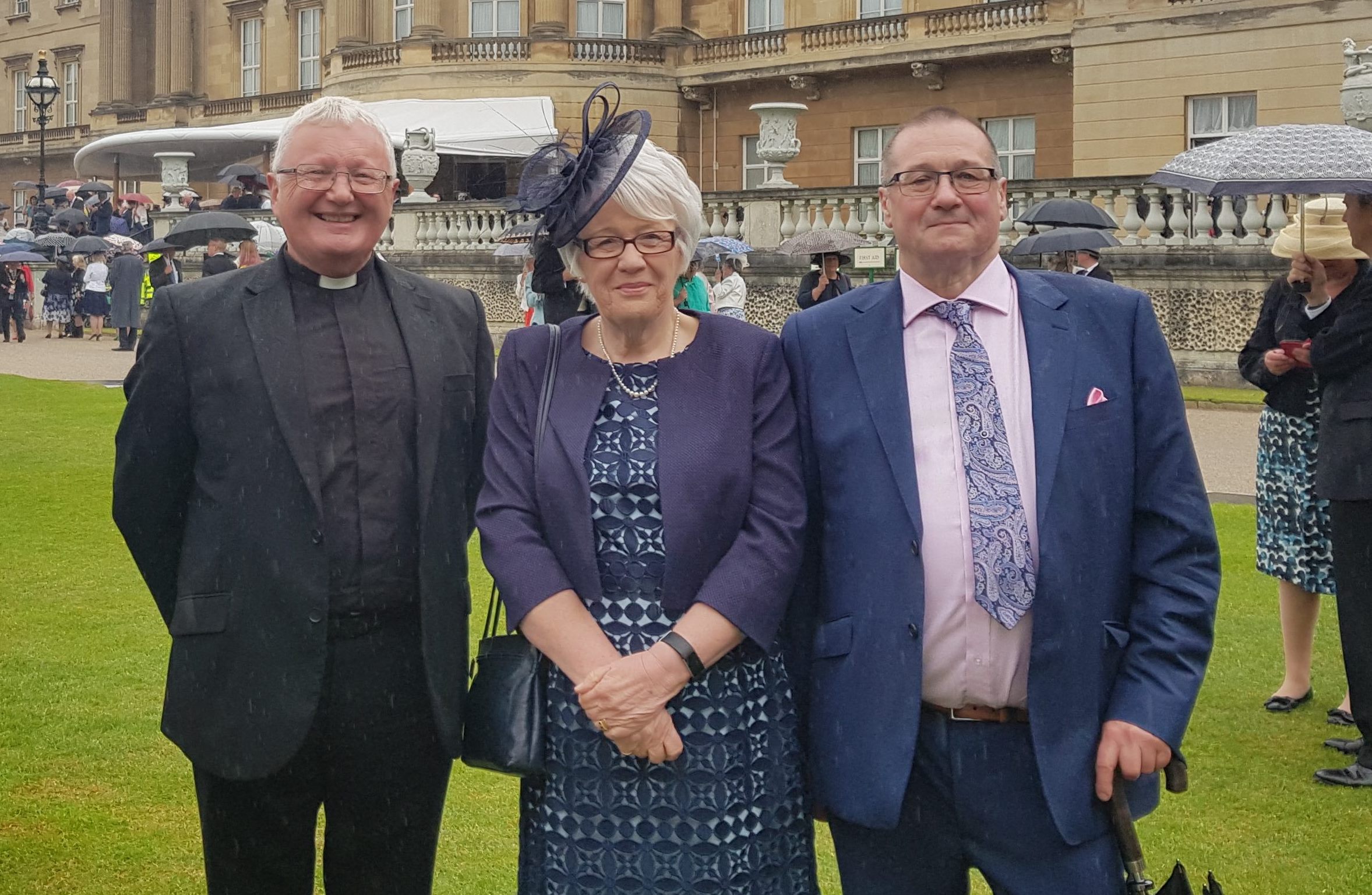 From its holy dusters and flower arrangers to its tea mashers and tour guides - the 400-strong team of volunteers at Lichfield Cathedral have been honoured with the Queens Award for Voluntary Service.
It is the highest award a voluntary group can receive in the UK to recognise outstanding work in their communities, and is the equivalent of an individual MBE.
On behalf of Lichfield Cathedrals volunteers, Kath Toothill and Pete Harris joined fellow recipients of this years award at a garden party at Buckingham Palace in May.
Pete is an Information Guide and an Events volunteer, helping out at Lichfield Cathedrals Christmas Illuminations and The Great Exhibitions. Kath is a Pastoral Visitor, a Guide, a Welcomer, a Diocesan Digest (sound magazine for the blind and partially sighted) volunteer, a member of the Flower Guild, a Holy Duster and helps out in the office when needed.
The Dean of Lichfield, the Very Revd Adrian Dorber (also pictured), said: Our volunteers are the lifeblood of our cathedral and it is wonderful for them to be recognised in this way.
"They are an extraordinary group of individuals who give of their time and talents generously. Without them and their tireless support, our mission, our ministry and our hospitality would be so much less.
I am proud as punch for them all."
There will be a Thanksgiving Service in Lichfield Cathedral for all its volunteers on 23 June followed by a garden party and a presentation of the Queens Award for Voluntary Service by the Lord Lieutenant of Staffordshire, Ian Dudson CBE KStJ.
A certificate signed by the Queen will be received at a later date.
Lichfield Cathedral is one of 281 charities, social enterprises and voluntary groups to receive the prestigious award this year. The number of nominations and awards has increased year on year since the awards were introduced in 2002 to recognise outstanding work by volunteer groups to benefit their local communities. It was created in 2002 to celebrate the Queens Golden Jubilee. Winners are announced each year on 2 June - the anniversary of the Queens Coronation.