The Cathedral is among the earliest centres of Christian worship in the UK. A cathedral was built to house his remains in 700 the first shrine is mentioned by the Venerable Bede in his Ecclesiastical History of the English People in 731. Pilgrims continued to come and a new, larger cathedral - the current Cathedral - was completed in the 14th Century. It subsequently underwent significant restoration by Sir Gilbert Scott in the 19th Century. It is the only medieval English cathedral with three spires and is the only cathedral in the UK to have been fortified with walls and a moat, traces of which remain in the landscape today.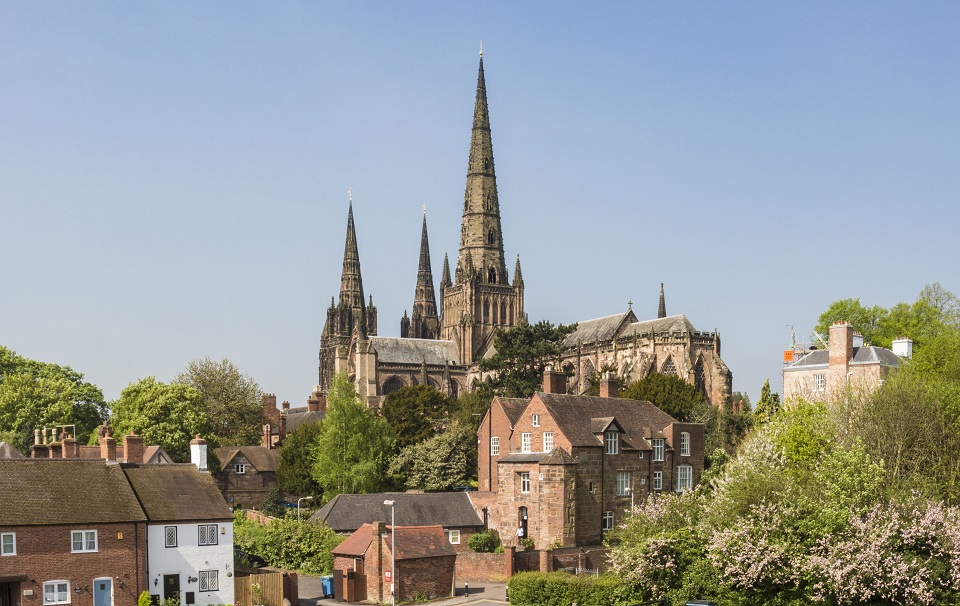 Today, people continue to come in their thousands for all sorts of reasons: to admire the architecture, to explore the building and its towers, to pray, to ask, to be silent, to study, to worship.
The place of Chad continues to draw people to engage with some of the most fundamental questions of human and divine life. Visitors leave comments such as beautiful, peaceful, calm, wonderful atmosphere. On one level they are encountering a Christian holy house; on another, they are experiencing the transforming love of God.
We hope and pray that all our visitors will become pilgrims, not just visiting the shrine of Chad and leaving their prayers, but taking something with them on their own spiritual journey and making a real difference in the world in the name of Jesus Christ and the gospel of justice, reconciliation and peace.
When people come in great numbers, they realise, just like the earliest pilgrims, that they do not make this journey alone, but with friends, brothers and sisters in the Lord, and God himself journeying with God towards the loving heart of God.
The mission of Lichfield Cathedral is to live and proclaim the transforming love of God. Through the fullness of its life in the Spirit, it seeks to be a sign of friendship and freedom that God in Jesus Christ has given the whole world to enjoy. The Cathedral provides a glorious focus for worship and reaches out to communities across the Diocese, providing support to a wide range of missional and charitable activities. The Cathedral provides space for worship, community and cultural events. This follows a tradition that has been handed down through the generations since the first Cathedral was founded in AD 700 on the burial site of St Chad.
For information about our life, worship and events see our website: www.lichfield-cathedral.org