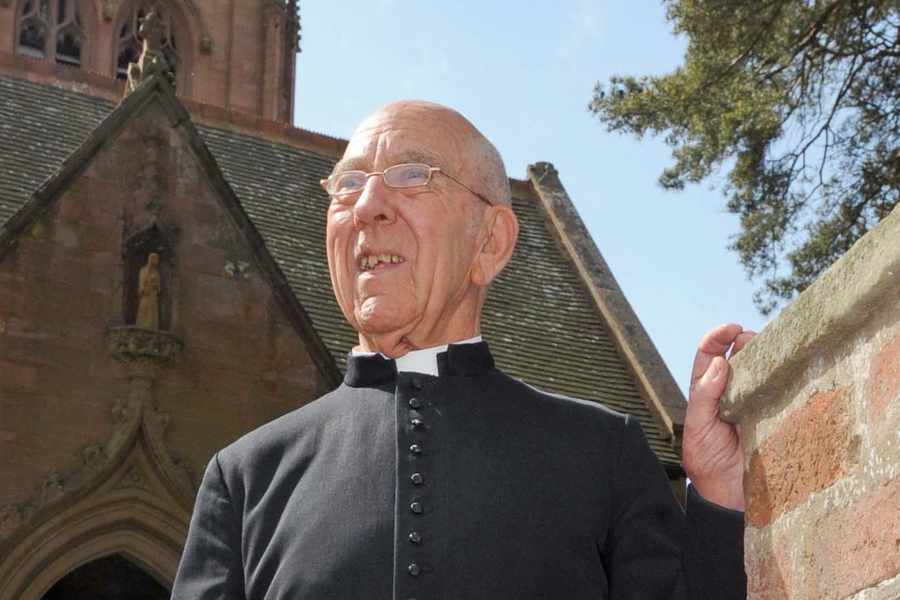 Tributes have been paid to one of the Diocese of Lichfields oldest priests following his death aged 101.
Andrew Collins was ordained in Lichfield in 1961 and, after being curate at All Saints in Sedgley, served as rector at Enville, near Stourbridge, before his retirement in 1990. However, after he retired he carried on taking church services well into his 90s.
His funeral was held at St Mary the Virgin Church in Enville on 5 January following his death on 19 December.
Revd Martin Soar, associate minister at St Mary the Virgin, said: Andrew was remarkably agile in body, mind and spirit until very recently.
It was only in the last three or four years that he no longer stood in for me at 8am communion services if I was away!
We had some memorable times together including sharing communion with him on his 101st birthday, St Andrews Day. Only a week before he died, as his death approached, we read Psalm 139 together.
Lord (Patrick) Cormack, former MP for South Staffordshire, added: No-one who was in St Mary's on 29 November 2015 will ever forget that happy, moving, and memorable service when Andrew Collins, our much loved former Rector, presided at the Eucharist on the eve of his hundredth birthday.Later we toasted him at a reception in Enville Hall; and on the day itself, St Andrew's Day, the Archbishop of Canterbury telephoned his congratulations.
It is impossible, adequately to sum up Andrew's long life of dedication and service in a few words but I do not think that any Rector of St Mary's in the last 800 years can have been more loved and respected.He was known in almost every home in the parish for he believed it was impossible to be a parish priest without knowing his parishioners - and he came to know so many over a long, lingering, cup of tea, or gin and tonic!
Andrew lived in Enville for forty years and served the village long after his official retirement. He will be sorely missed and fondly remembered. As he said at every funeral he took, May he rest in peace and rise in Glory.
Although priests usually retire at 70, some request a Permission to Officiate certificate which allows them to continue to support full-time clergy by taking services in local parishes.
The Bishop of Lichfield, Right Revd Dr Michael Ipgrave, said: For Fr Andrew, formed as he was by a deep priestly spirituality, serving his church and his community was much more than just a job. The fact that he carried on ministering until only a few years before his death at 101 is remarkable.
(Photo courtesy of Wolverhampton Express & Star)