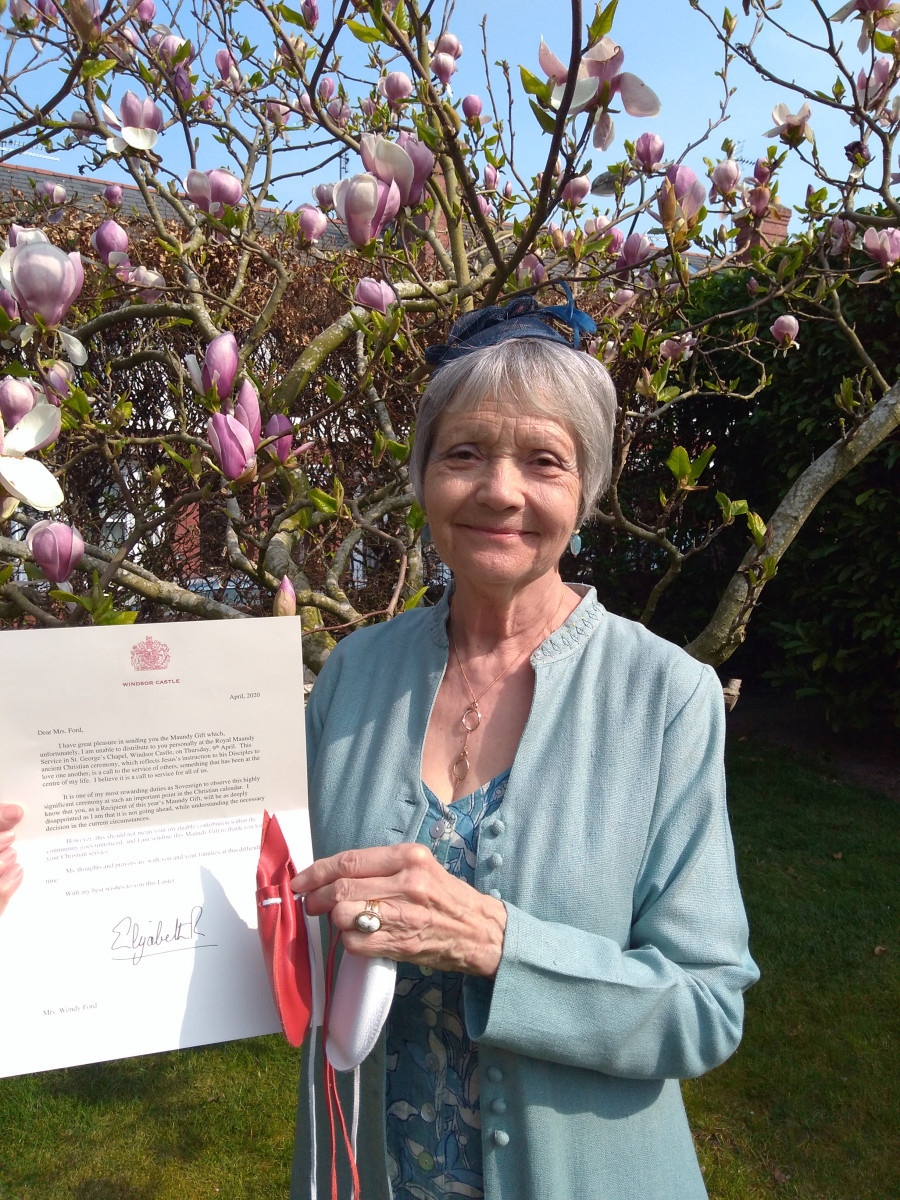 A Shropshire woman was delighted to mark Maundy Thursday in her garden after a special parcel arrived from The Queen.
Wendy Ford was one of six people from the Diocese of Lichfield to be recognised in the traditional 'Maundy money' award by The Queen which usually takes place in Windsor. Every year, on Maundy Thursday, The Queen distributes special Maundy money to pensioners in a service which commemorates Jesus washing the feet of the Apostles at the Last Supper.
Recipients of Maundy money are nominated by their local dioceses for contributions to their local church and community. Given the current circumstances, the Royal Maundy Service 2020 could not go ahead at St George's Chapel, Windsor, as planned. Instead some weeks ago, the Maundy money was blessed at the Chapel Royal, St James's Palace, before being posted to recipients alongside a letter from The Queen. This meant recipients could still receive their Maundy money and purses, and instead mark the special occasion from their homes.
Wendy, who celebrated at home in the garden with her husband Roger, was recognised for her long years of service at Shrewsbury Abbey Church, administering communion, acting as reader and intercessor plus operating the Fair Trade stall. For 12 years she was the Abbey administrator, and for ten years was Volunteer Coordinator for the St Chad's Trust Volunteer Programme. For several years Wendy was a volunteer teaching disabled young adults in Uganda. She works currently as a volunteer supporting the Shrewsbury initiative for Syrian refugees.
She said: "I would like to thank Her Majesty for the incredible honour of receiving the Maundy Money in this her 94th year, albeit by post rather than in person at Windsor. But in this strange period of lockdown, it was good to be able to dress up in my posh frock and open the coin bags in our garden in beautiful weather.
"It is a very humbling experience to be recognised for the small amount of service I have given, compared to many, many others whom I'm sure deserve the award just as much, if not more. I just happen to have been fortunate enough to live beyond my three-score years and ten and therefore be eligible!"
Her letter from the Queen said: "It is one of my most rewarding duties as Sovereign to observe this highly significant ceremony at such an important point in the Christian calendar. I know that you, as a Recipient of this year's Maundy Gift, will be as deeply disappointed as I am that it is not going ahead, while understanding the necessary decision in the current circumstances.
"However, this should not mean your invaluable contribution within the community goes unnoticed, and I am sending this Maundy gift to thank you for your service."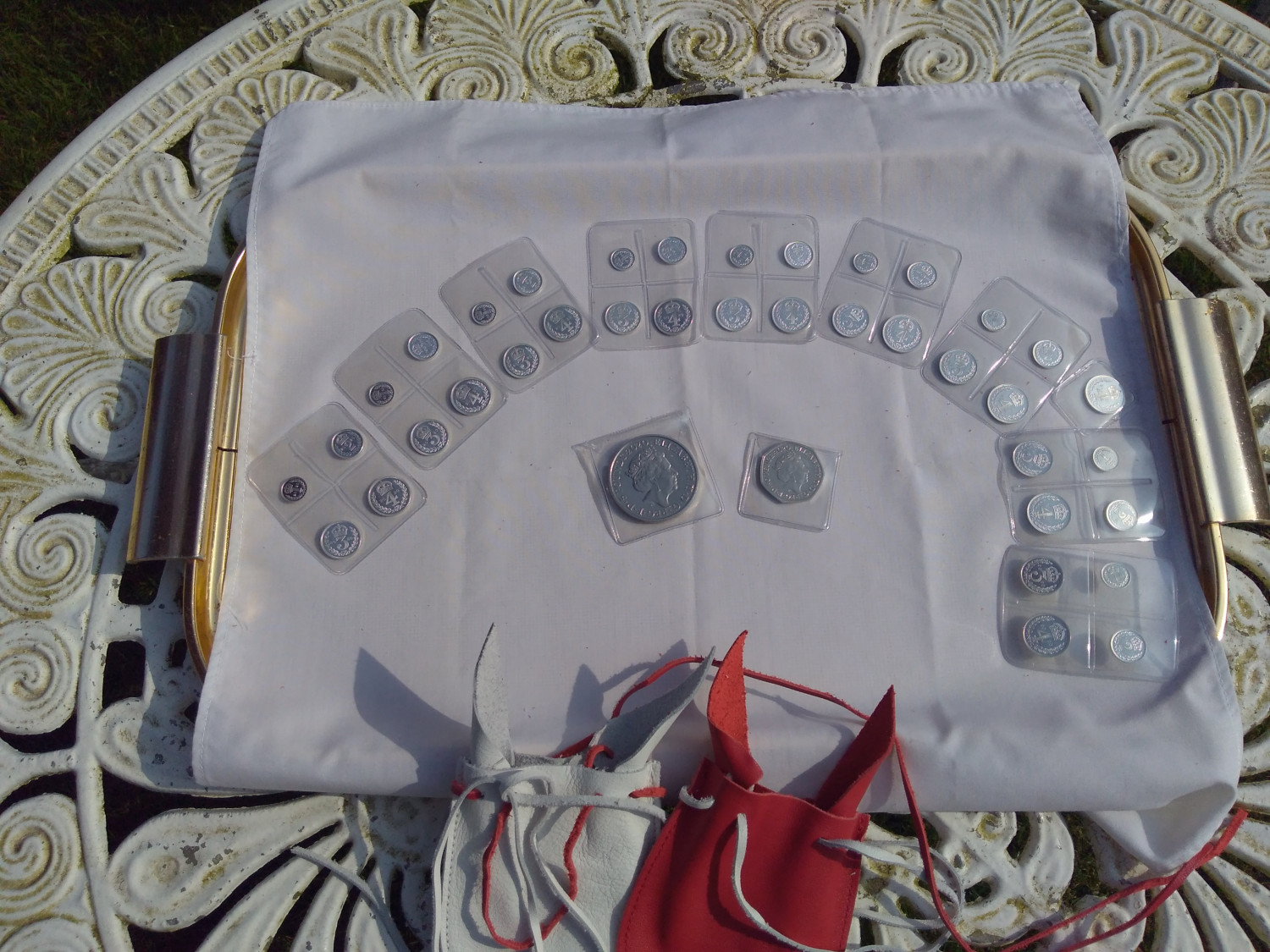 Each recipient of Maundy money is given two small leather purses by The Queen, one red and one white. The first contains a small amount of ordinary coinage which symbolises the Sovereign's gift for food and clothing. This year the coins are specially created to represent the poet Wordsworth and The Great British Olympic Team. The second purse contains Maundy coins up to the value of the Sovereign's age. The coins are legal tender but recipients normally prefer to retain them as a keepsake.
The other recipients in Lichfield Diocese were:
The Revd Mavis Allbutt
Mavis has had a distinguished ministry in tough and demanding parishes. She also worked for many years with the young people at the YMCS in Hanley. Since her retirement Mavis has had Permission to Officiate and assists in preaching and leading worship besides being willing to mentor and support colleagues who may be going through difficult times. She lost her husband Colin several years ago and their son was the first soldier killed in the War in Afghanistan. Despite the sadness she has known, Mavis is an amazingly cheerful person, with a living faith and genuine pastoral care and sensitivity for others.
Mr David Betts
David and his wife dutifully and lovingly nursed their son-in-law who suffered with multiple sclerosis, relying on the strength of their faith to manage the difficulties and celebrate his life. David spent his entire career with the Post Ofice. He is a Cathedral Steward of long-standing and his dedication to Cathedral and community is notable.
The Revd Preb Ian Cook
Ian Cook has had a very distinguished ministry within the Diocese of Lichfield both pre and post-retirement. Following a remarkable 23-year incumbency as Vicar of St James Wednesbury, since retirement he has served for five years as Rural Dean of Penkridge and has offered priestly ministry wherever required, covering countless services in myriad places. A Society priest, he has always exhibited great grace and generosity in seeking the welfare and flourishing of the Church Universal. He endured the unexpected loss of his wife but has since demonstrated great faith and fortitude in his life and ministry.
Mrs Geraldine (Gerry) Stokes-Harrison
Gerry is a clergy wife who, whilst serving the churches in Edgmond Benefice with her husband David, has also done outstanding work in the village of Tibberton. She was a founder member of the Village Shop and has since helped co-ordinate it with a team of people from the village community. She has been part of the local Bridge Club and is generally looked to as a 'matriarch' in the local communities.
The Revd Stewart Tyler (RIP)
Following a career in engineering, Stewart's faith led him to Ordination at just short of 70 years of age. He then hit the ground running in the Mease Valley benefice, serving four parishes and five churches with an energy that belied his years. Then out of the blue, in 2017, he was diagnosed with Motor Neurone Disease, which he accepted calmly and with humour. He continued to be in demand for preaching and giving talks which he did with grace and humour. As the condition robbed him of each physical ability he accepted the help he needed with dignity and humility. The Mease Valley parishes and Tamworth deanery were enriched by his presence as he continued to minister under increasingly challenging circumstances; it was a wonderful thing to see his wife Jackie, a licensed Reader, act as Stewart's hands and feet to his voice as he Presides at Communion. Stewart died on Friday 17 April.