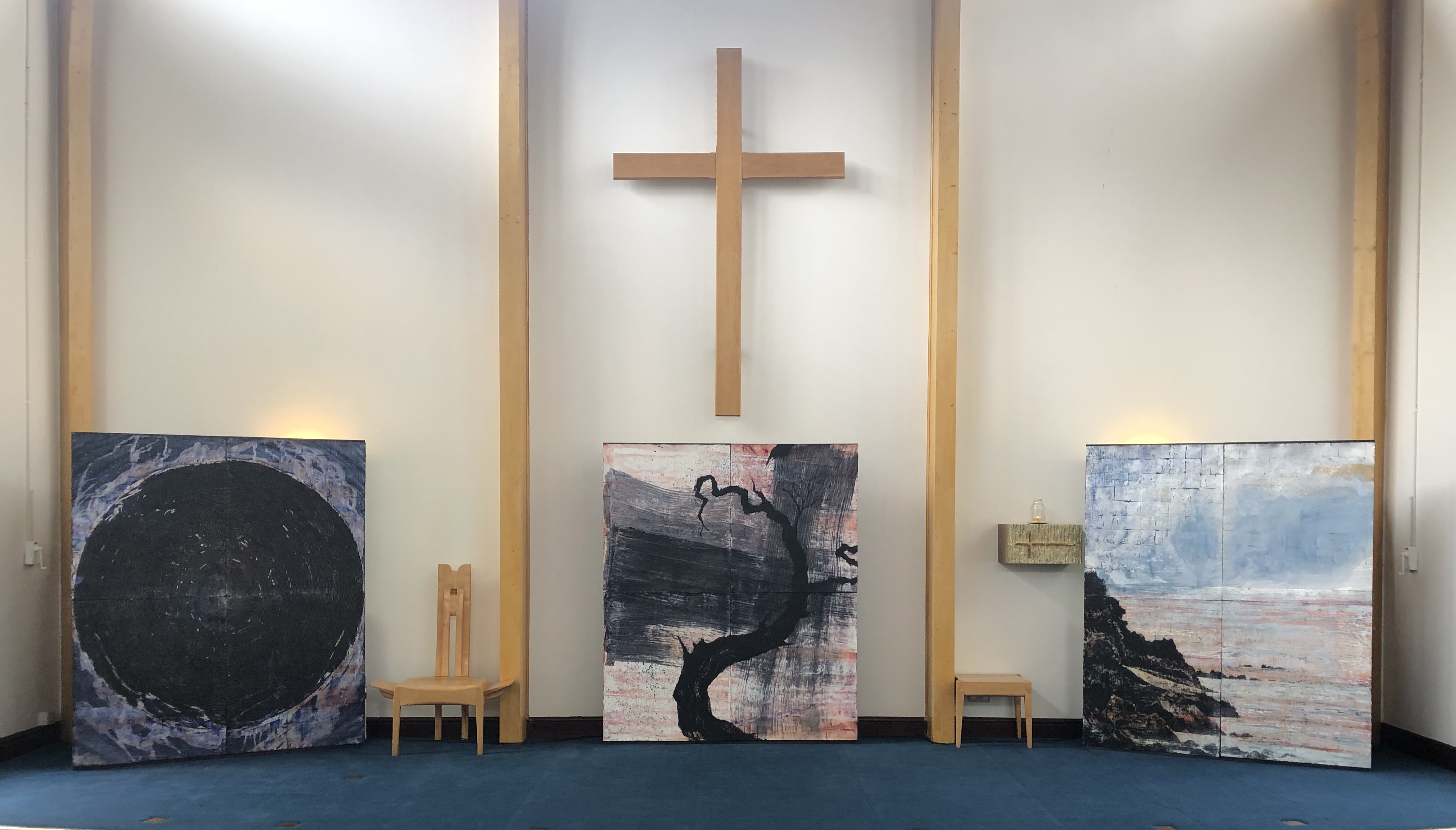 A new roving art exhibition has premiered in the diocese at the start of a year-long tour of north Shropshire, Staffordshire and the Black Country.
'Loving Hurting Dreaming' is a new three-part artwork by Birmingham-based artist Jake Lever developed in collaboration with Shifnal-based author and vicar, Preb Chris Thorpe and Lichfield Diocese's Spirituality Adviser, Revd Charles Ruxton. It has been designed to move easily and set up in churches, schools and community venues and includes many resources to enable children and adults to engage with the art and the themes behind it.
"This project is aimed being something that can get spiritual conversation going. Sometimes it's hard to raise the subject and a piece of art like this just evokes responses naturally. People - both in and out of churches - are able it seems with something like this to talk about their hopes and fears and dreams,
"It can be used for things like quiet days or just as an art exhibition. There's the opportunity to respond to the art - there are art materials, lesson outlines and presentations to be used by hosts and participants and a fourth panel so that people's responses can go up and make display to add to the exhibition."
Jake is best known for his 'Soul Boats' installation in Birmingham Cathedral in 2016 in which 2000 visitors of all and no faith add their personal thoughts and prayers in their individual contributions which were hung in the cathedral, and aspects of that have made their way into at least one of Jake's paintings and the activities that helped children at St Andrew's School in Shifnal engage:
The large cavasses - each 6' / 180cm square and completed with silver leaf and gouache - drew awe and reflection from visitors to St Andrew's church at the start of July. The exhibition has now moved on to the chapel at RAF Cosford and will continue to tour the diocese until summer 2020.
The resource has a triptych of creators: along with Jake's artwork is a set of carved wooden communion vessels by John Morse-Brown, suitable for a Eucharist service or Agape meal and creatively written liturgies by Chris Thorpe (to be published later this year).
Despite its impressive size, the entire exhibition and resource packs down for transport in a medium-sized hatchback. Parishes or groups that might like to host the exhibition should see the leaflets here and contact Charles Ruxton by email or phone 01743 891507.