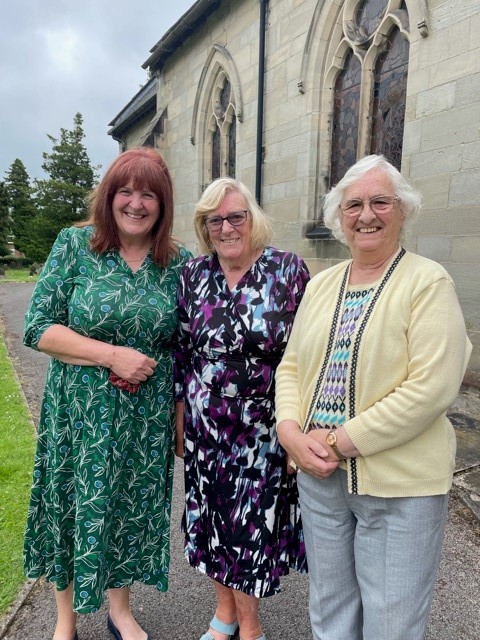 I've been heartened recently by the new Dementia-Friendly Church Certificate we are finalising for St Michael's Church, Rocester. They are joining the (at the last count) 86 churches across the diocese that are recognised with Dementia-Friendly Church Certificates, acknowledging the next steps they are taking to become more dementia-friendly churches at the heart of dementia-friendly communities.
It all started with Places of Welcome. My Transforming Communities Together colleagues, Lesley Bovington and Carrie Blount, invited me to meet Places of Welcome Coordinators for an online session together exploring 'Dementia-Friendly Places of Welcome'.
I wonder if you've come across the wonderful Places of Welcome network of hospitality, a rapidly growing grassroots movement of welcome and hospitality. It seeks to ensure that there are safe places in every community for people to connect, belong and contribute. Places of Welcome offer the five Ps:
Place: An accessible and hospitable building, open at the same time every week
People: Open to everyone regardless of their circumstances or situation, and staffed by volunteers
Presence: A place where people actively listen to one another
Provision: Offering free refreshments (at least a cup of tea and a biscuit) and basic local information
Participation: Every person will bring talents, experiences and skills that they may be willing to share locally.
If you want to know more about Places of Welcome, speak to Carrie Blount (for the Black Country) or Lesley Bovington (for Staffordshire and north Shropshire).
'Craftea' is a Place of Welcome. It is held at St Michael's Rocester on a Monday afternoon – with space to meet, chat, have a cuppa and biscuit and do some craft activities. Susan Maiden-Dalton, Gill Sanbrook and Monica McGirr from Craftea came to the Dementia session together. They thought about practical actions they could take and talked to their vicar, Revd Liz Jones. Discussions continued at a recent north Staffs Dementia-Friendly Church Local Network Meeting online.
Then Susan, Gill and Monica had a conversation about steps they want to take in the next 12 months at St Michael's Rocester. Susan told me, "I have met, discussed and agreed a planned action plan for St Michael's today with Monica and Gill." Together, they have come up with a list of eight things that they are going to do:
Replace our old, hard to see 'Toilet' sign with a larger, brighter one and position it in a more obvious place.
Exchange our white coloured toilet seat for a contrasting coloured one.
Make up a memory book of old church events.
Buy the Pictures to Share 'Strength for the Journey' book, as reminiscence resource.
Create a dementia noticeboard with photos of our ongoing changes, 'before and after', and helpline numbers for support for carers and other items.
Hold a coffee morning to raise funds for a dementia charity and to raise awareness.
Save forget-me-not seeds and give them out in little envelopes at next year's Dementia Action Week church service.
Explore proper training for our outreach volunteers who (prior to the pandemic) have visited our local care home twice a week to sing and do craft work.
For a Dementia-Friendly Church Certificate, we only ask a church to commit to three clear actions in the year ahead – but for the Certificate for St Michael's it's clear that we'll go with the eight things that are planned. When the Certificate is signed by Bishop Michael Ipgrave, it'll be good to explain why we've got eight actions here: it's because this is what's come out of the discussion between Sue, Gill and Monica and these are the things that are going to move forwards as St Michael's works to become more dementia friendly over the coming year.
When much of the focus over the past year or more has been on what we can't do, I find it refreshing that three friends are putting their energy into what they can do take action on dementia in Rocester. "Do the little things" and we'll change the world together!