Cannock and Huntington and Hatherton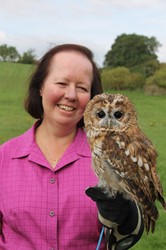 Marie was born and bred in Birmingham and lives with her mother and a very lively Pomeranian called Gimli. She loves the great outdoors especially the mountains and wild places but is as equally happy in the garden. She also enjoys films, craft, baking, and when allowed to, travel.
Before Ordination Marie worked as a secondary school teacher specialising in PE, PSHE and psychology. She has ended her teaching career in pastoral care and leadership for Years 7 – 9. In this latter role, Marie has dealt with a diverse array of student, parent and staff concerns. She is also a long serving Duke of Edinburgh Award manager and expedition leader and assessor.
Marie's call to ministry was a slow revelation feeling that she did not have the skills or fit the ministerial 'type' and tried to ignore that God was calling her. It was only after ten non church members commented on the ministry they saw her engaged with at work or heard about her church activities that she decided to listen; the tenth was her Head Teacher – she thinks God has a sense of humour!
As a people person, Marie feels that God is calling her to serve him by reaching out into community to share God's love for them and bring communities together. Marie is excited about her ordination and sees herself as a chosen child of God and amazed to be part of God's plan.
One of the biggest misconceptions Marie has faced is that as Vicar she is expected to know the whole Bible by chapter and verse and will only ever wear black. She has enjoyed sharing information about the modern Vicar!
Marie's advice to those who think God is calling them is to listen, pray, talk and pray again. No matter what your doubts, if you respond, you will get a divine GCSE; God Calls, Sends and Equips.
Marie will serve her title with Vicky Fleming in the parishes of Cannock, Huntington and Hatherton