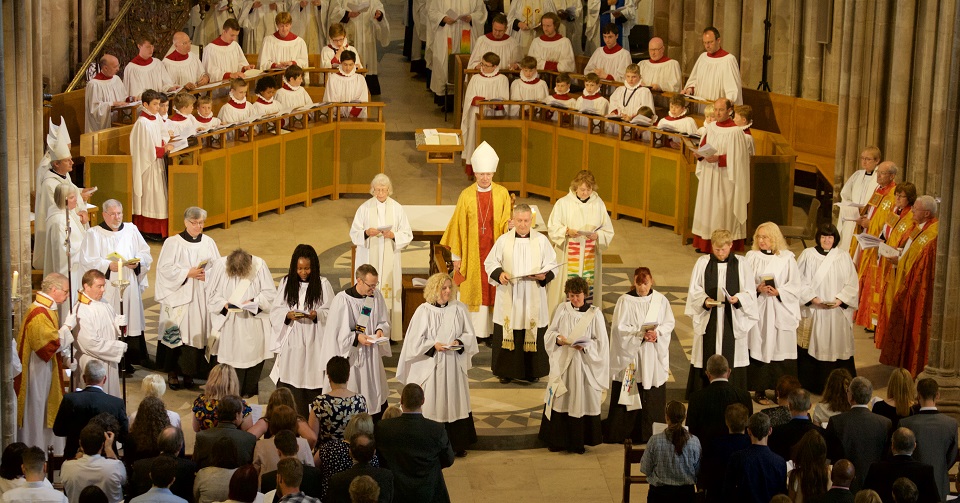 Eleven new curates were ordained last Sunday in Lichfield Cathedral, marking the end of two or three years of training and the beginning of their parish ministry.
The youngest was Jacob Madin, age 24, who first felt the tug of ordained ministry as a teenager (the eldest is 60). Having grown up in the south-western corner of the diocese on the rural edge of Shrewsbury, Jacob moves to the centre of Walsall, to the busy parish of St Matthews.
Some curates will continue with secular employment, such as Revd Alison Thomas who works as a communications manager for Stoke on Trent & Staffordshire Local Enterprise partnership - and giving her remaining time to the parish St Marys & St Chads in Stafford town centre and St Leonards, Marston.
Each one has a story to tell. Here is just one: Cathy Mark Okoronkwo grew up in Jerusalem and Syria and began thinking about becoming a missionary while studying in Virginia, USA. But it was while a teacher in Birmingham that she found her vocation is about who God has called her to serve rather than where.
For Revd Charlotte Gompertz, life in a curate's house is nothing new - her husband Adam was ordained in 2014 and he will now combine an extended part-time curacy while her full-time ministry begins at Meole Brace in Shrewsbury.
For more stories and information on ordained and lay ministry, visit the Vocations team's webpages and video playlist.
More photos from Sunday's ordination can be found on the Diocese Flickr account.