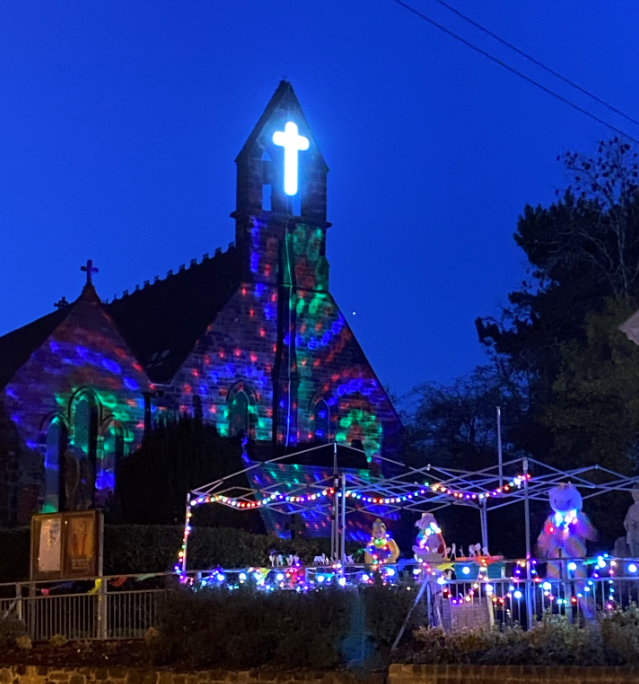 St Peter's Messy Church brought plenty of light to the streets of Forsbrook and Blythe Bridge on a chilly but dry evening with their alternative halloween 'Light Night' event.
The event, from 5pm to 7pm on Saturday 31 October, took the form of a 'treasure hunt' which was planned around the two villages and enabled over 80 children from about 40 local families to take part in a fun evening in a Covid-safe and socially distanced way.
Families could apply for a treasure-hunt 'pack' prior to the event which included a map and stickers which they used to guide them to well-known points in Forsbrook and Blythe Bridge. At each point, children found a Messy Church leader dressed up in lights and holding up a colour which corresponded to the sticker they should put on their map. When families finished the simple route, they could take their completed map to a collection point on the car park at St Peter's Church where they collected a bag of treats (some kindly donated by the local Spar store) and were welcomed by a spectacular display of lights, music and a dancing unicorn! Even the church building was illuminated by colourful lights - topped by the illuminated cross which was recently repaired after a crowdfunding appeal, supported by members of the local community.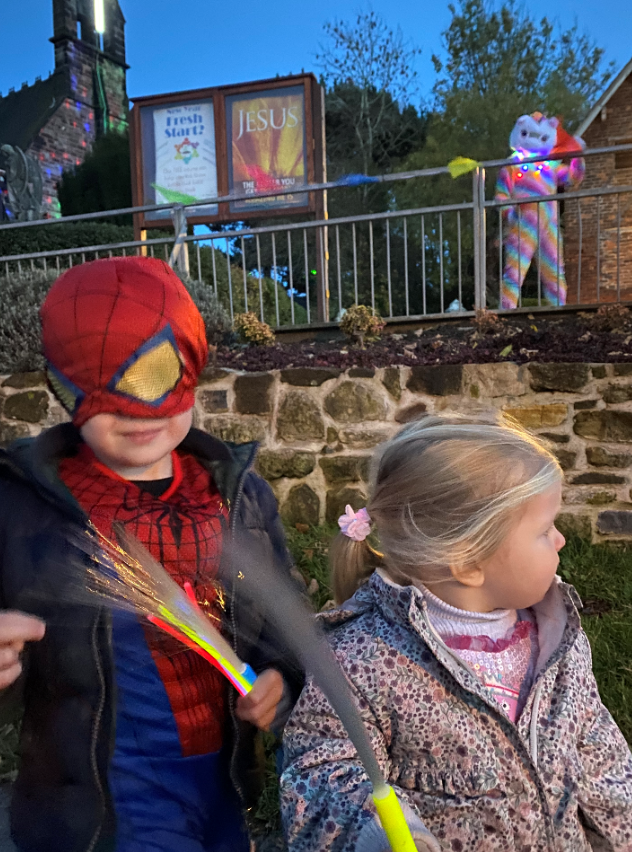 In contrast to traditional 'halloween' costumes, children were encouraged to dress up in fancy dress with a 'light' or 'goody' theme – so there were plenty of princesses and superheroes in their family groups sharing light and fun together. Each goodie bag contained a copy of the Scripture Union booklet 'Who is the light?' which outlines Jesus' claim to be 'the light of the world.'
The Rector of St Peter's, the Revd Jonathan Roberts, said, "We are so grateful to everyone in the Messy Church Team who made this brilliant evening possible and are praying that everyone in our community may know the light and presence of Jesus in a dark and difficult time."
Families who took part expressed how much they appreciated being able to do something safe and fun, particularly at such a difficult time. One participant commented: "Thank you so very much for bringing light to the villages. I cannot describe how much you have lifted my spirits (excuse the pun). To have light and music in the streets and see so many happy families milling about has been really uplifting and the happiest evening in a long time. Thankyou, and God bless you all xxxx."