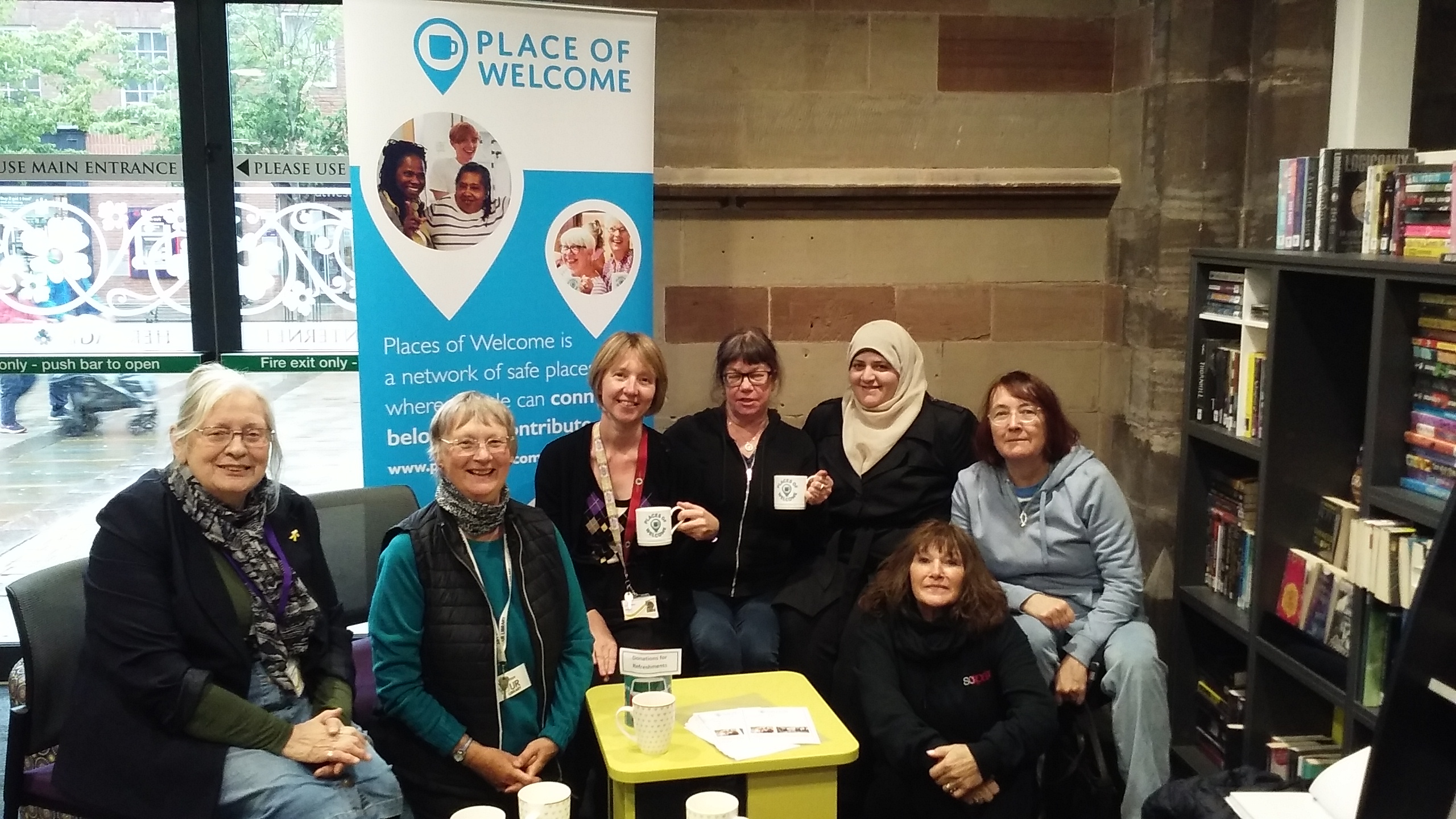 The newly relocated Lichfield Library is offering an extra special welcome to all visitors including free refreshments, friendly volunteers and lively chat every Tuesday between 2pm and 4pm.
It has joined the national Places of Welcome network which is made up of small community organisations providing an unconditional welcome and hospitality to local people for at least a few hours each week. The recently opened venue at the Guild of St Mary's Centre in Market Square launched the new service on Tuesday 11 June 2019 and was pleased to meet and greet visitors young and old. It is the fifth library in Staffordshire to become a Place of Welcome with more in the pipeline.
The Places of Welcome movement is spreading across the Midlands and other parts of the country with over 350 venues taking part, including 14 across Lichfield District. Places of Welcome are run by local groups who want to make sure that everyone in their area has a place to go for a friendly face, a cup of tea and a conversation. This now includes Lichfield and Burntwood libraries which are run by Staffordshire County Council.
Places of Welcome Enabler Helen Titterton said: Places of Welcome is about opening the door for people to meet others in their community and is great at involving those who may feel isolated, including the elderly. Libraries are already wonderful community hubs and it is great they want to build on their important role of signposting to local services and other sources of help if needed. We are delighted that we have been able to work in partnership with the Staffordshire Library Service and that Lichfield and Burntwood Libraries have joined the network."
Councillor Gill Heath, Staffordshire County Councils Cabinet Member for Communities, said: "We are really excited that Lichfield Library has joined the Places of Welcome network and is helping to promote Lichfield District as a friendly and caring place to live. Libraries are already regarded as safe and inviting places for everybody in the community and by becoming Places of Welcome we want to build our role as a real asset within the community.
"The whole concept of getting a friendly welcome and the chance to enjoy a cuppa while meeting with others is one that is making a positive difference.
Places of Welcome are sponsored and supported by Transforming Communities Together, a joint venture between the Church Urban Fund and the Diocese of Lichfield.
Transforming Communities Together Chair, the Revd Dr David Primrose, said: Were delighted to have Places of Welcome now at a growing number of places across the Diocese and want to continue this growth across Lichfield District. Its fantastic to have libraries and community centres, as well as churches involved, as we work towards our vision of every neighbourhood having a Place of Welcome.
Places of Welcome is a grassroots movement that began in Birmingham. It has five values ensure that each venue is open at the same time and place for at least a few hours every week and is welcoming to anyone wanting to attend:
Place: An accessible and hospitable building, open at the same time every week.
People: Open to everyone regardless of their circumstances or situation, and staffed by volunteers.
Presence: A place where people actively listen to one another.
Provision: Offering free refreshments and basic local information.
Participation: Recognises that every person coming to a Place of Welcome will bring talents, experiences and skills that they might be willing to share locally.
There are no charges for joining Places of Welcome, and anyone can start one in their community. Places of Welcome can be in any location including churches, mosques, temples, community centres or housing associations.
Find out more here.