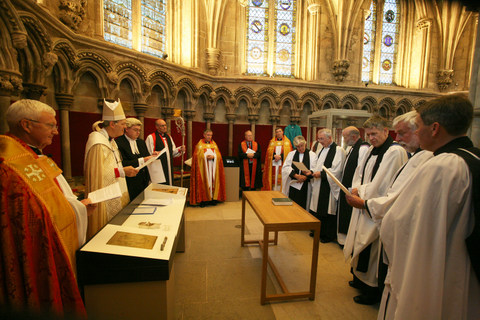 On 29 September, six long-serving priests were made Prebendaries of Lichfield Cathedral by Bishop Jonathan with the Dean, Adrian Dorber.
Prebendaries are, in the modern church, honorary positions given to clergy who have provided long service and held in high regard by the diocese. They are given a 'seat' in the cathedral which in times past provided an income through tithes and rents: nowadays they are simply asked to join the Cathedral College of Canons (the wider body that elects Bishops) and agree to lead worship and preach occasionally.
Those installed as Prebendaries are:
Revd Adrian BAILEY, Priest in Charge of Selattyn and Hengoed with Gobowen Chaplain to the Robert Jones and Agnes Hunt Orthopaedic Hospital and Rural Dean of Oswestry to be appointed Prebendary of Sandiacre.
Revd Charmian BEECH, Priest in Charge of Hodnet with Weston under Redcastle, Rural Dean of Hodnet and Diocesan Safeguarding Officer to be appointed Prebendary of Pipa Minor.
Revd Nigel CLEMAS, Rector of Chapel Chorlton, Maer and Whitmore, Rural Dean of Eccleshall and Surrogate for Eccleshall to be appointed Prebendary of Dernford
Revd Peter DAVIES, Vicar of Audley and Priest in Charge of Alsagers Bank to be appointed Prebendary of Wolvey.
Revd Ben WHITMORE, Vicar of Penn to be appointed Prebendary of Curborough
Revd Brian WILLIAMS, Vicar of Sneyd and Surrogate for Stoke North to be appointed Prebendary of Offley.
Revd Peter HART, Vicar of Cannock and Huntington and of Hatherton will be appointed Prebendary of Sawley at a later date.
More pictures are available on our Flikr photostream
Photo: David Linney Photography for Diocese of Lichfield