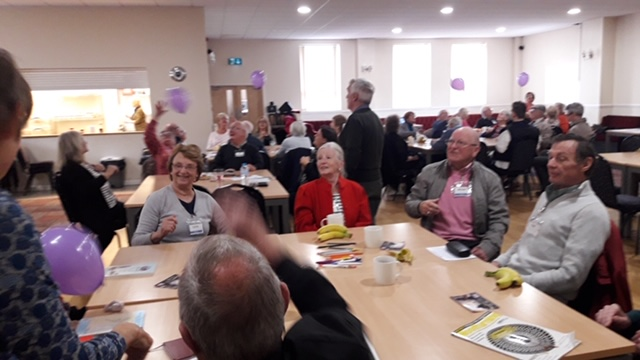 Dementia-friendly Churches Enabler, Sarah Thorpe brings news from the eastern tip of the diocese:
I've recently met Terry O'Brien and it's been good to learn more about his work as the Heart of Tamworth Community Development Officer. Terry brings a background in engineering to his vocational work: he has a passion for supporting people living with dementia and also for caring for carers. To give a flavour of the Memory Café that runs weekly at Sacred Heart Church Community Centre in Tamworth, Terry tells us a bit more:
"The Memory Café offers a friendly place where people living with memory loss and their carers can come together in a safe and supportive environment.

The Memory Café is monitored by dedicated volunteers and operates in close collaboration with local care company "Home Instead Senior Care". The Café takes place every Tuesday morning at the Sacred Heart Church Community Centre from 10am – 12 noon.

Activities (pre-Covid-19) include painting, dance, singing, small presentations, and more. A favourite is exercise along with some well-known music, through "Love to Move" a program of moves/exercises inspired the British Gymnastics Foundation. "Love to Move" is an age and dementia friendly seated gymnastics programme, which is transforming the lives of people living with dementia, helping them with mobility, memory and cognitive functionality in an enjoyable fun filled way.

During the various stages of the pandemic, the church has been available and ready to ensure the Memory Café continues to run in a Covid-19 secure way. Through the various tier systems and the current lock-down, we have ensured that those able to attend have been able to come together to join in socially distanced activities in a very controlled way, whilst maintaining a very person-centred approach to all we do.

The group is not just a time of activity for our friends living with dementia, but we also find that the time is as much for the carers. Many find it invaluable as they can have small discussion groups to share stories, worries or news, or just chat and relax over a cup of tea or coffee."
Please do let others know about the Heart of Tamworth Memory Café. And if you want to know more, please get in touch with Terry O'Brien on terryobrien@heartoftamworth.org or 07422 722 540.