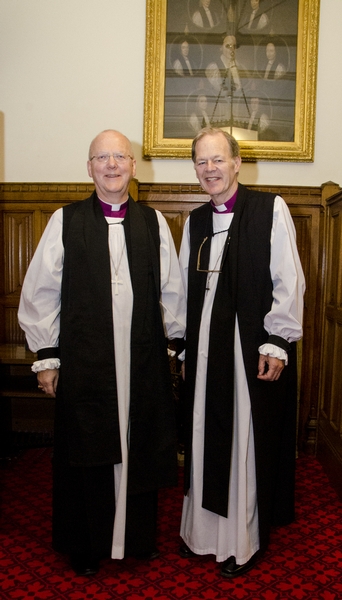 The Rt Revd Alan Smith, the former Area Bishop of Shrewsbury between 2001 & 2009, was introduced to the House of Lords on Tuesday, 5 November.
He became the Bishop of St Albans in 2009 and was supported in his introduction to the House of Lords by the his former colleague, the Bishop of Lichfield, Rt Revd Jonathan Gledhill and the Bishop of Guildford.
"Alan won't let the grass grow under his feet. I'm sure he will be asked to take some responsibility in the Lords in good time."
Bishop Alan's links with Lichfield diocese go back a long way. He was vicar of St Matthew's, Walsall for nearly a decade before becoming Archdeacon of Stoke in 1997.
The event can be seen in this BBC video
Although there are forty-two anglican Diocesan Bishops in England, only twenty six sit in the Lords. Known as the Lords Spiritual, they read prayers at the start of each daily meeting and play a full and active role in the life and work of the Upper House.
"It is essential that the Lords or something very like it is given the opportunity to revise carefully all measures and statutes which the government wants to introduce."
The Archbishops of Canterbury and York and the Bishops of Durham, London and Winchester automatically become members of the House of Lords. The remaining 21 places on the Bishops' Bench are not determined by diocese, but are occupied by those English diocesan bishops that have served the longest.
When bishops retire from their see (compulsory at 70), their membership of the House also ceases. Occasionally some have become life peers, and this is usually the case for former archbishops.
There is no 'Bishops' Party' and as non-aligned members, their activities in the Upper House are not whipped.
Like other members of the Lords, they do not represent a parliamentary constituency, although their work is often closely informed by their diocesan role.
They sit as individual Lords Spiritual, and as such they have much in common with the independent Crossbenchers and those who are not party-affiliated.
Their presence in the Lords is an extension of their general vocation as bishops to preach God's word and to lead people in prayer. Bishops provide an important independent voice and spiritual insight to the work of the Upper House and, while they make no claims to direct representation, they seek to be a voice for all people of faith, not just Christians.