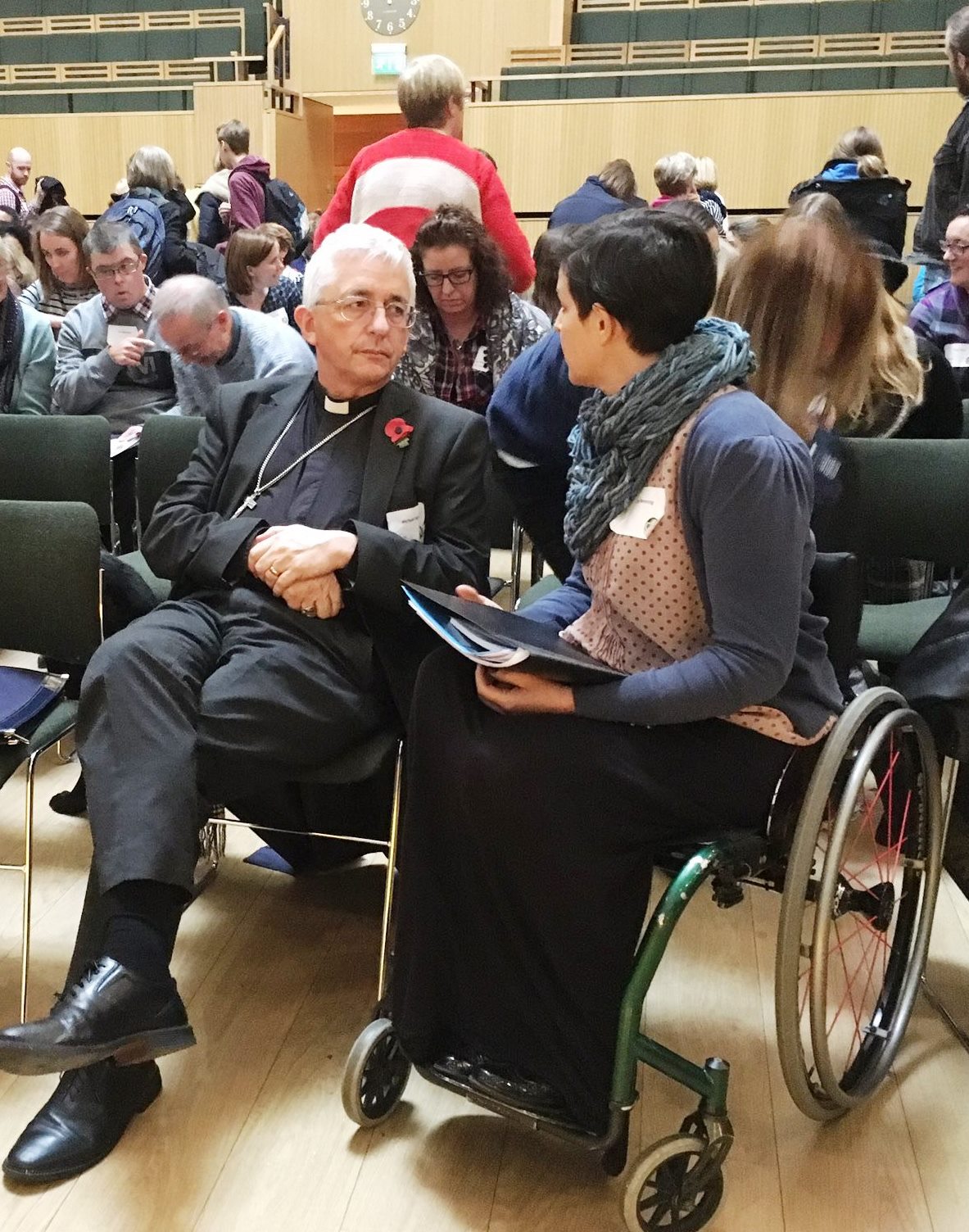 The Bishop of Lichfield and Shropshire curate Revd Zoe Heming shared the platform at a national event to help create churches where disabled people belong.
The Enabling Church 2016 conference No Limits: Additional Needs, Disability And The Church drew people from churches and organisations across the country.
It was aimed at those who work with or support children, families and youth or simply have a desire to see everyones abilities recognised.
In his welcome to the conference, which was sponsored by the Diocese of Lichfield, the Right Revd Dr Michael Ipgrave, Bishop of Lichfield, described it as a great opportunity to move forwards this really important dimension of church life.
One thing I have noticed among priests and parishes is a growing awareness of disability issues and of the place of disabled people in the church. However, I am also very conscious that we have a long way to go. In other words, we are in, and near the beginning of, a process of change, he said. The starting point is that each of us belongs, each of us has a right to a place at the table as children of God; it is our responsibility to make sure that access to that table is for everybody.
Workshops at the event in London featured practical advice including supporting families and teenagers with additional needs, writing multi-sensory bible studies and making Messy Church inclusive.
Revd Zoe Heming, curate of Hodnet Deanery in north Shropshire, joined Tim Wood in leading a workshop on the eight-week Enabling Church course which gives a theological understanding and practical approach to ministry with people with disability. The course was developed in Lichfield Diocese, where it has been piloted twice, and is set to run it again next spring.
Zoe said: The church has been disabled for so long. It's amazing to be part of the energy and determination of this growing movement for change!
At last we are sharing tips, ideas and stories of how our churches are becoming true to who She is - a radically inclusive community of transformation and healing. We cannot continue to exclude children, families and teenagers with additional needs - we all need each other. It's great to see so many "big-hitters" in church talking about the urgency of this at last. Church is changing!
Enabling churches to include people with disability is a key part of the Lichfield Dioceses Transforming Communities programme.
Dr Gordon Temple, who coordinates the Churches For All network that organised the conference, said:We are extremely grateful for the support received from Lichfield Diocese, including the funding that made the event possible. More broadly, the relationship with the diocese has been a great encouragement to the Enabling Church initiative and we pray it long continues.
For more information on Enabling Church click here