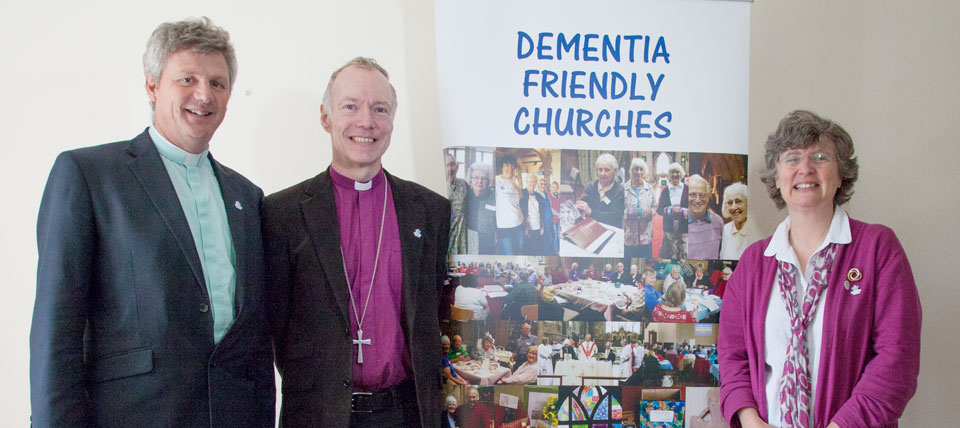 Since the start of 2015, Sarah Thorpe has been working one-day a week promoting dementia friendly churches around northern Shropshire, an exploratory appointment made by the Bishop of Shrewsbury. Sarahs work has been nationally recognised and now, with a grant from a major UK funder, shell be employed for a second day.
The grant will also enable two more dementia friendly church enablers to be recruited to work in the rest of the Diocese of Lichfield covering Staffordshire and much of the Black Country. This is being managed through Transforming Communities Together, the Dioceses joint venture with the Church Urban Fund.
There is a growing recognition that the engagement of faith communities is vital to the well-being of people and families living with dementia. In the summer she took the Bishops Senior Staff team through the national Dementia Friends information session session designed by the Alzheimer Society: this is in addition to the 732 people who have become Dementia Friends in Sunday services in 17 different churches since Sarah started her role.
It was a very personal experience for a number of us on the Bishops Senior Staff team says the Bishop of Wolverhampton, Rt Revd Clive Gregory as it is something that has affected some of our own families. Some of the stories Sarah shared were very touching, as were some of our own such as a cathedral volunteer who continues to find routine and safety in their role in the cathedral community despite having a rapidly developing form of dementia.
Sarah has been an inspiration to me and to many churches where she has supported the development of this incredibly important work says the Bishop of Shrewsbury, Rt Revd Mark Rylands. Im over the moon that national funders have endorsed this work too and am grateful that this support can now be offered across the whole diocese.
The video below, from early 2015, explains the thinking behind the project