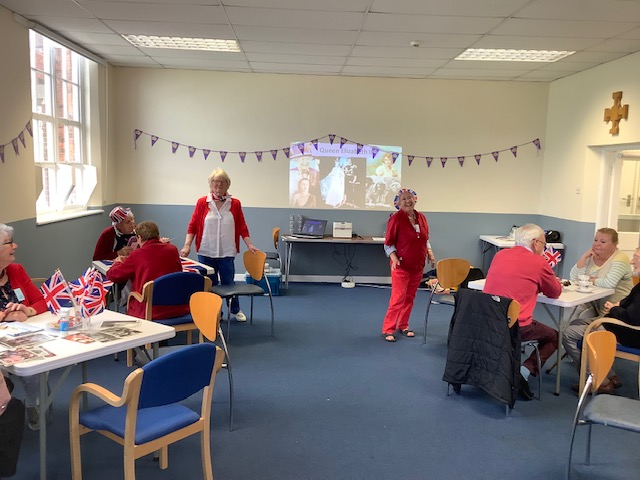 Dementia is part of life – and so, of course, dementia is part of church life. If we can honestly recognise that, so that we name and face dementia together, it's such an important first step towards supporting people to continue to live as well as they can with dementia, participating in their local church and community and continuing to make a contribution, even though patterns change over time.
So, I was heartened, recently, to hear the clear statement, "Dementia awareness is part of church life". I've worked on dementia-friendly churches with St Alkmund's church in Whitchurch, Shropshire for the past seven years and I was working with Pauline Green on the renewal of their Dementia-Friendly Church Certificate. Pauline said this, before going on to list the three actions that the church is planning to take during the next 12 months. It made me wonder what it would take for every single church in our diocese to be able to say confidently, "Dementia awareness is part of church life".
How did Pauline become involved with dementia?
"It started with my husband's official diagnosis with dementia - he was aware some two years before this that he was having difficulties remembering and focusing on daily tasks. Sharing a home and living with someone locked into a world full of confusion,unable to apply reason or explanation as to how they feel or the actions they take, can be a traumatic experience for all who find themselves in such circumstances. When my husband died, his funeral was at St Alkmund's - a church familiar to me from childhood and part way through my teenage years - a place where I felt comfortable and welcome.
"Gradually , I became involved in various church activities including the opportunity to attend a "Dementia-Friendly Church" course in November 2015. Leading on from this, it left me with a strong feeling that I needed to become more involved, and had something to contribute as a result of my own personal experience. Being part of a group of volunteers that contribute so much of their time and skills - guided by Revd Judy - is both challenging and a privilege."
And the path for St Alkmund's?
After holding the Dementia-Friendly Church course that Pauline attended in 2015, St Alkmund's started the fortnightly 'Time Together' group in 2016. St Alkmund's in just renewing its Dementia-Friendly Church Certifcate for the fifth time. In the first Certificate, the actions included offering Dementia Friends sessions to raise awareness for all congregation members and appointing a Dementia Coordinator – that's Pauline Green. Actions have been agreed year by year, including holding a Dementia-Friendly Songs of Praise service, keeping in touch through the pandemic, including with those recently bereaved, re-opening Time Together in person as pandemic restrictions eased, training Time Together volunteers on dementia communication skills and increasing public awareness through a Dementia Action Week library display.
Revd Canon Dr Judy Hunt, vicar of St Alkmund's, explains more about Time Together:
"We realised that there was no provision in the town or surrounding area for those with dementia and their family members or carers to do something together. This was the start of a journey towards our (now very well established) Time Together group. We stated from the outset that the group was to provide spiritual support alongside mental, emotional and physical support. People new to the group or visiting for the first time almost always comment on the amount of laughter they hear. Writing this just before Pentecost, I'm reminded that some of the fruits of the Holy Spirit are hope, joy and love. Therefore, the laughter comes spontaneously for people who have found a safe and valued place in this group and who look forward to every session."
Taking inpiration from St Alkmund's, what would it take, in your church, to be able to say that dementia awareness is part of church life? If you can't say that confidently yet, there's an open invitation from the dementia-friendly churches network to move towards this, working together, step by step… and see how things changes over the coming years! I'll be glad to work with you in taking next steps forwards…
If you'd like to discuss anything from this blog post, now or at any stage, you are welcome to get in touch with me, Sarah Thorpe, on 0798 224 8949 or sarah.thorpe@lichfield.anglican.org.