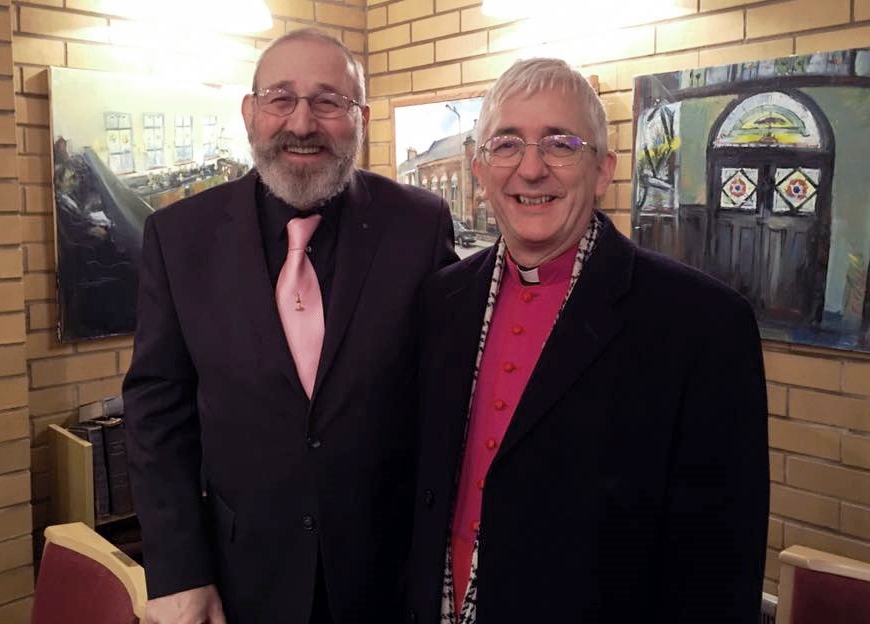 Staffordshire and Stoke-on-Trents only synagogue was joined for tenth anniversary celebrations by the Bishop of Lichfield yesterday, Sunday 27 November.
The home to the Stoke-on-Trent and North Staffordshire Hebrew Congregation was established in 1923 in Birch Terrace, Hanley.
When the Hanley synagogue closed to make way for a planned shopping centre, a new synagogue was commissioned in London Road, Newcastle-under-Lyme, and opened in 2006.
The Bishop of Lichfield, the Right Revd Dr Michael Ipgrave, celebrated the tenth anniversary of the Newcastle building also the only synagogue in the Diocese of Lichfield - at a special service yesterday afternoon.
Bishop Michael, who is Chair of the national Council of Christians and Jews, said: It was wonderful to be invited to celebrate the continuing presence of the Hebrew congregation in Stoke-on-Trent and North Staffordshire.
Just like churches, synagogues are witnesses to faithful communities of people who are living out their beliefs in everyday life across the region.
We live in turbulent times, when antisemitism disgracefully remains a reality as does the religious persecution of Christians in many countries, Islamophobia, and the open expression of hateful and hurtful attitudes to people who are different. The relationship between Jews and Christians is more important today than ever, and it is crucial that we work hard at developing it.
There is tremendous opportunity for us to contribute together to the common good of our communities out of the riches of our respective teachings and traditions, which resonate so well together.
Bishop Michael spoke at the celebration which was presided over by the Revd Malcolm Weisman, the minister for small Jewish communities. Other guests included the Bishop of Stafford, the Right Revd Geoff Annas; the Deputy Lieutenant of Staffordshire, Hifsa Haroon-Iqbal, and Dr Rachel Berkson, who presides over services at the synagogue.
Congregation President Martin Morris, whose father Sidney Morris presided before him and oversaw the move to Newcastle, said: This synagogue is my late fathers final legacy.
I think he would be most pleased that we are continuing to hold services here on a regular basis and we remain a positive force in the local community.