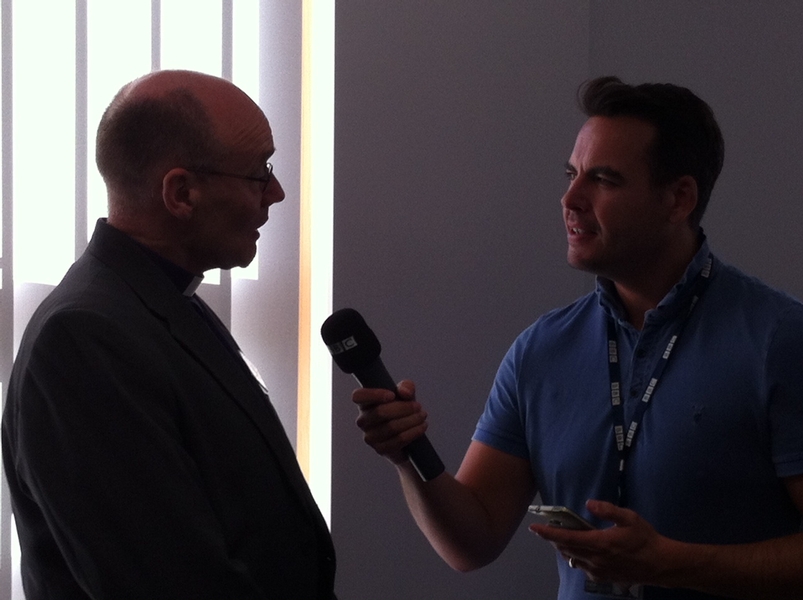 The Bishop of Stafford, Geoff Annas, has opened a new branch of the Staffordshire Credit Union in the heart of the county town.
The credit union will serve people who live or work in Stafford, offering savers the opportunity to invest in their local community, and giving borrowers the benefit of interest rates capped by law at a maximum of 26.8%.
The Staffordshire Credit Union has an existing shop in Blurton, where Bishop Geoff became a member. I hope we will see more credit unions right across north Staffordshire, he said. Jesus teaches us that we must care for the poor. Credit unions provide a real alternative to some of the exploitative lending practices we are seeing in our communities.
The event was just one of fifty nationwide involving bishops and credit unions, taking International Credit Union Day as an opportunity to promote membership within our churches.
The Archbishop of Canterbury, Justin Welby, yesterday led the call for action. Lets begin to make a difference to how families can finance themselves in this country join and support a credit union.
Credit unions are independent, not-for-profit organisations, owned and operated by their members. There are currently more than 300 credit unions operating in the UK.
The Bishop of Wolverhampton, Clive Gregory, is a member of the Wolverhampton City Credit Union. The Bishop of Shrewsbury, Mark Rylands, has joined Fairshare Credit Union, which covers Shropshire. The Bishop of Lichfield, Jonathan Gledhill, has signed up for Fusion Credit Union, based in Lichfield.
The Church has more resources on credit unions, what they do, and how to get involvedhere.
Guidance for PCCs on credit unions is availablehere.