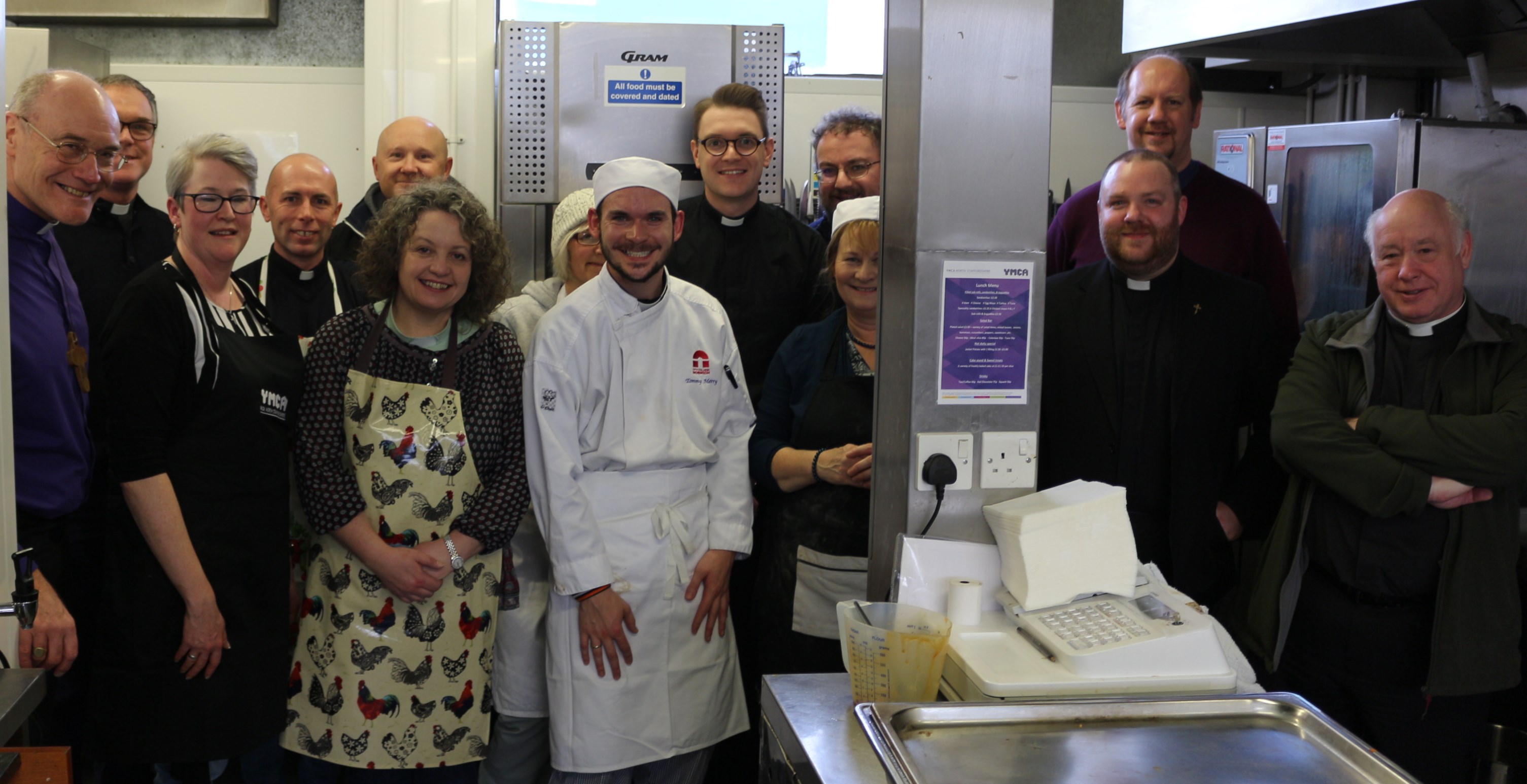 The Bishop of Stafford had a fruitful time serving crumble and opening a new apple orchard at North Staffordshire YMCA in Hanley.
The Right Revd Geoff Annas opened the orchard which has seen young people from the YMCA plant 30 apple trees as part of an outdoor nature space at the Harding Road centre.
Bishop Geoff and the Archdeacon of Stoke, Venerable Matthew Parker, then dished up casserole and fruit crumble at the latest YMCA Community Meal which saw many people from a variety of organisations come together.
The new Lydia Louise mosaic, designed and made by YMCA customers, was also unveiled at the event on Friday, 3 February. It was named after Lydia Louise Rebecca Coomer, the daughter of YMCA residents Thomas Coomer and Ebony Pearson, who died three weeks after she was born.
Bishop Geoff said: It was wonderful to see so many people come together at the Community Meal.
"I was privileged to bless the orchard and nature space which is a credit to the hard work and creativity of young people from the YMCA and will benefit residents for years to come.
Afterwards, we served food to dozens of people and the sense of togetherness was fantastic.
The meal was prepared by Fr Tommy Merry, Team Vicar in the Stoke and Fenton Team, assisted by his mother Denise and members of the congregation. The Revd Darren Edge from Cheadle Deanery did the washing up!
YMCA Community Manager Nicky Twemlow said: YMCA North Staffordshire hosts the Community Meal every month, with different organisations coming in to cook and serve members of the community. We have on average 150 people every month and there is no agenda other than for people to spend time with each other and eat together.
This month we were delighted to have the Bishop of Stafford and his team cooking up casserole and crumble. The atmosphere was amazing, with people of different ages, from different backgrounds all enjoying time together. We truly are blessed to work alongside so many great people. Big thanks to the Diocese of Lichfield for serving the community with us.
Find out more about the work of YMCA North Staffordshire here.