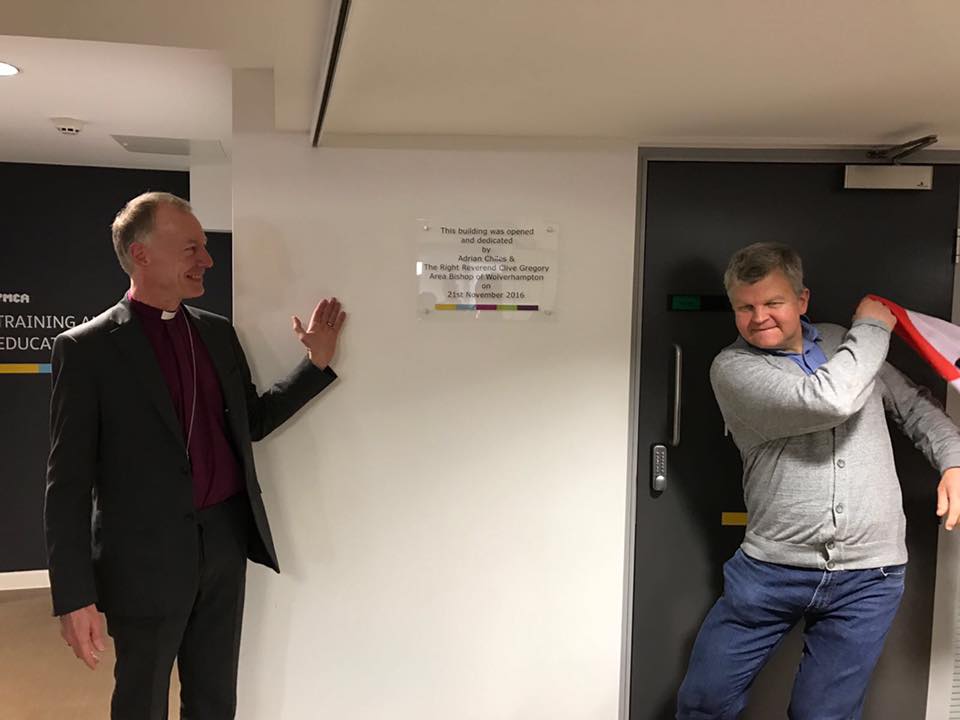 Celebrity TV presenter Adrian Chiles and the Bishop of Wolverhampton, The Right Revd Clive Gregory, joined forces last night to officially open the new YMCA Black Country Group Western Gateway building in Carters Green, West Bromwich.
The 9.5m YMCA facility is now a commanding presence at the western entrance of West Bromwich and took eight years to develop from feasibility to completion.
Adrian Chiles, who visited the centre earlier in the year prior to completion, talked about his pride in the people of the Black Country when making his recent BBC Panorama programme, and how the making of his documentary My Mediterranean, gave him hope for humanity, and the importance that faith-based organisations like the YMCA have within society. Adrian remarked:
Hearing the stories told by young people here today gives me great satisfaction, and I feel privileged to be part of todays opening ceremony. I hope I feel the same way after the Baggies game tonight.
Bishop Clive, who attended in his newly appointed role as patron of YMCA Black Country, reflected on his formative experience with the Simon Community in the East End of Glasgow, supporting women suffering from homelessness, and said:
I am delighted to attend this official opening in my capacity as patron of YMCA Black Country Group. It is wonderful to see the positive impact that the YMCA is having on the lives of young people, and the transformative effect of believing-in and valuing people
Steve Clay, YMCA Black Country CEO explained, YMCA Western Gateway is where our commitment to community, enterprise and social mission collide in a fabulous mix of services for local people.
Funding for the scheme has included 2.25M from the Homes & Community Agency, 3.4M from the Black Country Local Enterprise Partnership, and 188K from the European Regional Development Fund, and 3.6M from the YMCA.
Particular thanks were given to Sandwell Council who funded the initial feasibility and planning stages, and whose completion of the Farley Clock Tower car park marked the final stage of the Western Gateway redevelopment.
The Western Gateway provides an integrated mix of social enterprise, housing and community services.Comprising of Cielo caf / coffee Bar, 5 enterprise starter units, fitness & wellbeing centre, learning centre, youth zone, chapel, 96 studio apartments, a range of office accommodation for social businesses, and a superb 119 place day nursery and family centre.
Since the building was handed over to the YMCA by local builders Jessup Brothers, it has become a thriving heart of the community, and many local organisations have made it their home.
YMCA Services
A Range of community rooms a base for many local groups, training, employability and education classes
Our YGym and fitness centre
96 social housing apartments - temporary accommodation for people in housing need with life coaches on hand to support
119 place day nursery and family centre
The hub for our YMCA Open Door supported lodgings and night stop network
YMCA chaplaincy a listening ear and spiritual support
Partner social business based in Western Gateway…
Creative Academies providing young peoples arts and sports activities
Black Country Touring bringing professional theatre and dance to local schools and communities
Victim Support supporting victims of crime
Just Straight Talking providing employability support
Cielo Caf coffee with a social conscience
New business start-ups
Design & Print
Fine Line a retail social enterprise
The Hatchery [Rohim Mohammed our Dragons Den winner].A membership business to support new social enterprises
The YMCA has operated in West Bromwich for over 128 years. Its first premises were built in St Michael Street in 1888 before relocating to Carters Green in the 1960s. It now delivers services from over 20 locations across the Black Country.
YMCA Black Country Group is part of the worldwide YMCA which operates in 119 countries. Over 100 YMCAs operate across England serving 530 different communities.