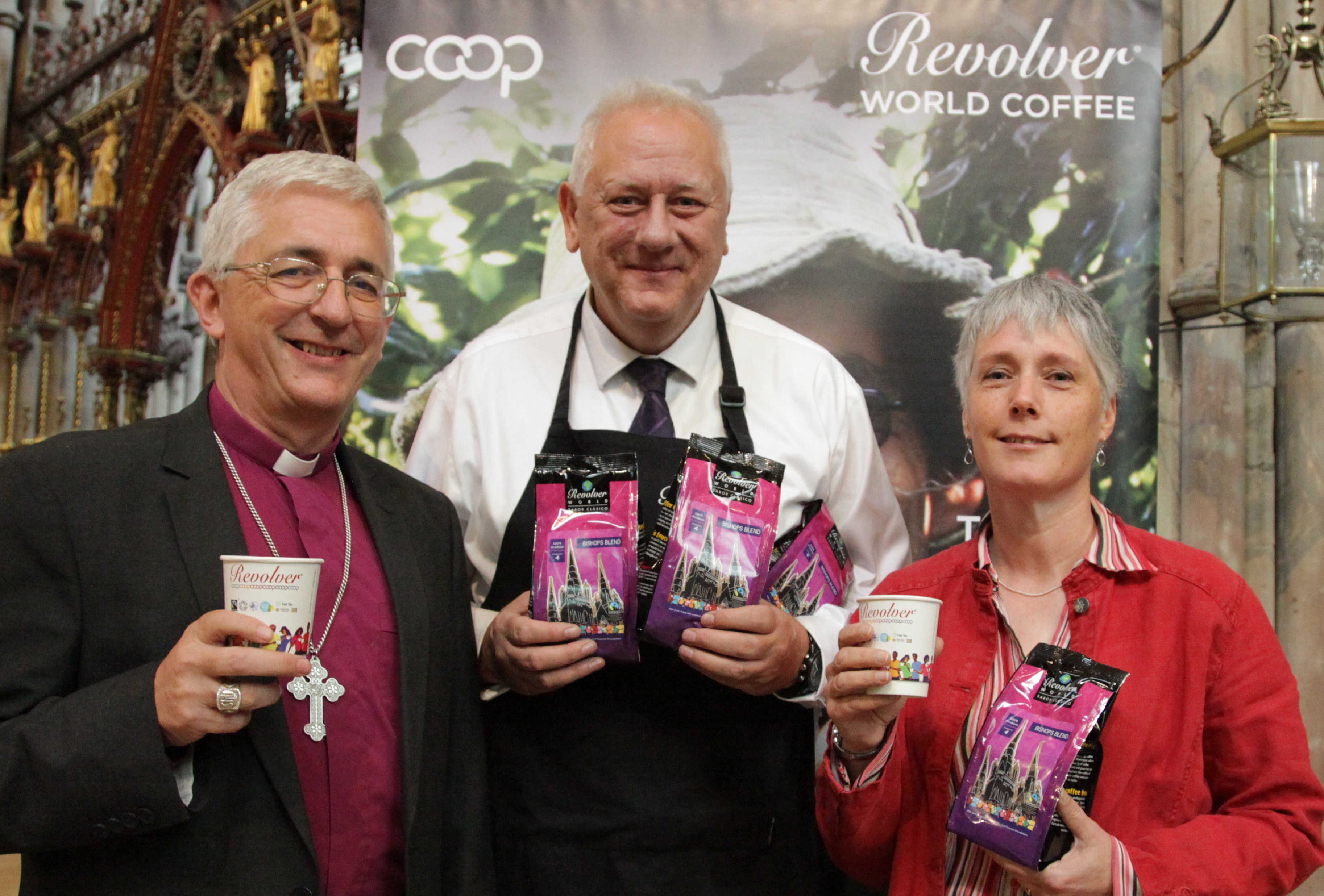 On Wednesday, 5th October at the Selwyn Study Day on God and the MoneyLenders at Lichfield Cathedral, Bishop Michael launched a new Fairtrade Bishops Blend ground coffee produced by Revolver World Coffee, who are based in the diocese. Plenty was drunk by almost two hundred people who attended.
Each bag is endorsed by Bishop Michael thus: Thank you for buying this fine and ethically traded coffee I hope that you enjoy it. We know that many people are caught in a web of poverty. From the price you have paid for this pack, 50p will be donated to the Archbishop of Canterburys Just Finance Foundation. This will provide hands-on support to help people manage their money better and to access responsible sources of credit. So, you will not only be enjoying a delicious cup of coffee, you will also be giving practical help to those coping with challenging financial situations whilst living through times of austerity. May God bless you for your kind support.
The success of Bishops Blend is dependent on identifying distribution hubs in every deanery. This person would order on-line a BIG BOX of 20 x six-bag boxes at the total cost of 300, with free delivery, out of which 60 will be given to the Archbishops Just Finance Foundation. These bags can be used at cost price or retailed around the deanery for 3.50-4, with the margin retained as profit by participating churches.
Coffee can be ordered in boxes direct from Revolver World Coffee.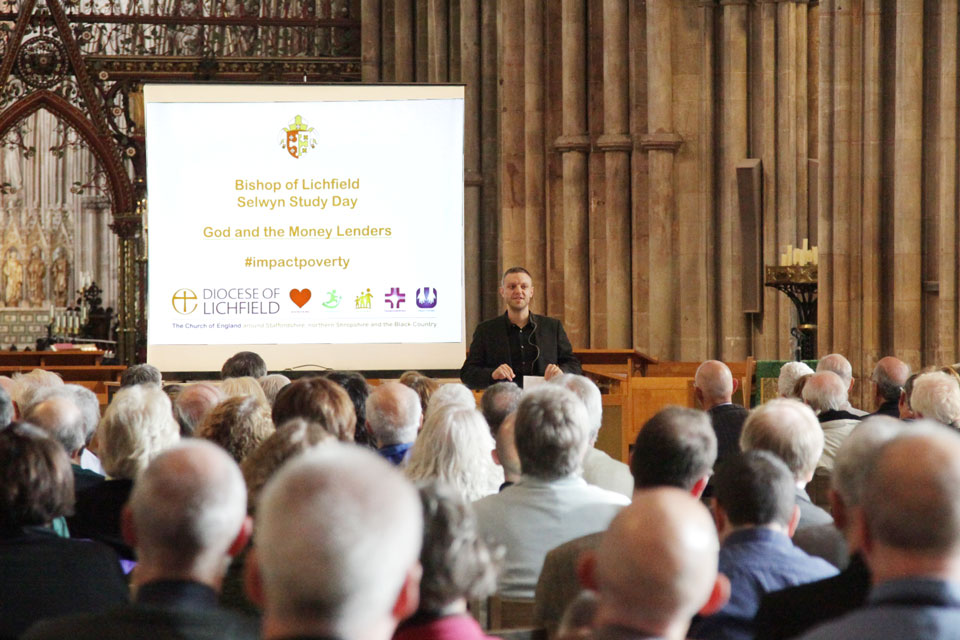 The 2016 Selwyn Study Day took a fresh approach to the annual Selwyn Lecture, hosted by the Bishop.
Titiled 'God and the Moneylenders', it was facilitated by Andy Walton. A Christian writer and broadcaster, Andy has been a member of the Centre for Theology and Community team since 2011, and has worked on its Church Credit Champions Network from its inception. Andys publications include Is there a Religious Right Emerging in Britain? (Theos) and (with Angus Ritchie and Caitlin Burbridge) Just Church: Local congregations transforming their neighbourhoods (CTC).
Using a mixture of video clips from leading theologians and discussion in groups, participants were led through a series of challenging questions:
What does the Christian faith have to say about money and credit?
How are our congregations already reflecting and praying about money issues?
What practical action can local churches take to tackle financial exclusion and help people to manage money well?
Participants also had the chance to
sample 'Seeing Change', an interactive five session Bible Study course on the story of Nehemiah and the theme of 'Rebuilding' which is designed to be accessible to churches of every tradition who want to explore how to engage with their communities more effectively.
engage in Money Talk in small groups; Money Talk is a simple tool to open up a conversation about money - in particular (but not exclusively) borrowing and saving. It is about listening to peoples experiences, identifying problems and possible solutions, and building a team of leaders to act for positive change.
hear about the work of the Church Credit Champions Network, with the story of a local church that has taken action by offering debt or money advice or supporting a local credit union.
Traditionally a key part of the annual 'Continuing Ministry Development' programme of the Diocese, this study day was organised in conjunction with the Transforming Communities department and with a lot of input from a number of partnering organisations including James Henderson of Transforming Communities Together who runs Basic Budgeting; Gill Carley Manager at CAP Debt Centre in Market Drayton; and Martyn Treadgold, Chair of 6Towns Credit Union.
David Primrose, Director of Transforming Communities would be delighted to signpost parishes who are interested in taking further the work of promoting finanicial resilience in their community.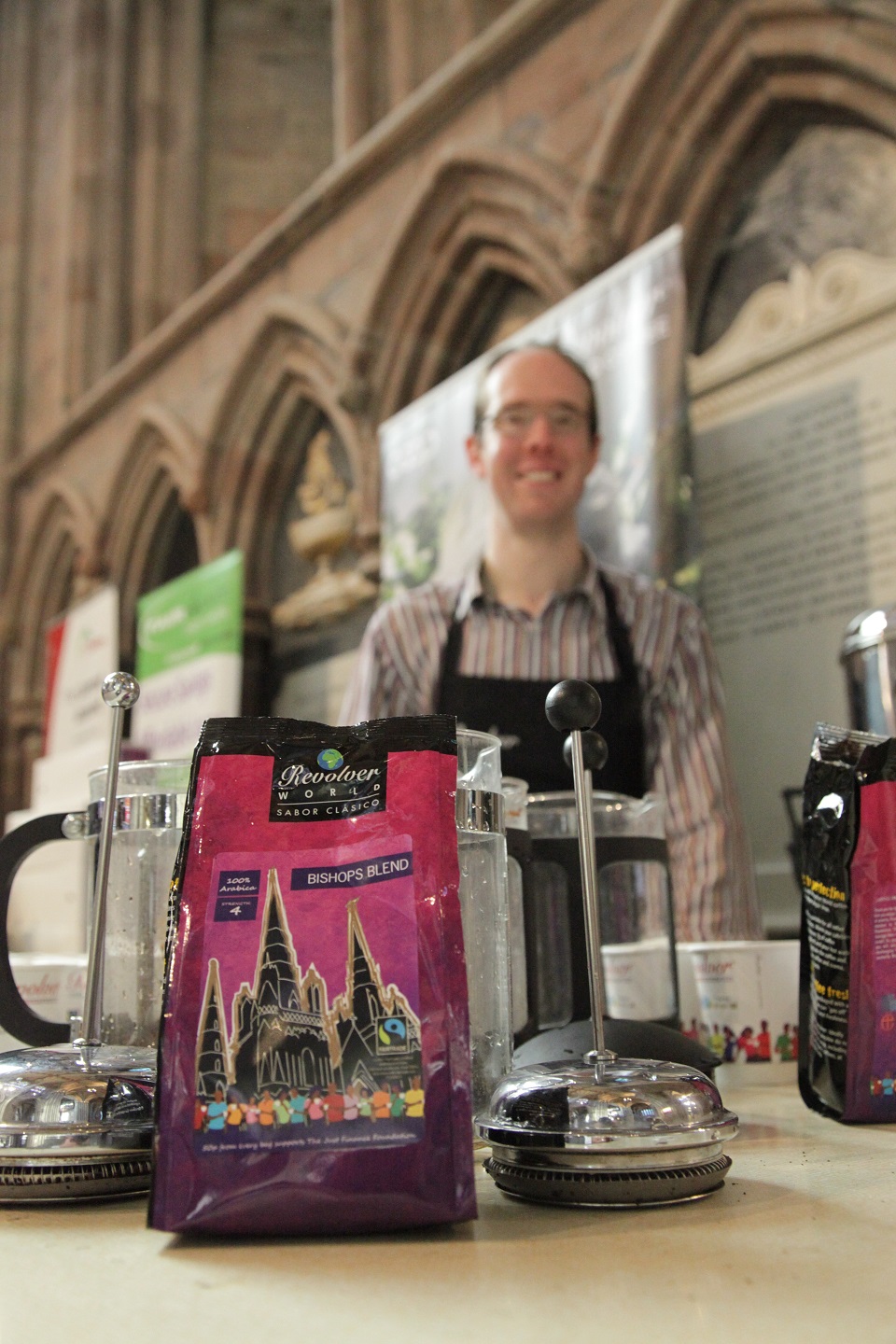 Revolver Coffee is a multi-stakeholder co-operative: members include the producers, retailers and consumers. Created with the help of the Co-operative Group, they sell coffee in some branches of the Co-operative Food, Spar and independent retailers; they supply beans for cafs and ground coffee for all sorts of customers all over the country and export to Poland and Estonia as well as having a range of syrups and Nespresso capsules.
"Because we are organised as a co-operative, we are concerned with the triple bottom line, - People, Planet and Profit, and not just profit alone. Although we are not a charity, nor a not for profit, we count our success in community outputs, and that means working towards a more just society by engaging in the community both here and in the communities from where our commodities are drawn." says Paul Birch, director of Revolver
"All our output is 100% Fairtrade certified, more than half our output is certified Organic. We are signatories to the Fair Tax mark (the first Food & beverage company to sign), The Living Wage Foundation mark, Birminghams Social Responsibility charter, and two of our coffees (our Revolver World Ethiopia and Revolver World Brazil) won the Great Taste Awards this years.
"Our company name is Revolver Co-operative, the brand name for our coffee is Revolver World. The name Revolver, comes from our Record company; Revolver Records. The label is approaching 40 years of business after releasing 5500 albums, from artists as diverse as The Stone Roses, The Scorpions, Miles Davis and re-issues from The Rolling Stones through to Elvis."