17 Dec 2019
Christians from churches across the Midlands and Germany made a fresh commitment to work together for a 'peaceful and just' Europe during a recent visit.
The annual Anticipating Advent experience has become a regular calendar fixture with our diocesan partners the Nordkirche Lutheran Church in Northern Germany.
Last year participants from both countries took part in a poignant service on Cannock Chase to remember those lost in both world wars and mark the centenary of the World War One Armistice. This year a small group from our diocese, led by Bishop Michael, spent five days at churches in Germany during which the long-standing Partnership Covenant with the Nordkirche was renewed for another five years.
Telford Vicar the Revd Debbie Loughran was visiting the Nordkirche for the first time. "I wasn't sure what to expect….but what I found were people eager to be partners in the Gospel whatever that meant in our individual contexts - some similar and some very different but there was much to learn and teach on both sides. Fun, laughter, love and a smile are some of the greatest gifts we can offer each other and they all transcend language barriers, cultural differences and the miles which separate us."
The partnership was more important than ever with Brexit looming, Debbie added. "We may live in Britain, we may live in Germany but our citizenship is in heaven and our partnership begins here. I'm already looking forward to Anticipating Advent 2020 and all that lies between now and then."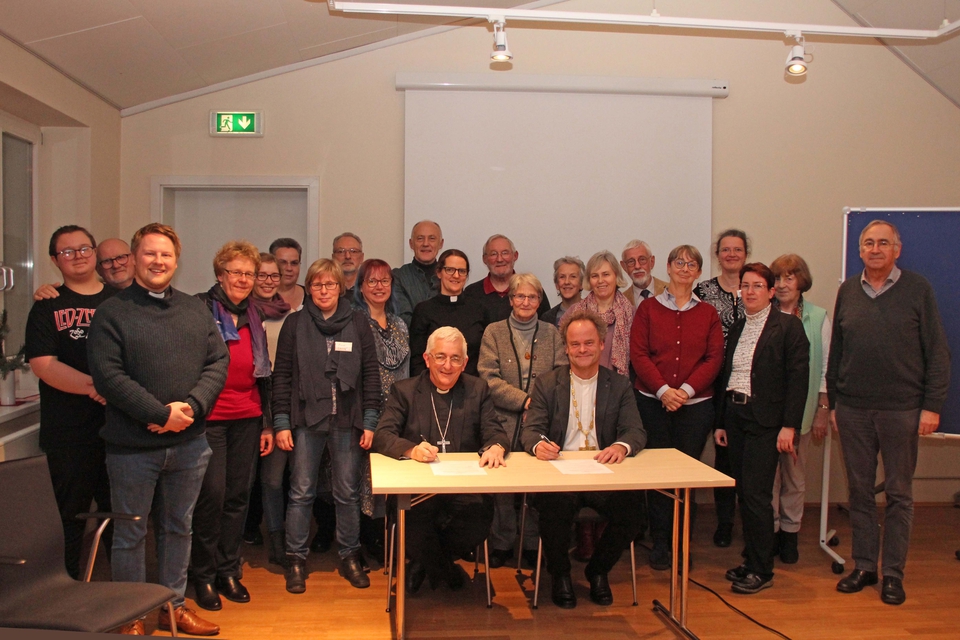 The trip included an Anticipating Advent service at Gustrow Cathedral (main picture), where Bishop Michael preached, a storytelling workshop and learning about how the Church is reaching out to rural communities.
It followed the recent consecration of Bishop Tilman Jermias, Nordkirche's new bishop, who, along with Bishop Michael, signed the agreement which also included new commitments to working together for climate justice, in inter-faith dialogue and in shared prayer and pilgrimage.
Diocesan Director of World Mission Philip Swan said: "For half of the group this time it was their first visit to the Nordkirche. Our link with the Nordkirche goes from strength to strength and a whole range of shared activities are planned for 2020."
Trip organiser, the Revd Terry Bloor from Newcastle-under-Lyme, added: "I have been involved with this partnership now for about 17 years and have never known such a level of activity and desire for more. The increasing interest and engagement is very encouraging."