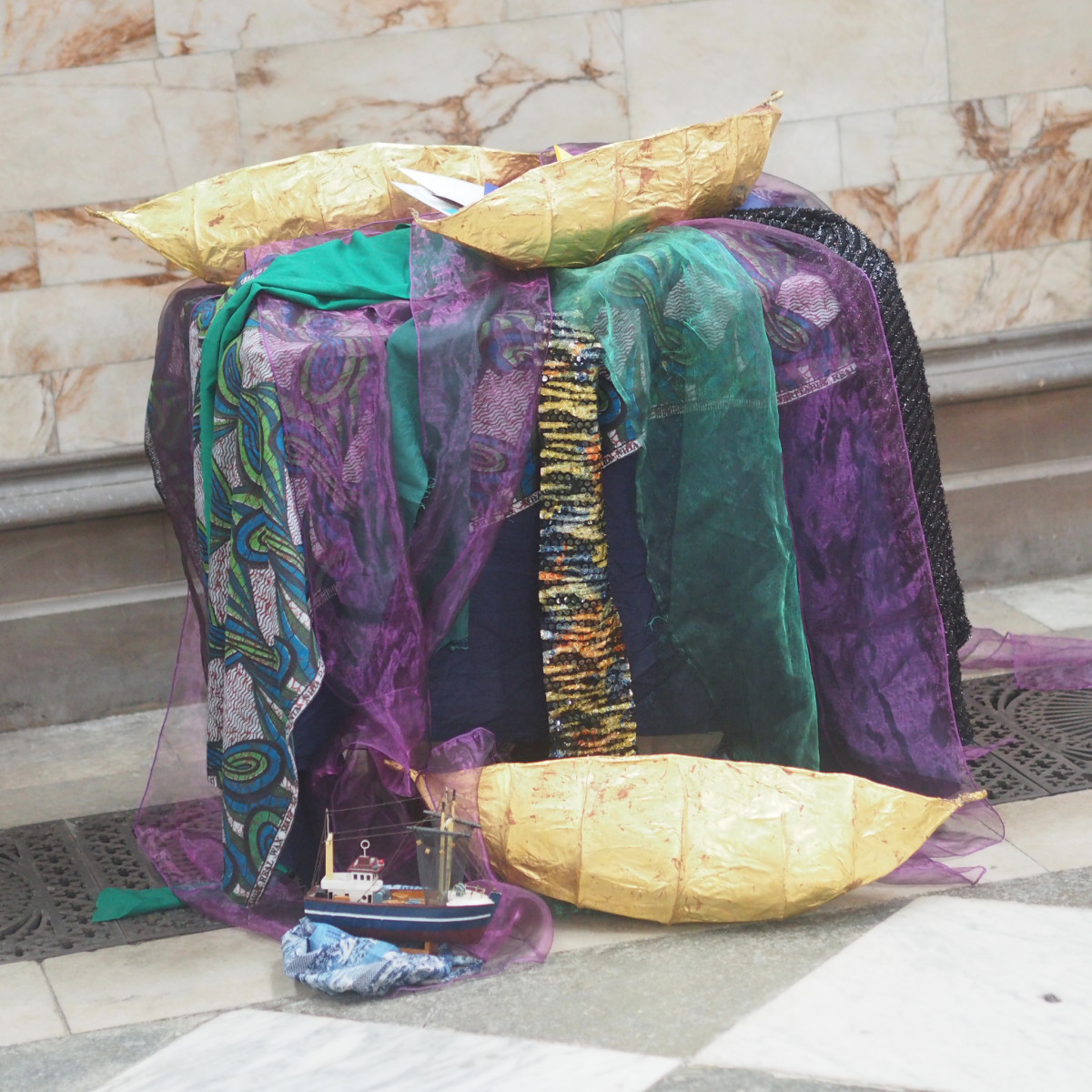 "When you know one person living with dementia… you know one person living with dementia"! It's something that I've heard said – emphasising that we need to recognise that everyone is an individual, with their unique mix of skills and experience, likes and dislikes. So it's important to 'learn from the expert', the person with dementia, learning from them what works best for them and responding appropriately, giving them space to participate and contribute.
Equally, it's not 'one size fits all' for worship with a dementia focus: our church services which name and face dementia can come in all shapes and sizes. We've just come to the end of this year's Dementia Action Week and I've been fortunate to attend four very different Dementia Action Week church services in the last few days.
'Boats & Staying Afloat' with Shifnal's Forget-me-not group: The regular Forget-me-not group for people affected by dementia at St Andrew's Church, Shifnal, my home church, welcomed guests for our midweek 'Boats & Staying Afloat' service, using the service created by our diocese this year. It was lively and participative – with stories of cruise liners and canoes; Stephanie and Malcolm Grey-Smart, Waterways Chaplains showed us a windlass, to open a canal lock, and rose and castle canal art. We shared laughter as we tried on George's sailor hat – and we shared chair exercise as we sang 'What shall we do with the drunken sailor?'. Tea and homemade cake rounded off the afternoon.
'Boats and Staying Afloat' in the cathedral: In the cathedral, we welcomed local people, including care home residents and staff, to share 'Boats & Staying Afloat'. A family carer only had to read the title of the service to respond emphatically, "Wonderful. That's just what it feels like. Sometimes we seem to be drowning, but then we find some buoyancy again and we keep going…" And when the hymn 'For those in peril on the sea' was played as background music, one of the care home residents immediately started singing the words: she said she knew them from her days as a teacher. Conversation and connection continued after the service over a cuppa and homemade cake.
'Let's Talk About Dementia' at the Church of God of Prophecy, Wolverhampton: ACCI, the African Carribean Community Initative, partnered with the church to put on a powerful service which embraced heartfelt worship and wide-ranging, clear information on dementia. I was heartened by the warmth of the welcome and by the way the challenges of dementia were named and faced together within the context of worship that asserted trust in God, whatever we face in life. A carers group led us powerfully in song. And each of the half dozen speakers spoke powerfully and helpfully. Among them, Professor Dawn Edge, Professor of Mental Health and Inclusivity at Manchester University, shared important information about dementia; she explored diagnosis, treatment and prognosis. She acknoweldged that some of the tests are not culturally informed or appropriate and also recognised important research findings about the impact of dementia on black and mixed heritage people, as compared with white British people, including earlier onset, faster progression, later diagnosis and less awareness of dementia, as well as shame and stigma and less likelihood to seek help. Dawn affirmed the chuch's role in ministry, meeting the spiritual, practical and emotional needs of people affected by dementia (including carers), in eduation and in advocacy. And she recognised that:

The spirit of the person remains in tact;

Losing your mind doesn't mean losing your soul; and

We can do so much to keep people's heart and soul aglow – we mustn't desert one another.

Songs of Praise in Shrewsbury Abbey: Bernice Williams and others from the St Peter's Forget-me-not group had crafted a wonderful Songs of Praise service to round off Dementia Action Week. We were led by the choir in some much-loved hymns. And we heard of two families' very different experiences of dementia in interviews which were shared with courage and generosity, speaking from the heart. For one person, a powerful feeling "if only I'd known more about my mum's dementia" has been chanelled into a passionate sharing of head-level awareness and understanding about dementia, as well as heart-level journeying with families affected by dementia. For another, through crisis and challenge the family continues to pull together, united by love, drawing support from the kindness of others, including the local church group for people affected by dementia.
Reflecting on Dementia Action Week, I'm thankful that we are able to reach out to God and to connect more deeply with one another in such varied worship – whether dementia-friendly or raising awareness about dementia.
The final word goes to a couple affected by dementia who came to one of the 'Boats & Staying Afloat' services. Beforehand, they acknowledged that "things are a bit difficult at the moment but we will do our best to be with you". They came. And afterwards they said: "Thank you so much for the lovely service and meeting… it gave us both a lift out of the water and into the boat again".
What worship with a dementia focus might you share in your church?
If you'd like to discuss anything from this blog post, now or at any stage, you are welcome to get in touch with me on 07982 248949 or sarah.thorpe@lichfield.anglican.org.