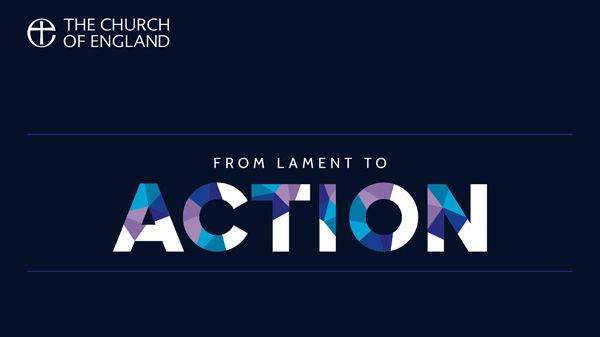 The Archbishops' Anti-Racism Taskforce today published its report 'From Lament To Action' proposing a suite of changes to begin bringing about a change of culture in the Church of England.
The Bishop of Lichfield, the Rt Revd Dr Michael Ipgrave, said: "I welcome the report of the Archbishops' Anti-Racism Task Force, and I recognise that it sets out some clear challenges for us, in this diocese as across the Church of England. We need to be courageous in facing difficult issues, in appraising our history and our current position honestly, and in working for concerted change to enable us to become more fully and more visibly the Body of Christ, honouring, inviting and reconciling people of every ethnicity and culture. I am very grateful to the members of our own diocesan Task Group on Racial Justice and Inclusion, who have already begun work in laying foundations for this work; I am confident that today's report will help them and all of us address these tasks with determination, wisdom and hope."
Co-Convenors of Lichfield Diocese's Task Group on Racial Justice and Inclusion, the Revd Pamela Ogilvie and the Ven Julian Francis, explained:
"The purpose of our Task Group is to shape and implement a vision for racial justice, inclusion and equity. The group has met five times since it began its work in December 2020. The first six months has been focussed on framing a group agenda and producing terms of reference. Using the five key areas signified by the national Anti-Racism Task Force (Participation, Education, Training and Mentoring, Young People, Governance and Structures) we are now identifying priorities and action points for our diocesan context. These include:
• Collection of accurate data on UKME presence across the diocese
• Attending to UKME clergy and lay wellbeing in ministry
• Monitoring and responding to reported racist incidents
• Encouraging wider participation in lay and clergy ministry development
• Reviewing and reshaping recruitment processes
• Working within church schools to hear the voices of UKME children and young people
• Reaching out to UKME under-represented Anglican constituencies."
The Anglican Bishops in the West Midlands have also issued the following statement following the publication of the report of the Church of England's Anti-Racism Taskforce today:
"Racism has no place in the Church of England, but we must face the fact that it still exists. As West Midlands bishops, meeting on Stephen Lawrence Day, we strongly affirm the work of the Archbishops' Anti-Racism Taskforce and the report 'From Lament to Action' issued today. We acknowledge our part in past and present failures, and recognise the challenges it presents. We wholeheartedly support its recommendations, and look forward to taking them forward with energy and determination."
From the Bishops of Hereford, Worcester, Gloucester, Lichfield, Birmingham, Stafford, Warwick, Aston, Dudley, Tewkesbury, Wolverhampton, Coventry, and Shrewsbury.
Hear the Ven Julian Francis talk about the work of the diocesan task group in this interview with BBC Radio Shropshire.
Watch Bishop Jan McFarlane preach on Lament To Action during Lichfeld Cathedral's Holy Communion service on Sunday 25 April.