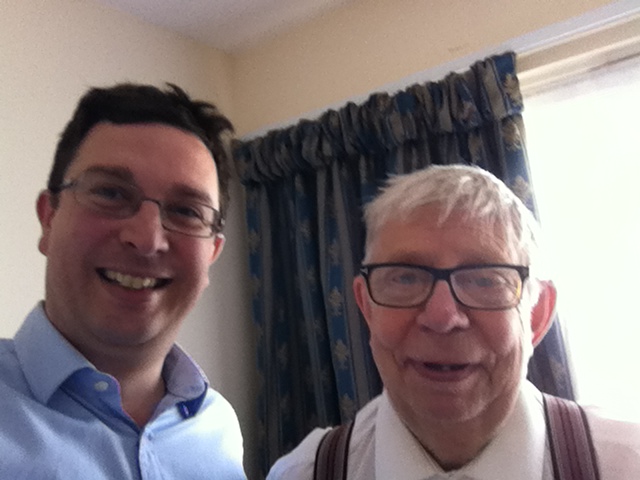 Its my first time back at Neil Baldwins place since our interview the week that Marvellous was released. There are plenty of new mementos on show in his Newcastle flat. The birds cages have been spruced up beautifully, and the budgies look and sound magnificent.
In our first ten minutes or so together, the phone rings several times, and each time Neil apologises and answers. Its one of the Stoke players, hes coming round in a while. Its the church warden. Then the door goes and Neil asks me to buzz the people in. Two young men, who say they are Liverpool fans, are here to talk about promoting an Evening with Robbie Fowler. Neil says he is an old friend of Robbies. Can he make it? The diary is consulted and there is scratching of heads. Im preaching in a church in Northampton that day, and Ive got a Stoke game the day after.
Finally, there is a break in the public clamour, and I get Neil to myself. It seems Nellos extraordinary life has got even busier since Marvellous.
Neil shows me his ticket from the BAFTAs, where Marvellous won two awards and Neil gave a speech giving thanks to God.
It was a wonderful night. It started at half six and finished about half nine. From there we went to the Grosvenor House hotel. It was really great going on the stage. The Lord has made me and I wanted to thank him for all he has done to help me with this film.
Since getting home, I have had letters from Bishop Jonathan [Lichfield] and Bishop Geoff [Stafford]. Libby Lane, Bishop of Stockport, wrote to say how proud she was.
I ask Neil how Marvellous has changed his life.
Ive just spoken on the phone to a Church Army officer in New Zealand who has got cancer. He saw the film, knew about me and wanted to speak to me. Thats what I love about the film. Its made him happy that I called, and I am praying for him.
I am busy. Im having a book written about me, which should be coming out in August. I am on the radio tomorrow morning in Leek. They are making me a Freeman of Stoke-on-Trent next week. Ive also got the end of season awards dinner at Stoke City.
The Bishop of Birkenhead has asked me to do some mission work in his area. We went and showed the film and I sang a solo How Great Thou Art. Since then, Ive met him twice. Im going to talk to people about my life, hopefully go to Tranmere Rovers, perhaps Stockport County.
Ive been asked to do prizegivings at local schools. Im off to Lambeth Palace soon for a broadcasting award. Ex-Stoke players are turning out for my team, supporting charity, which is great.
I see signed photos among the prayer cards half-written on the table, and ask whether fame has changed him.
Being a star has made my life happier. People are always asking for photographs and autographs. Its been great going in Mercedes cars, that sort of thing. You make more friends. I was introduced to Princess Beatrice when I opened a school in Chell last year. I saw some of the children there unable to speak, and it really touched me. Many of them are disabled, and I feel they shouldnt be suffering. I go back again and again."
I ask Neil how he feels about the label of learning disability and get a short, upbeat answer.
I used to have a speech therapist when I was a boy. It is something Ive overcome. I dont mind at all when people say it.
Neil is very open about his Christian faith, and has long been well known across the Lichfield Diocese, coming to ordination services for new clergy every year. I ask why being a Christian is so important to him.
Im glad Ive got a faith. Its been a wonderful gift, what God has done for me, knowing the Lord as my saviour. Ive got more friends who are clergy and bishops than almost any others. It was a parish Church Army mission that I went to and turned to Him in 1957.
I remember speaking at Hyde Park Corner a couple of times in the late sixties, stood on my soapbox. I was talking about how the Lord looks after you in your life, and if you go to church, its always good to go. Without Christ, youve got nothing.
I worship at Keele Chapel, Ive got all my friends at Keele and Ive had my honorary degree from there.
We digress into sharing stories about life in churches across the Diocese, then the phone rings again, and I realise the time. I sneak a couple of photographs and ask: Any last words?
As I said in the film, if youre not happy, try to be happy.
Neill Harvey-Smith spoke to Neil Baldwin