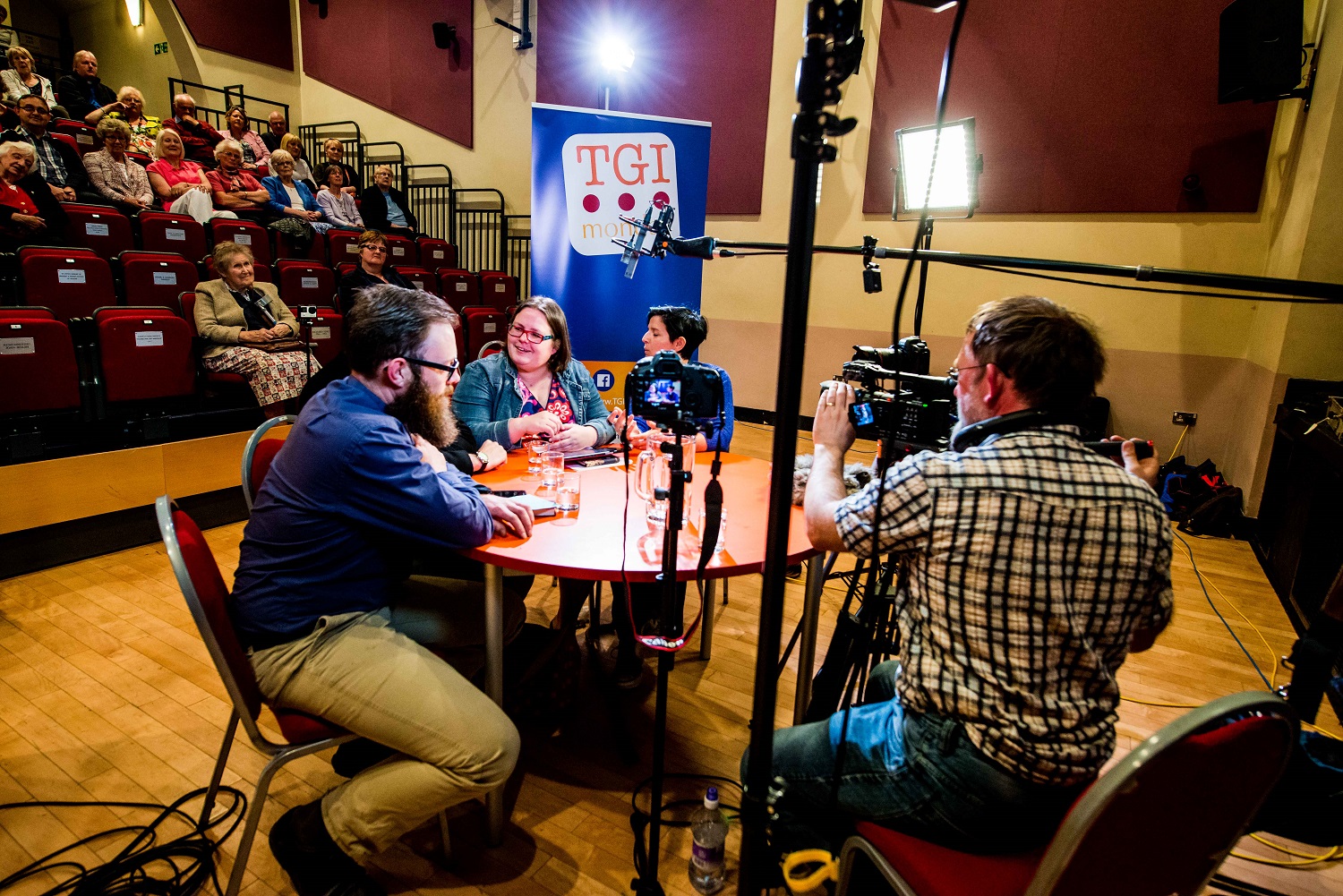 TGI Monday is a weekly online chat show featuring a panel of Christians, including clergy and a theologian, answering questions sent in by viewers. After a successful three-month trial, reaching thousands of viewers, the show launched at the beginning of April and has already caught the attention of the national church and media.
A venture from the Diocese of Lichfield's Online Pastor, Dr Ros Clarke, TGI Monday is filmed at Little Drayton church in Shropshire, and uses online media to reach out beyond the pews and into everyday life. Viewers are invited to send in their questions on any aspect of life and faith, for a panel from Lichfield Diocese which represents a broad range of Christian views within the Church of England.
Ros said: Former Chief Rabbi Lord Sachs recently won the 1.1m Templeton Prize and said We are trying to work out how we can speak to this You Tube short-attention-span generation which nonetheless have hearts of gold and are waiting for a positive altruistic message. Well, this is our answer.
Earlier this month, BBC Songs of Praise came to check out the project and presenter, Connie Fisher, appeared as a guest on the TGI show which can be seen here. The episode of Songs of Praise here.
Revd Zoe Heming is a curate in Shropshire. She said We dont always agree with each other and that is a strength of the show. Being a Christian is open to everyone, whoever you are, whatever your background or life circumstances.
Revd Dan Stork Banks is a curate in six rural parishes in Shropshire. He said People watch because we offer something spontaneous, unpolished and authentic - something you can trust. On TGI Monday we answer real questions, sharing what the church has to offer in Jesus Christ.
Revd Hywel Snook, vicar of Christ Church, Little Drayton, said: We agreed to do a three month trial, and weve just been blown away by the response. So many questions have come in that weve started doing TGI Extras, giving short answers to questions we dont have time to cover on the show.
Simon Jones, Bishops Chaplain & Communication Officer, who previously spent twenty years as a TV sound recordist, oversees all the technical aspects also occasionally providing a lay, non-theologians perspective to the discussions. Through the internet and new technology, people can peer in and gain insight into of our Christian faith, in all its glorious Anglican variety from the comfort of their phone or laptop
Since its launch, TGI Monday has featured in the Church Times, BBC Local Radio, the Church of Englands Podcast, the Archbishop Cranmer blog and even the Spectator magazine!
The weekly programmes can be found onFacebook, YouTube and as an audio-onlypodcast as well as the programme's own website.
The TGI Monday Mission Statement is:
TGI Monday seeks to be a safe place for anybody to ask questions on Christian faith and spirituality wherever they are in their faith journey, from people who are curious about Christianity through to those with many years in the pew. We offer perspectives from across the Anglican tradition from Evangelical to Catholic, Conservative to Liberal, because we believe that the church is a family and we all have something important to learn and to share. Using the latest social media technology, we want to engage your honest questions with our honest reflections in order to deepen faith and open further discussion. We are not about church politics or arguments, but life following Jesus.
Main photo: Courtesy of Jamie Ricketts ©Shropshire Star / Express & Star