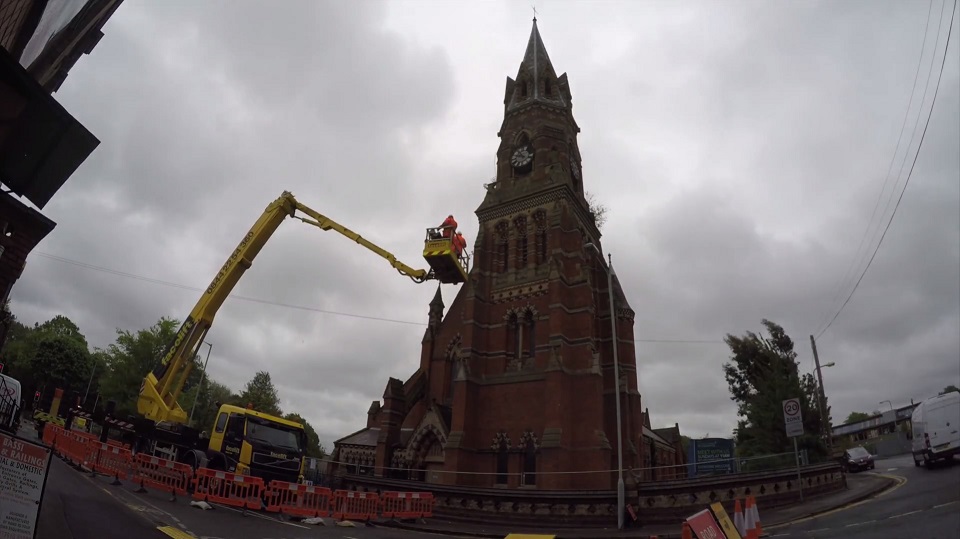 A redundant church building in Wolverhampton has been saved for future use as a result of Diocesan intervention.
St Luke's Church in Blakenhall has been empty for eight years since unaffordable repairs forced its closure. The congregation moved into the adjacent St Luke's School where they continue to thrive.
Necessary restoration costs estimated at around 1million were beyond the means of the congregation and, through the uncertainty, a strong local campaign developed hoping to ensure the building's survival.
The Diocese of Lichfield took on responsiblity for the building with the intention of finding an alternative use.
In the meantime, ongoing works to assess the numerous issues reached a stage in May that some urgent repair work was needed on the spire:
High winds on the day reduced the amount achieved then, but the roped access was set up enabling the technicians to complete the scheduled work over the next two weeks.
"The repairs we've been undertaking are quite basic," said Andy Mason, the Diocese's Director of Property who has overseen the project. "The problem is that they're high up. We're talking the use of a 62m crane to get the staff up there."
Ed Morton, structural surveyor to the project said: "Using the crane is the most economic and pragmatic way of getting the work done. It is between six and nine times cheaper than the alternative of putting scaffolding around the tower."
The team also involved experts in repairs by roped-access who have previously worked on Canterbury Cathedral and Westminster Abbey.
Meanwhile, negotiations with a Birmingham businessman have resulted in a deal that will see the building saved and converted into an antiques emporium. The new owners are set to spend the significant sum needed to restore the building to a safe and usable condition.