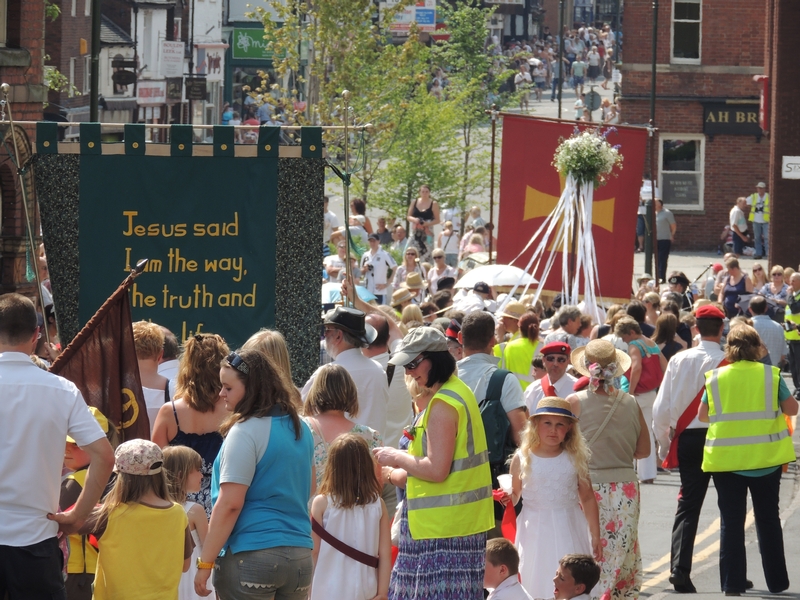 Each July, Leek holds an ecumenical festival, one of the biggest events in the Staffordshire Moorlands. Leek Club Day is a tradition with over 200 years of history, and an institution well supported by the community. But it is more than that: an opportunity for the eleven churches taking part to go out to their communities, to show that the church is alive, active and having fun.
So what happens? Alan Baldwin explains:
Each of the churches gathers, with banners and several bands; all dressed smartly with comfortable shoes! The band strikes up, the banners are lifted high and we march into the Market Place where the other churches are gathering. There are hundreds of people and the Market Place is full, everyone watching the stage.
We start with a song and a short service of worship that we all join in. Last year we had the theme Water of Life and this year it is Jesus Light of the World. One year we had lots of flags, another year there was a clown, and once we rolled out brightly coloured cloth a rainbow - all the way across the square. Who knows what is happening this year?
The leading church sets off and we form the procession and walk along the main road - traffic stopped for the day - waving to the crowds on each side. Theres about a thousand people in the procession (not bad for a small town) and, as the last people turn out of the Market Place they can see the leaders in the distance, already well up the hill. We turn the corner and walk past St Lukes and the Monument and we can see the spire of Trinity which shows that we are nearly back into the Market Place where we started.
Its not all over once we are back we march off to have tea. It could be sandwiches and sausage rolls and theres bound to be some cake. Its noisy everyone is so excited but soon it is time to go home for a rest its been a good day.
Of course we have to change with the times and Leek Club Day has evolved. 200 years ago the denominations had their own processions: today we work together. We take safety seriously and involve councils, charities and contractors.
If we listen to some of the visitors, we learn that some took part as children, perhaps 70 or 80 years earlier. We learn that some were encouraged in their faith by the fact that there are many other Christians, willing to show their faith by coming on the streets. We learn that some come from far and wide, just to be in Leek for the day. We learn that families join together for the day. We learn that while others may be trying to undermine our culture there are far more who encourage us.
See you in Leek on Saturday, 12th July.