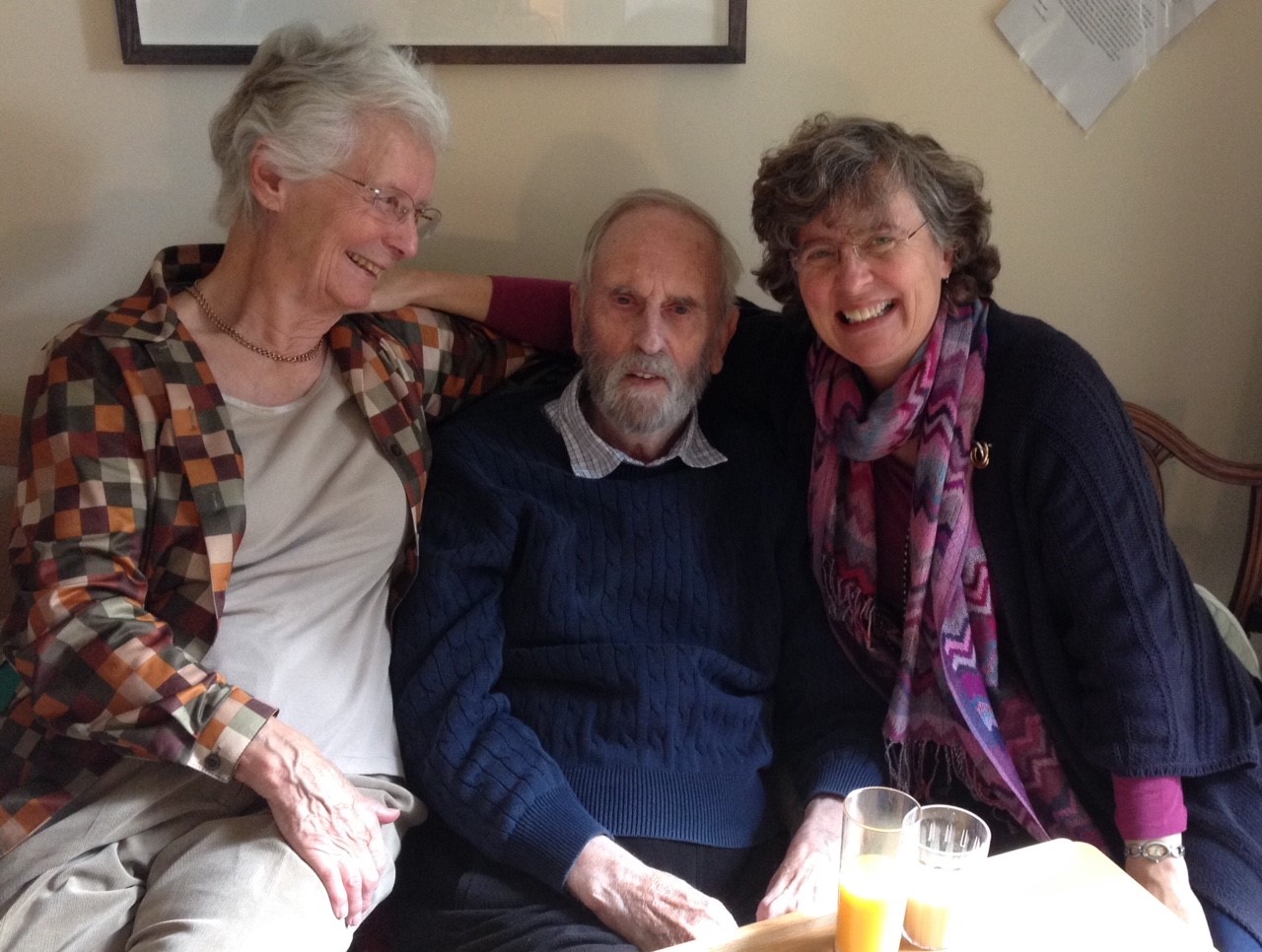 A Blog post written for the Church of England website
In Dementia Awareness Week, Sarah Thorpe shares her experience.
Today Im at Church House, Westminster meeting with representatives of 26 dioceses to talk about dementia and church everything from practical worship to the theology of dementia. Its the first time there has been a gathering like this, but with 850,000 people in the UK living with dementia, its an important one.Its strong to be able to share experiences and resources together across the dioceses, sharing such a momentum in becoming more dementia-friendly churches.
One of the things about dementia is that it takes us to the heart of what matters and what does not matter…
My father, Theo Christophers, was diagnosed with dementia 7 years ago. As we say in our family, We learn new dance steps together, as the patterns change.
Dementia is personal…also at the heart of church, taking us to the heart of our faith.Theres so much letting go with dementia its costly, with an on-going sense of bereavement. With Alzheimers Disease, youre likely to notice the impact short term memory so facts, names, dates may all be muddled and in due course lost.But the heart level, the feelings, the love can guide us forwards:where there is knowledge, it will pass away… these three remain: faith, hope and love.But the greatest of these is love (1 Corinthians: 8&13). In our family, the connections are so different now from those of ten years ago but the life and the love is still there, to be glimpsed and relished.So my dad, who in his days as a solicitor taught me so much about incisive head-level analysis, continues to teach me so much in this zany, haphazard journey of the heart that we all share together.In the words of the poet Malcolm Guite, from his Stations of the Cross sonnets (Station X, where Jesus is stripped of his garments):
Now is the time to loosen, cast away
The useless weight of everything but love.
Ill always be grateful to John and Margaret Bridgman. They invited me to join Margaret at Singing for the Brain a year or two back. Theres no differentiation between volunteers, people living with dementia and their families and friends and carers: you look round the circle and simply notice that everyone is having a wonderful time together. Thats the feeling we all value so much and its inspired the monthly Forget-me-not tea for people living with dementia and their carers that we now hold in St Andrews Church, Shifnal. Thats properly inclusive. And it takes us to the heart of our faith: we are all valued equally as children of God.
In Whitchurch, theres a super new group that Churches Together in Whitchurch, north Shropshire, has recently started, called Forget-me-not Time Together.I joined them in sharing colouring, jigsaws, singing and tea.Theres a warm welcome the moment you come in, theres music playing in the background and there are name badges for everyone.
People are free to look at books or get involved with jigsaws or colouring, or simply to chat.And theres a different main activity each time the group meets sometimes singing, sometimes art or craft, sometimes baking or making.So when I was there last month, Chris played his guitar and we all sang a good range of songs, from Cliff Richards Summer Holiday to Michael rowed the boat ashore and If youre happy and you know it with actions!And theres tea provided a cuppa and cakes.
What strikes you is the friendly informality, with everyone enjoying a lovely relaxed afternoon together. With dementia, its all too easy for people to feel lonely and isolated, embarrassed to go out.An Alzheimers Society survey of people living with dementia confirmed that 61% feel lonely and 44% say theyve lost friends.And a Carers UK survey tells us that 83% of carers have felt lonely or socially isolated as a result of their caring responsibilities.
Time Together is a wonderful, practical way of confronting those challenging statistics. How strong to stay in step together, supporting one another as patterns change, being there for one another. In one sense, its simple: but its also profound, getting to the heart of things. I dont think there can be a better way of becoming a more dementia-friendly church at the heart of a more dementia-friendly community.
Ive also been inspired by Josie Edwards, the co-ordinator for St Matthews Church, Donnington Wood with a local residential home for adults with complex needs.
Josie came along reluctantly to a Dementia-Friendly Churches course. But she immediately connected with something she heard there.We talk about meeting people where they are, as the dementia progresses crossing the bridge to meet people in their world, rather than trying to drag them back into ours. So Josie and her partner Chris are experimenting with different ways of making connections: they were bowled over by the transformation when they took along a tape of 1960s music, drawing out a response in a way that a waterfall of words may not. Recently, they have tried some church window artwork at the home.You can see the beautiful results: you can see the light shining through.
In our churches, we have so much to offer to people living with dementia and their families and friends and we have so much to learn from them too.Its a journey from head-level belief and doctrine to heart-level belonging, being with one another.These practical ways of trying things out really encourage me to try out ideas and notice when they open up life-affirming connections. I hope youll be inspired by them to try out something new in your church, looking for the doors that may open.
Sarah Thorpe is Lichfield Dioceses Dementia Support Worker in the Shrewsbury Area.