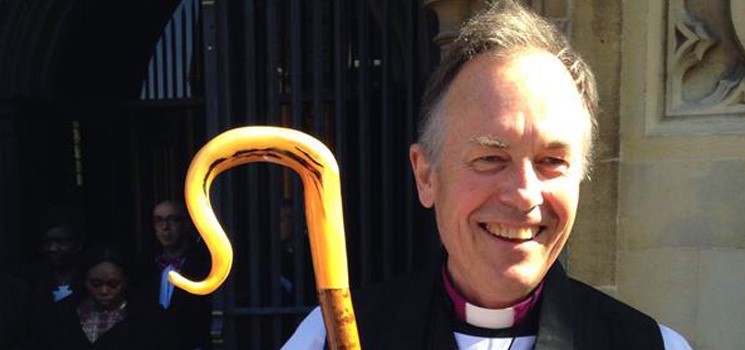 The Bishop of Lichfield, the Right Revd Dr Michael Ipgrave, will be appointing the Right Revd Rod Thomas, Bishop of Maidstone, as an Assistant Bishop in the Diocese of Lichfield.
Following the passing of legislation in July 2014 to enable women to be consecrated as bishops, the House of Bishops agreed Five Guiding Principles as the basis for mutual flourishing.
These include an unequivocal commitment to ministry being open equally to all without reference to gender alongside making provision for those within the Church of England who, on grounds of theological conviction, are unable to receive the ministry of women bishops or priests. This seeks to order our life together under God in a way that maintains the highest possible degree of communion and contributes to mutual flourishing across the whole Church.
In accordance with these principles, Bishop Rod has been asked by the diocesan bishop to offer extended pastoral and sacramental care to those who stand in the conservative evangelical tradition and cannot receive the full ministry of women bishops and priests. Like the Rt Revd Jonathan Goodall, Bishop of Ebbsfleet, who has for several years been offering extended care to traditional catholics in the Church of England, Bishop Rod will work closely with Bishop Michael and with the Area Bishops Clive, Mark and Geoff.
Bishop Michael said: I have worked closely with Rod before, and I greatly value his commitment to evangelism and to partnership with other Anglicans. I am sure that his skills and energy will encourage and enrich our unity. This appointment is about providing additional support to enable mutual flourishing across our diverse diocese.
Bishop Rod, who already serves as an assistant bishop in several dioceses across the country, will be commissioned by Bishop Michael in Lichfield on the Feast of St Chad, 2 March 2017.
He said: I am delighted to be offered this role within the diocese and very much look forward to working with Bishop Michael, his fellow bishops and team members, as well as the parishes themselves, in order to promote the gospel of Jesus Christ and work for the growth of the Church across the diocese.
Find out more about the Bishop of Maidstone here and the Five Guiding Principles here