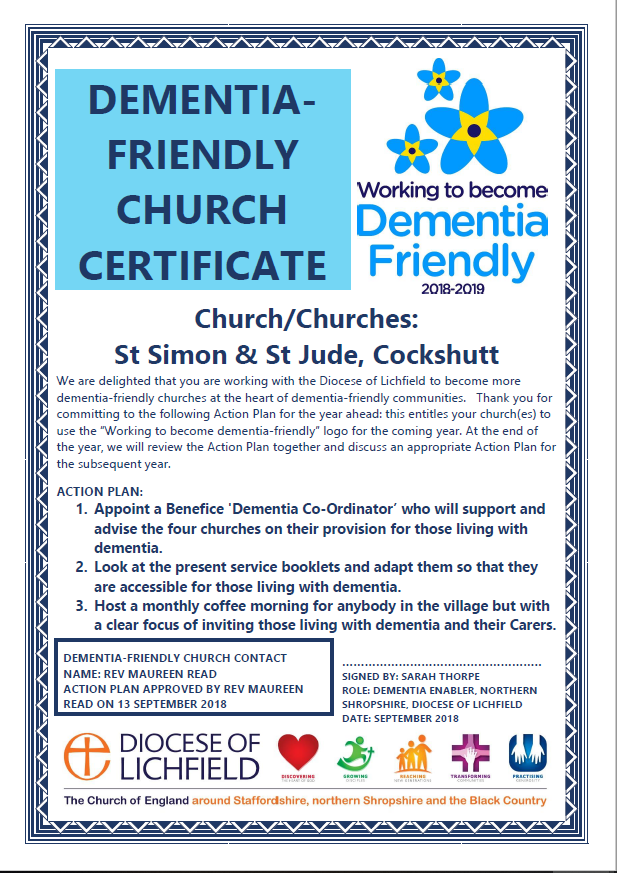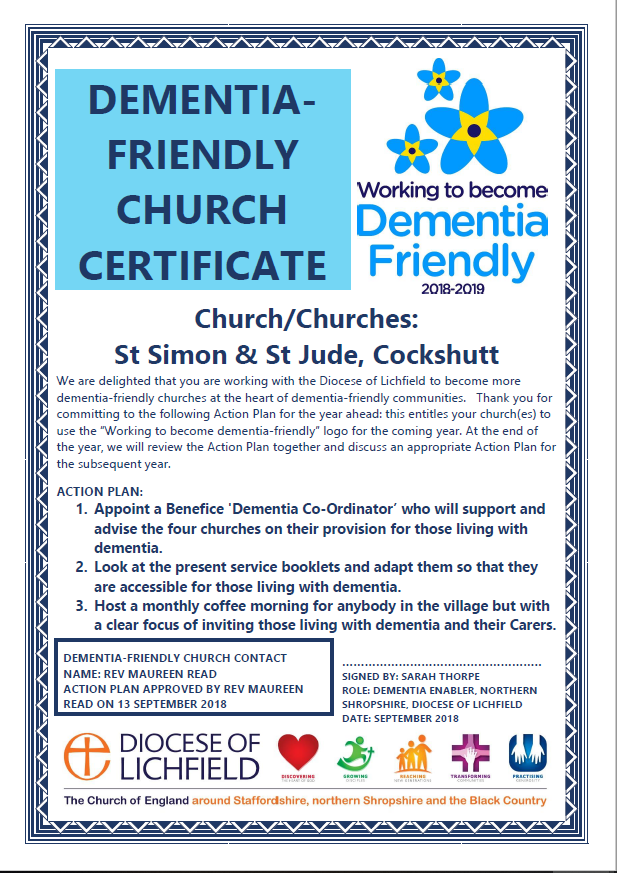 2019 has started well in Ellesmere Deanery, with the landmark of all fourteen churches in the Deanery signed up to Dementia-Friendly Churches Certificates, confirming that they are 'working to become dementia-friendly'. Each Certificate sets out the three actions that the church will be taking this year to become more dementia-friendly. Over the next few blog posts, well be sharing more of this story.
Weve interviewed three people who have been involved in their local churches, to understand about the steps they have taken. Recent blogs involve interviews with Mona Whitfield, churchwarden at Petton Church, and Jeremy Stretton, Dementia Coordinator at St Marys Church, Ellesmere. Todays blog is an interview with the vicar of the benefice of The Meres & Meadows, Revd Maureen Read and after this, therell be one final blog to round off the Ellesmere Deanery story with an overview of the activities over the last two years that have led the Deanery to become the first 'Dementia-Friendly Deanery' in the country.
NAME:
Revd Maureen Read
CHURCH:
Benefice of The Meres & Meadows Petton, Cockshutt, Welshampton, Lyneal with Colemere
ROLE:V
icar
Have you got direct personal experience of dementia?
Only through members of previous Parishes.
What got you involved with dementia-friendly churches?
My passion that we are ALL Gods children.
For you personally, whats the most important connection youve made in working to become dementia-friendly?
Finding out and learning about the number of people living with dementia in the four villages I serve
What difference does it make for your church to be recognised with a Dementia-Friendly Church Certificate?
I think it gives us a better standing and a higher profile within the villages. This, along with following the example of our Lord in reaching those who might otherwise be ignored, shows that we are Christians who are putting our faith into practice.
Whats the impact of moving forwards together as a Deanery to become more dementia-friendly?
I look forward to the practical support from other churches as well as hearing/seeing suggestions of other ideas to help us move forward as Church but also as whole communities that care.
Whats on the move locally at community level, to help us to become more dementia-friendly churches at the heart of dementia-friendly communities?
We are encouraging other organisations within the villages to have dementia friendly training so that all four become to become Dementia Friendly Communities.
Is there one specific story, comment or picture from your experience that illustrates the impact of becoming more dementia-friendly?
Two of my churches held Community Carols with an aim to reach those living with dementia and their Carers whether they were regular church attendees or not. Both went very well with positive comments afterwards, particularly from Carers, saying how lovely it was to see their relation smile, laugh and join in. Both will become annual events.