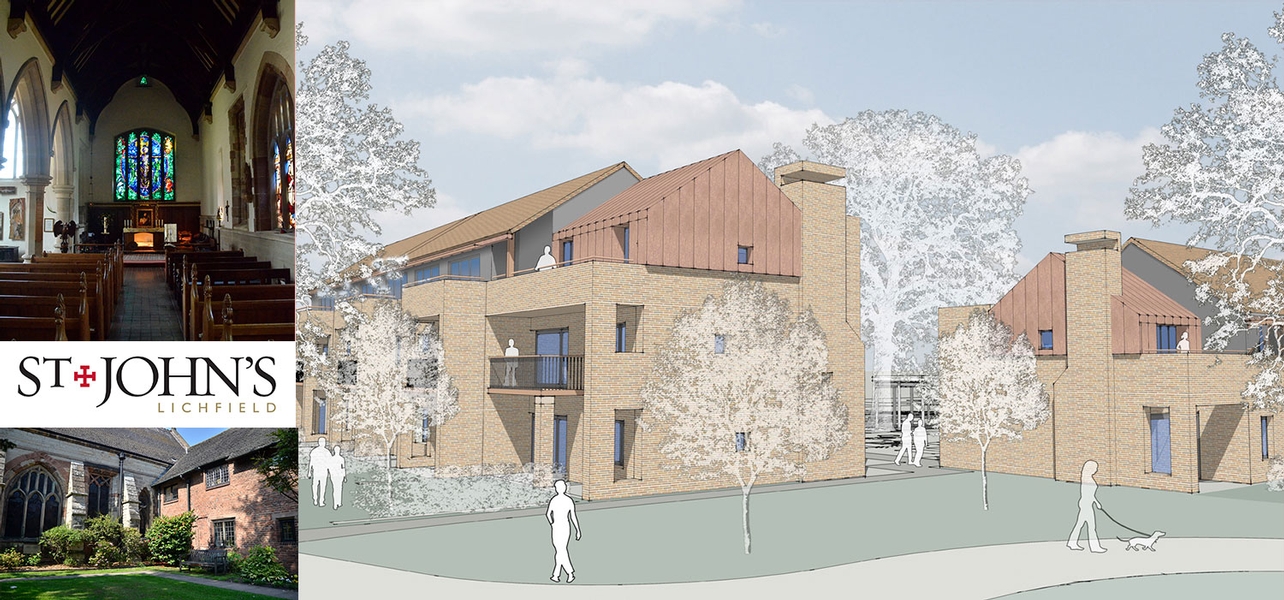 St John's Lichfield is an ancient Almshouse that is continuing to flourish and expand. The distinctive Grade 1 listed Tudor brick building is now nationally famous for its chimneys, some of the first domestic chimneys in the West Midlands. It continues to expand, embracing the most energy-efficient innovative design of the twenty-first century.
The History of St Johns goes back to the twelfth century when pilgrims came from all over the country to visit the Lichfield shrine of St Chad. It was the first building those from the south encountered in Lichfield outside the City Gates, a place of hospitality and welcome.
St Johns Almshouse was established in 1495 when Bishop William Smythe authorised the construction of an Almshouse for 9 men who through no fault of their own had fallen on hard times. Today, St Johns occupies two locations, in St John Street and in the Cathedral Close, has 24 flats and 31 residents. St Johns provides accommodation for single older men, women and married couples who can live independently. The provision of a further 18 flats (4 double bedroom and 14 single bedroom) will be a significant increase of residents in an area where there is a noticeable rise in the need for accommodation for older people.
The new buildings, forming a second quad at St Johns Without the Barrs, will be built using Passivhaus technology. Passivhaus buildings provide a high level of occupant comfort while using very little energy for heating and cooling. They are built with meticulous attention to detail and rigorous design and construction according to principles developed by the Passivhaus Institute in Germany. In effect, the heat losses of the building are reduced so much that it hardly needs any heating at all. Heating bills will be minimal. The grounds are also being landscaped to provide secure, comfortable and affordable accommodation.
St Johns is very conscious of its Christian foundation and roots. It provides accommodation for those in need. Need is interpreted as financial, spiritual, or emotional. St Johns provides convenient comfortable reasonably priced accommodation, in a setting which allows residents to come and go as they please. Almshouses provide a degree of security and residents are encouraged to make friends and to share a wider social life through the life of the Chapel, common rooms and other facilities, which are available.
We hope that St Johns is an example of the Christian understanding of how older people lives are fulfilled and enriched. Like Simenon and Anna, older people have a vital contribution to make to our community here in Lichfield. We hope St Johns is a living example of Christian faith in practice.
More information about residency and the history of St John's can be found at stjohnslichfield.com