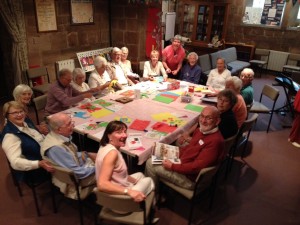 At our Forget-me-not tea this month, we looked at the cutout pictures by the world-famous artist Matisse. Forget-me-not is tea for people living with dementia and their carers, held monthly at St Andrews Church, Shifnal third Thursday at 3pm! The Matisse cutouts are vast in scale, a dynamic fusion of colour and shape. And they are vastly different from the paintings of his earlier career.
In 1941 Matisse was diagnosed with cancer and, following surgery, he started using a wheelchair. So he could not continue to paint in the way he had before: he had to move into a new phase of his life and find a new pattern. He called the last fourteen years of his life une seconde vie, a second life.
Instead of lamenting what he could no longer do, Matisse poured his creativity into what he was able to do, creating paper collages by using scissors and paper patterns, arranging them on the canvas using pins all tools of his family trade as weavers down the generations. Matisse said, Only what I created after my illness constitutes my real self: free, liberated. And his cutouts became some of the most admired and influential works of Matisses entire career.
At Forget-me-not, we shared the story of Matisses cutouts and then made some of our own. With dementia, there is so much letting go, over time: old, treasured patterns may not fit any more. In our family, as my fathers dementia progresses, we talk about learning new dance steps together the pattern continues to change, and in one sense we are always playing catch-up, discerning where the life is in the new pattern. So the Matisse cutouts provide a real encouragement to let go of old patterns when they dont fit any more and find the life in new patterns.
Then I saw a new heaven and a new earth, for the first heaven and the first earth had passed away… Behold, I am making all things new. Revelation 21: 1 and 5