Pilgrims following in the footsteps of St Chad across Staffordshire stopped to take in the new statue of the first Bishop of Lichfield as they arrived in the city.
The Community of St Chad Pilgrimage began at Westport Lake in Stoke last Monday (6 September) and followed the Two Saints Way – named after St Chad and St Werburgh – through Stone, Stafford and over Cannock Chase before arriving at the cathedral on Friday (10 September) afternoon.
St Chad was the 7th century patron of Lichfield Cathedral and the first bishop of the Diocese of Lichfield which, at the time, covered the vast Saxon kingdom of Mercia. Chad died on 2 March 672 and next year will mark the 1350th anniversary of his death. The statue, made by sculptor Peter Walker, was unveiled this summer as a focus for celebrations as Chad's influence continues for centuries to come, as people seek a place where they can find healing, wholeness, meaning and stability, not least as we navigate our way out of the pandemic.
The Community of St Chad (CSC) draws inspiration from Chad's life in an expression of modern-day monasticism. It has a geographically dispersed membership united by a common commitment to a spiritual lifestyle shaped by five Rhythms of Grace, and by participation in a Spiritual Companionship Group.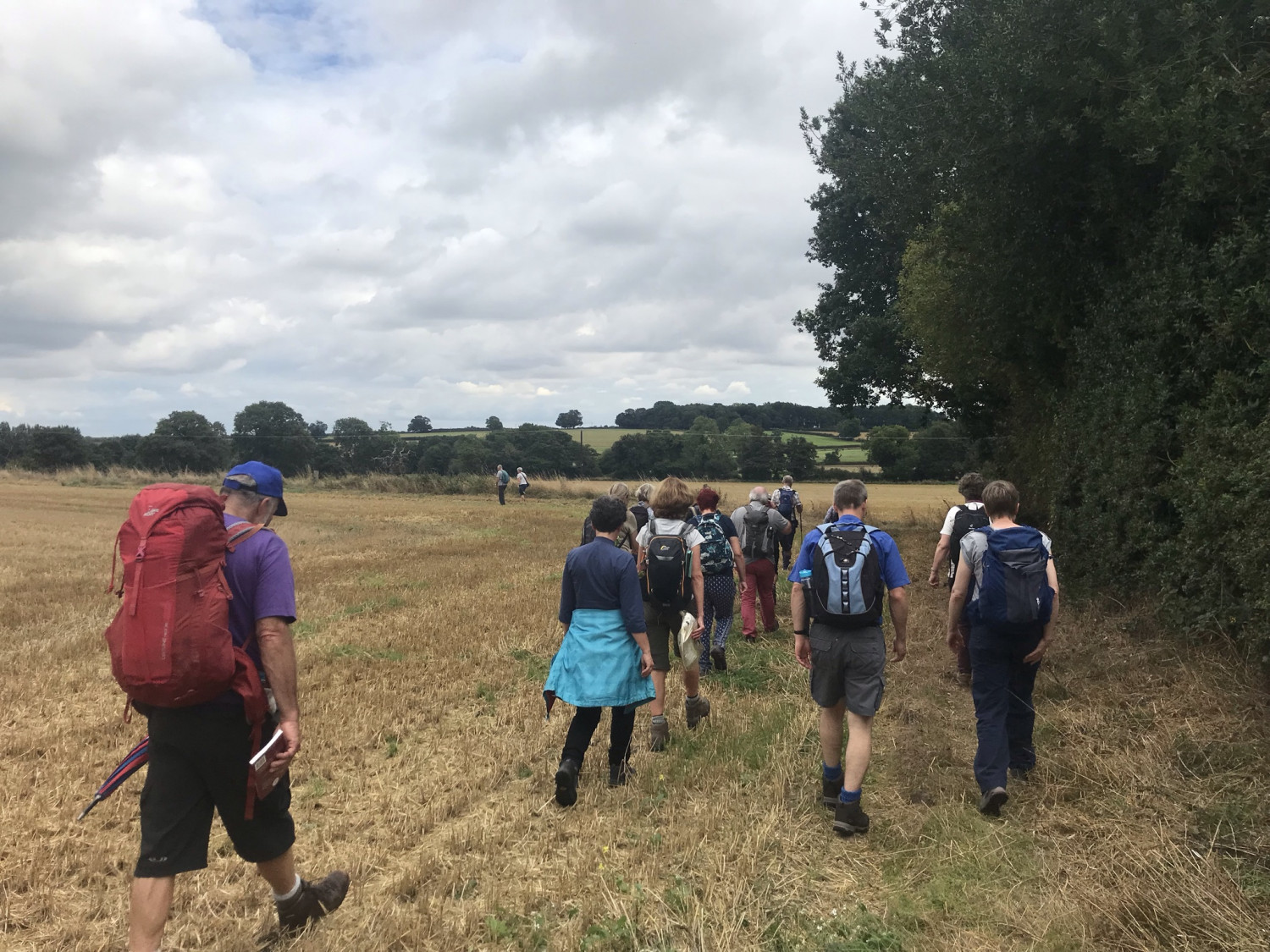 The pilgrimage (pictured approaching Lichfield from Chorley above) marked a farewell to retiring CSC co-leader the Revd Philip Swan who walked the full distance of almost 50 miles with his wife Charlotte and others who joined for various legs of the walk. Following a stop-off at the statue, the pilgrims took part in a hand over and commissioning of the Revds Rosanne Wilshire and Chris Precious, at the nearby St Chad's Well. Chris and Rosanne have taken over from Philip and Lindsey Hall as the Community's new co-leaders.
Philip said: "From the waters of Westport Lake in Stoke to the waters of Saint Chad's Well in Lichfield. It has felt like a great way to say farewell to friends and places after 12 years in the diocese. I walked the inaugural walk of the Two Saints Way in March 2012, which also marked the birthing of the Community of Saint Chad, and have walked parts since - particularly my favourite section through Stoke.
"Thank you to those who journeyed alongside Charlotte and me, some for the whole 5 days and over 50 miles, others for a day or part of a day, for profound sharing, in word and silence, for urban and rural beauty, for opportunities to recall and give thanks for the gift of these years. Thank you Richard Barrett for the logistics done with such kindness. And to Chris Precious and Rosanne Wilshire as they take over leadership of the Community of Saint Chad. The best is yet to be!"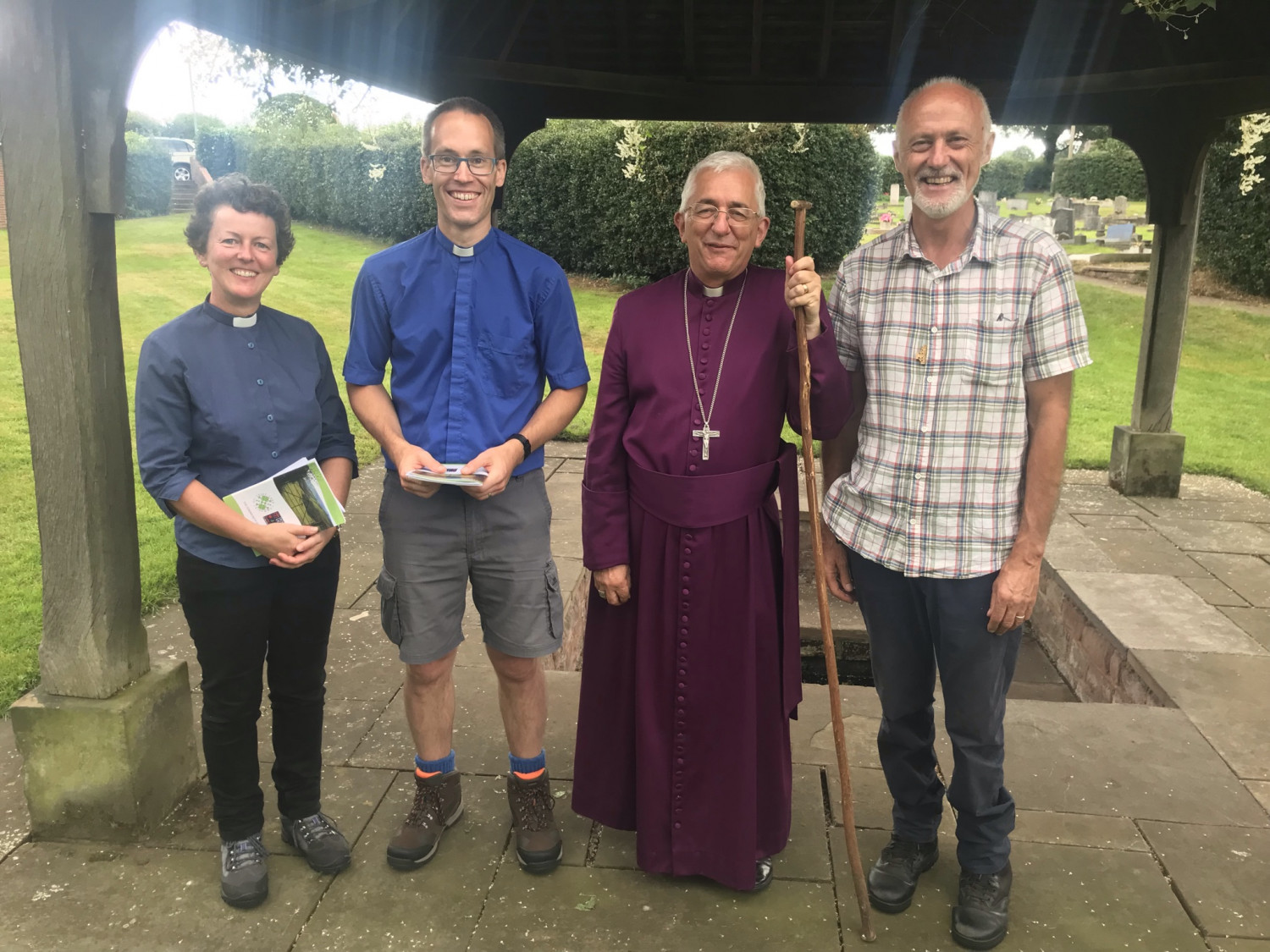 Lindsey Hall, co-leader of the community since 2013, shared the following prayer which was used at the handover service at St Chad's Well: "The community holds us, both gathered and dispersed. Today, I am wholeheartedly with you as we bless the next chapter of Philip's journey and welcome Roseanne and Chris. I pray that they will be blessed by the community as Philip and I have been and that for all of us, the rhythms of grace will continue to lead us into deeper likeness of Christ who invites us to watch with him, walk with him and to learn his unforced rhythms of grace."
There are several Chad-inspired pilgrimage routes, including a new 475-mile stretch from Lindisfarne, where Chad's monastic foundation took place, to Lichfield which is currently being walked by groups in a relay system and is set to reach Lichfield by St Chad's Day, 2 March 2022. Find out more here.
Pictured: Roseanne and Chris at the handover service with Bishop Michael and Philip Swan (right).