What does the World Mission team do?
Lockdown has brought home the importance of staying in communication with one another globally and to share in prayer and solidarity as we seek to respond. As a Diocese we value our formal companion diocesan links, but recognise that World Mission is actually much bigger than this because God is far bigger and cannot be contained within our limited structures.
We are keen to be able to identify and celebrate the wide range of links, connections and friendships that people already have worldwide, whether with mission partners, mission agencies or charities. We would like to include these in the Diocesan Prayer Diary as an expression of celebrating where we find God already at work in the world. In line with Shaping for Mission, we are identifying Deanery World Mission co-ordinators who can help us to fulfill this aim. Please send your information to: Denise Keen
'We believe in one holy catholic and apostolic Church'. A line we recite week-by-week in the Nicene Creed that affirms that we as parishes and as a diocese are but one small part of the Christian faith.
'apostolic' reminds us that we connect to generations of Christians in of the past and future, led by bishops anointed in succession that leads back to the early church.
'catholic' means both 'broad' and 'universal' - we are part of the family of Christ even when we disagree with each other, and no matter where we are in the world.
It is very hard to relate to all 2.2 billion Christians on this planet, nor even 85 million Anglicans. But by building links with a few in different parts of the globe, our vision and understanding of the lives of our fellow-Christians and our shared joy in the Lord grows.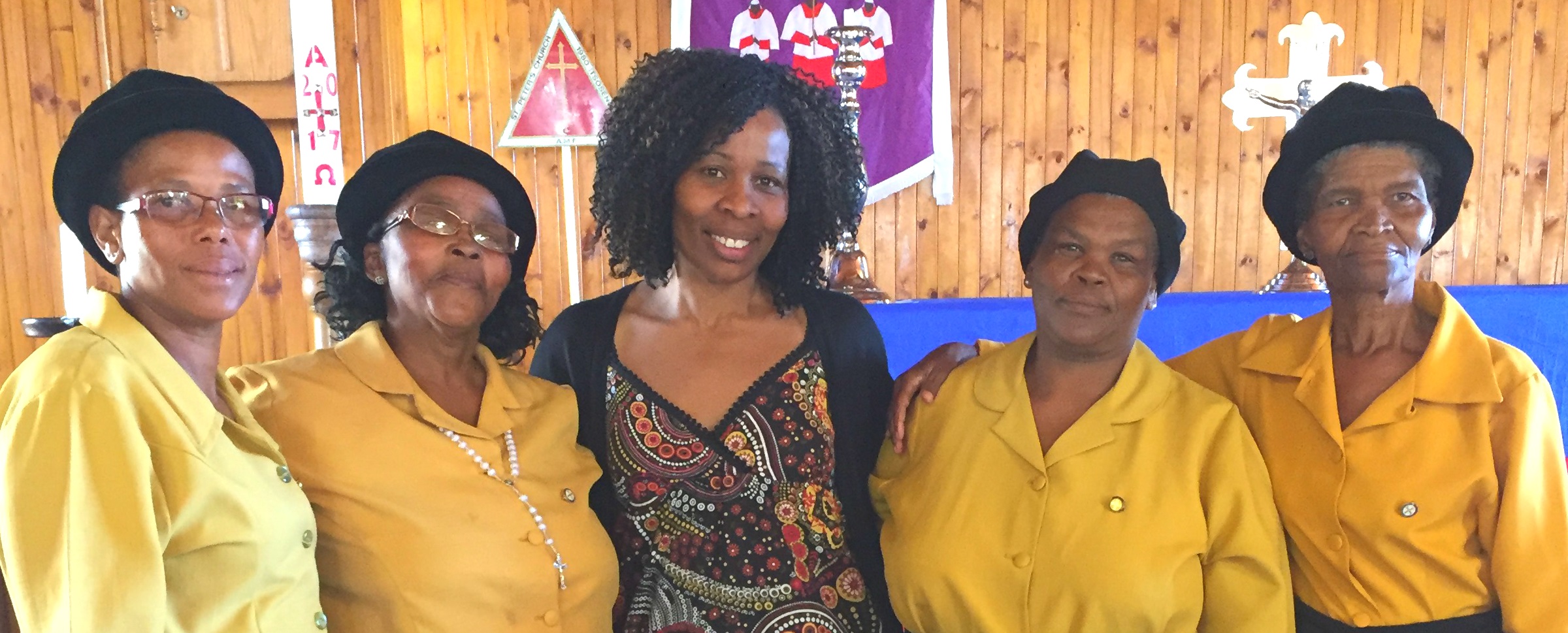 As a diocese we have two key spheres of meeting with the worldwide: many parishes and individuals have many more:
Our Global Partnerships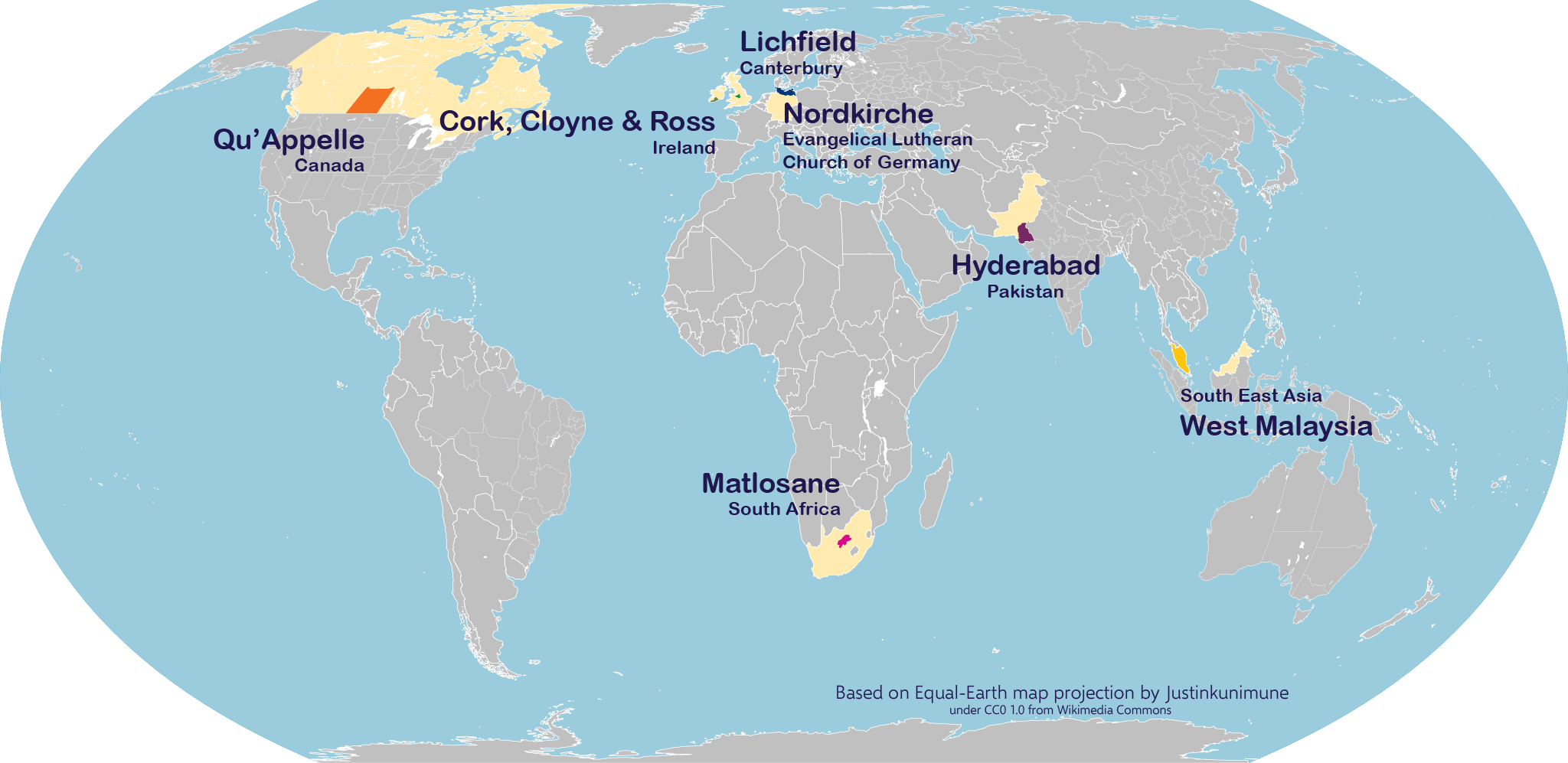 ---
Cross Cultural Placements
We are delighted to report back that the 9 second year curates who went on placements in 2019 to our link Dioceses all returned safely after very positive experiences. This was the first year when this option was available and we are hoping that it will be an increasingly important and strategic expression of our engagement with world mission as this becomes an annual practice. However, clearly no travel has been possible as a result of the pandemic and we are reviewing what will be the best way forward once travel is possible. Click here for reports on these visits: Matlosane, Qu'Appelle, Nordkirche, S.E.Asia, Moscow.We hope to resume these visits when travel becomes possible again.
Reconciliation, Hope and New Advent - an introduction to indigenous culture an spirituality
Bishop Chris Harper, the first indigenous Bishop of Saskatoon, gave three sessions as an introduction to indigenous culture and First Nation spirituality via Zoom.
Links to the videos are available here: 1. New Advent 2. People of Hope 3. Reconciliation
Global Swansong
A series of six Zoom conversations, anticipating Philip Swan's retirement as World Mission Enabler on 11th September, were held with our link Dioceses. Most of these have been recorded and provide insights into our current links as well as a record of the past. Contact Denise Keen for details. Click below to see the powerpoints used during the sessions:
1. West Malaysia powerpoint
2. Matlosane, South Africa powerpoint
3. Qu'Appelle & Saskatoon powerpoint
4. Cork, Cloyne and Ross report
5. Kuching,Brunei and Sabah powerpoint
6. Mecklenburg, Nordkirche
The St Chads Volunteer Programme
Enabling young people (18-35) through the St Chads Volunteer Programme, to go to our Companion Dioceses and to come here on 6-12 month placements. The scheme has been running since 2000. Further information here.
World Mission Newsletter
An update concerning World Mission and our Global Partnerships is circulated several times per year. The Summer 2021 edition is available here. To receive the Newsletter on a regular basis please contact: Denise Keen
To view previous editions please click below:
The team also:
Offers expertise and assistance with sabbaticals and short term exchange visits; setting up Parish Links and School Links
Encourages churches to engage creatively with 'the world that has come here', to make connections with African and Asian led churches in the Diocese and to seek to become Cross Cultural Christians.
Provides opportunities to learn more about the world church and participating in global partnerships
Supports and raises awareness of Anglica mission agencies such as USPG and CMS, alongside other mission organisations
Promotes and encourages informed prayer for the church worldwide
The Revd Philip Swan
World Mission Enabler

When the Revd Philip Swan was appointed, the Bishop of Lichfield said: "We must never forget that we are part of not just the wider Church of England and the Anglican Communion; but the worldwide church of God. Philip Swan will help us to focus on that, and enable the diocese to respond to the guidance of the Holy Spirit to fulfil our Lord's calling to play a full part in the global partnership of God's people in Christian mission".
Denise Keen
Administrator for World Mission
Other Resources
'It takes the whole world to know the whole Christ.'
A 6 session course introducing World Mission and Cross Cultural Mission. To download copies of the course please click on the relevant links below: