Burton S.Chad and Stretton with Claymills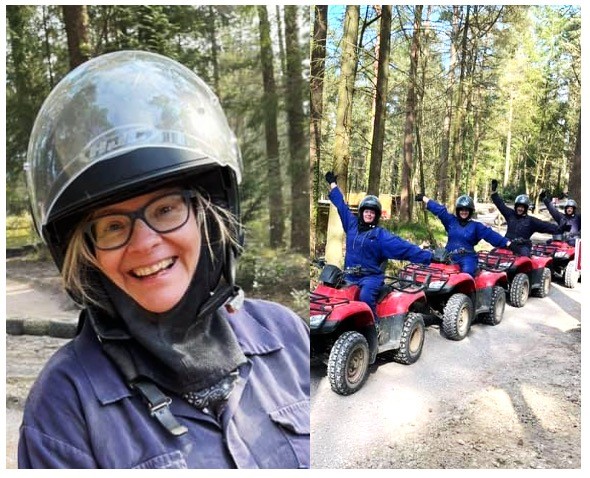 Hazel is married to Laurence with three grown-up children who have flown the nest. Both Hazel and Laurence served in the armed forces. Hazel worked alongside Laurence in setting up and running a health & safety consultancy for many years. They lived in Swindon before Hazel started ordination training at Ridley Hall in Cambridge. Hazel is excited to serve her curacy in Burton on Trent in the Lichfield diocese. Laurence is looking forward to the bonus of a locally brewed pint. Hazel believes that God is calling her to work with excluded and marginalised people to comfort and encourage them into the knowledge of the love and acceptance of God. She is passionate about young people and has spent many years in youth and community work as a youth leader.
Hazel felt a calling to 'full-time ministry' in her twenties, but the lack of opportunity and encouragement for female leaders to develop delayed her progress. Hazel is grateful for her theological education degrees, which have opened the doors of development and flourishing in the Church of England. She is passionate about learning and inspiring others to learn about the faithfulness of God and is more than happy to include inspiring female spiritual leaders from the medieval period. Hazel understands that the biggest misconception to ministry is that 'you need to be an extrovertly perfect at everything'. The emphasis was on loud charismatic personalities in the Baptist and non-denominational church traditions caused Hazel to compare herself and feel 'not good enough', leading to self-doubt. Hazel has since learnt that God calls you just as you are, and that ministry is not a 'one size fits all' thing. God has given different gifts to everyone and those gifts are perfectly and wonderfully good enough in God's eyes. Hazel would advise anyone who is exploring God's call on their lives: to have courage, do not be afraid when the Lord calls you to leave what you know, all that is comfortable and familiar, to go into a land that He will show you. The Holy Spirit will lead you step by step, but don't forget to pray daily and be open to new possibilities to fully know that God is faithful in all He says and does.